According to the Bureau of Economic Analysis, we spend 70% of our spending on services. Despite this, only 7% of the services we bought in 2019 were digital.
That is set to change, particularly in the post-COVID-19 pandemic era.
While no one in their right mind would build a marketplace software to compete with Uber or Airbnb, the market for new service-focused marketplace apps is still ripe.
Mobile commerce is a field that is always expanding and evolving. Mobile app sales are expected to reach $2.9 billion in the near future, and this figure is expected to rise much higher.
The latest trend amongs eCommerce based web application development companies is marketplace app development, which offers many benefits to both the companies who set them up and their customers.
🏢 Famous online titans like Amazon, Airbnb, and AliExpress are among the best examples of profitable marketplace applications.
The nicest part about the marketplace platform is that it allows anyone to enter and succeed. You don't need to own any items to start an online marketplace. Instead, you simplify a transaction by offering users other people's stuff.
So, what is the definition of a marketplace?
In the B2B and B2C sectors, an online marketplace, also known as an e-marketplace, is a website or app that acts as a middleman between customers and organizations or individuals offering products or services.

The majority of marketplace entrepreneurs do not sell their own goods or services. Their job is to create a forum for market participants to communicate with one another.
By 2025, the sharing economy market, which includes peer-to-peer marketplaces, is expected to reach $355 billion.
The elements that have contributed to the global rise of the marketplace market:
an increase in the number of digital purchasers
the comfort of purchasing online due to the widespread availability of mobile devices
the change in consumer shopping behaviors during and after the pandemic
The absence of a well-organized offline retail industry
easy of availability and accessibility
The widespread adoption of Al
Above all, this expansion is fueled by an increasing number of entrepreneurs who see marketplaces as the finest platform for streamlining online sales, accelerating cross-border expansion, expanding product selection, improving logistics, automating operations, and lowering costs.
Isn't this a compelling reason to pursue your marketplace app development idea?
If you are still thinking about it, know the benefits of the online marketplace app development from our software development company below.
The Benefits of a Marketplace App Development
Business entrepreneurs can use the marketplace business model to develop their own personalized solutions, given the marketplace's growth and potential. Here are some benefits of online marketplace development: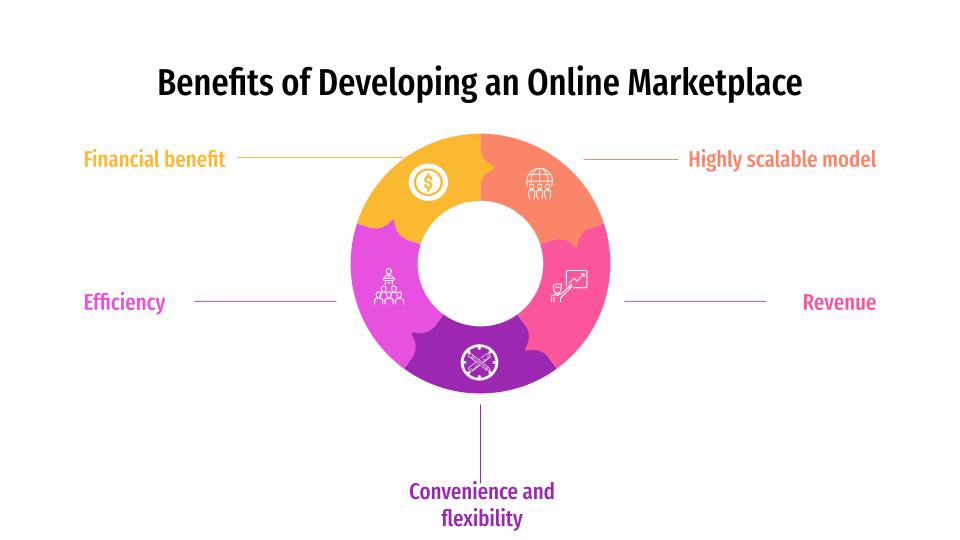 Financial benefit
Marketplace websites enable you to generate income with minimum effort. There is no reason to organize production or be concerned about delivery.
All you need to do is launch a high-quality software solution, add unique features, and attract your first clients. Afterward, they'll handle the rest. In turn, you can focus on making improvements while your bank account grows.
Convenience and flexibility
P2P marketplace platform connects people who produce value and people who need that value. But how do you, as an owner, benefit from it? Marketplace users attract each other.
High-quality products make customers pay attention to your marketplace, and sellers come to your website due to a constant increase of potential buyers.
Marketplace platforms provide flexibility in terms of choice. Since you don't need to invest in production, you're flexible enough to choose niche, industry, service, or product specifics.
Efficiency
The cost of marketplace app development is nearly the same as the cost of launching an e-commerce website. Although the reasoning underlying an e-marketplace is complicated, its functionality may be tailored to the needs of a wide range of sellers.
Revenue
Owners of revenue marketplaces can select the revenue stream that best suits their market segment and matches their business objectives. The success of a marketplace is determined by how it generates revenue.
Commissions, listing fees, memberships, lead generating fees, advertising, and providing extra services are the most common monetization techniques. You can combine numerous monetization strategies, but when you're just starting out, it's best to stick to just one.
Highly scalable model
An e-main marketplace's benefit is that it brings together offerings from a variety of suppliers or service providers. Also as the owner does not need to invest in inventory, a marketplace has a lower financial risk than an eCommerce store.
Marketplaces are likely to grow swiftly. If traffic increases quickly, more vendors may be required to supply the demand.
However, an issue that a marketplace owner faces is balancing supply and demand.
Types to Consider While Marketplace App Development
A few criteria can be used to categorize marketplace app development.
Let's take a look at some of the most common varieties from the standpoint of marketplace app development.
Type of Marketplace Offer: Information, Product, or Service
The functionalities your application need are influenced by what your providers sell.
Inventory management and shipping integration are likely to be required if you're creating a product marketplace like Etsy (or eBay).
A booking calendar, location search, and user profiles are required for a rental marketplace, such as Airbnb, or a service marketplace, such as Fiverr.
On-demand markets (such as Uber) require a robust map that displays the location of service providers in real-time.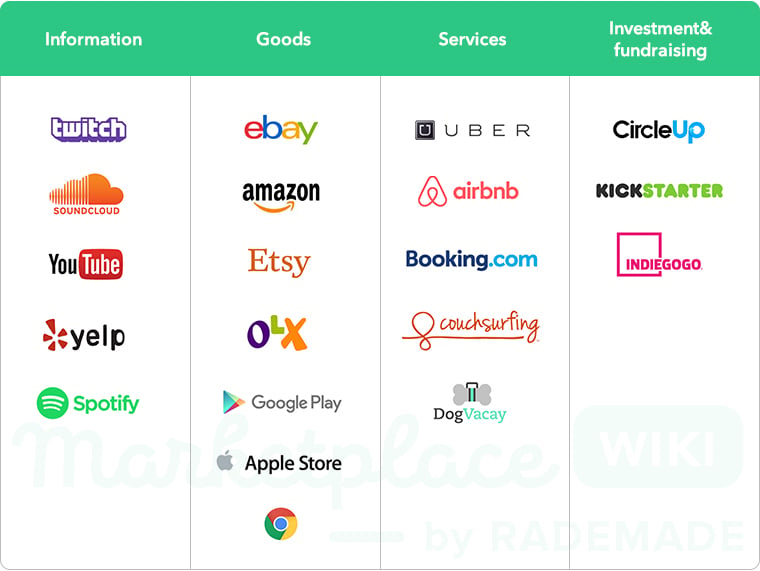 Target Audience: B2B, B2C, and C2C
We may distinguish between marketplace app development based on who is serving whom.
Business-to-business marketplace, eg: Dial4Trade,
business-to-consumer marketplace, eg: Instacart, and
consumer-to-consumer marketplace, eg: Letgo. Audiences have varying requirements. Users of peer-to-peer marketplaces value detailed user profiles, two-sided ratings, and quick, safe payments. You need features on B2C marketplaces that help professional sellers manage their businesses. B2B marketplaces are notorious for having sophisticated transaction flows that necessitate even more bespoke functionality. One word of advice: before you start developing a custom mobile marketplace, make sure you choose the proper niche.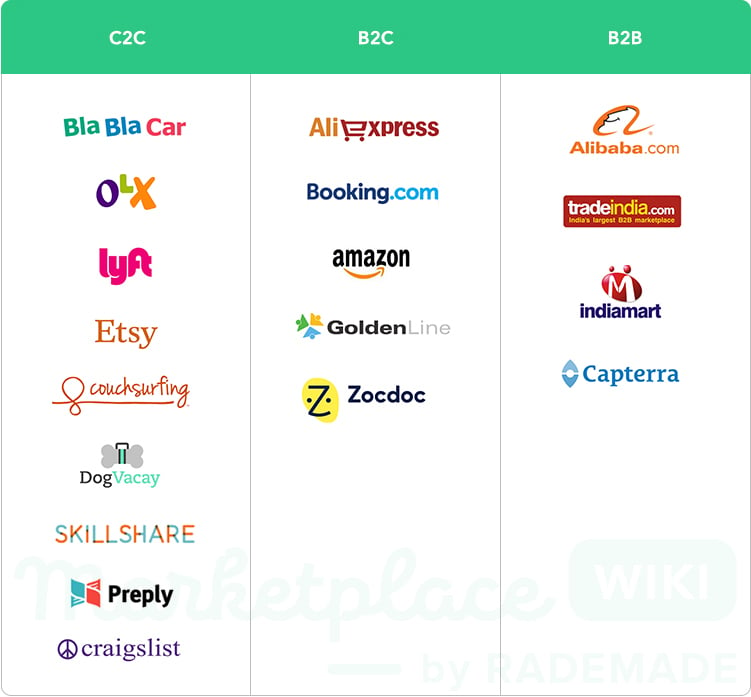 Type of booking flow:
The functionality your app will require are heavily influenced by how you build your marketplace booking procedure.
Customers look for providers, or do they post jobs and providers compete for them?
Are prices set in stone or can they be negotiated? Are reservations made in advance or on-demand?
Examining how different marketplaces connect to cost, location, and booking schedule is one way to identify booking flow types.
There are numerous other methods to distinguish marketplace types besides the categories listed above, such as vertical, horizontal, global, and hybrid marketplaces.
Check out the steps to create a successfull marketplace app solution here.
The Challenges of Creating a Marketplace Platform
Balancing supply and demand
You're surely aware that one of the most difficult aspects of establishing a marketplace app is onboarding demand while supply is still few, and vice versa. Because when you make a marketplace app, you need to appeal to both sides at the same time.
Tips:
The app should be simple to share.
Leverage deep linking with referral codes for effective referral programmers.
Provide an API for cross-promotion with other apps.
Quality has a little control As the proprietor of a marketplace app, you have some constraints on how much control you have over the services or products that are supplied through the platform. Tips:
Add verifiable reviews and ratings to the spam-flagging system.
Remove the ability to edit reviews
Service Commoditization
Services are difficult to commoditize if you think about it. What some buyers consider a 5-star experience, others consider mediocre service.
So, with a multi-vendor marketplace, how do you get everyone on the same page?
Tips:
Include buyer and seller profiles, as well as a complete history of previous orders and jobs.
Consider the grading system and make adjustments to reflect current experience.
Providers can offer buyers pre-packaged services like Upwork.
Key Points to Build a Marketplace Website
To create a marketplace website like Amazon or eBay, you need to think of the following things: • A domain name
• Web hosting account (Here are your website's files are stored)
• SSL Certificate (To secure payments)
• CMS (Content management system)
• Payment solutions
Conclusion
Businesses and customers alike need convenience and a dependable venue to buy and sell items, which a marketplace may provide.
Platforms for marketplaces can cater to almost any niche and solve any demand. Marketplace app development has a lot of promise and is appealing to businesses searching for new methods to market their goods and services across numerous platforms.
Terasol Technologies allows you to invest your time and energy where it matters most. Skip the tough lifting, hire us as your technology partner, launch your marketplace app faster, and create features that help you stand out and grow your company.