"At 9.3% CAGR, Global Electronic Health Records (EHR) Market Size to increase from USD 29.7 Billion in 2022 to USD 52.98 Billion by 2027"- one of the many reports illustrating the enormous growth that the EHR industry.
This appears to be confirmation that EHR systems in healthcare is here to transform the medical industry if you look at how healthcare digitalization has developed.
IT has consistently shown to be quite helpful to medical professionals.
Powerful miniaturized technological solutions have revolutionized every industry today, putting decisions at our fingertips. One may access an infinite amount of knowledge with a few clicks and scrolls.
The same has been carefully designed to meet healthcare requirements. In order to create dependable healthcare that is accessible even in challenging locations and circumstances, technologists have worked hard.
In addition to streamlining the workflow, cutting-edge medical technology, telemedicine, robust CRMs, and, of course, EHR software development raises the standard of medical care.
Modern IT innovations allow healthcare professionals to concentrate on the primary goal of healthcare. It is to protect people's health and continue preserving our lives, rather than wasting precious time handling endless copies of different documents.
And we do this by using EHR system in healthcare.
So, What is an Electronic Health Records System?
The paper charts are converted to digital format via an electronic health record system. Electronic health records are thought to be more effective, accessible, and efficient than the paper counterparts that patients have grown accustomed to.
An electronic health record is a fully digitalized piece of software with a wealth of patient health-related data. Typically, it involves:
Medical background,
Vaccination information,
Test outcomes and Vital indicators,
Allergies (if any),
Lab results, and
Information on health and life insurance, etc.
However, the term EMR frequently appears as an alternative when discussing what an EHR system is. Although they are sometimes used synonymously, electronic health records and electronic medical records are very different.
Electronic health record systems typically come in two types, both of which are essential for understanding how to construct an EHR system.
Let's check them out.
Two Different Types of EHR Systems in Healthcare
It is important to be aware of both types while selecting an EHR system in Healthcare. These kinds consist of: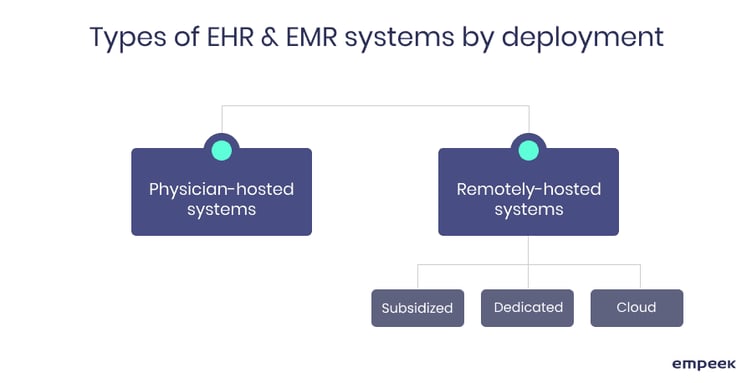 Physician hosted:

This EHR type hosts the data on the computers of the treating physicians. In this case, the doctor is in charge of purchasing, installing, and maintaining the equipment.

Remote hosted:

It refers to the hosting of EHR data on a third-party server, which indicates that the server's owner is in charge of server upkeep and data security. Three additional categories can be added to the remotely hosted system:

Sponsored: The EHR finance is subsidized by a different organization, such as a hospital, with whom a doctor enters into a contract.
Dedicated: The vendor's dedicated servers are where the data from electronic health records are kept.
Cloud: The EHR data is kept in the cloud, which means that the vendor's website must be used to access it rather than the physician's PC, where the EHR software would otherwise be installed.

Now you know what an EHR system in healthcare means. Read to know how it can do wonders for a healthcare firm.
Perks of EHR System in Healthcare Firms
Now that you are somewhat familiar with the idea of EHR creation, let's examine the benefits it provides to its primary stakeholders—hospitals, and patients.
What makes an EHR deserving of development and integration within any healthcare system is the capability of sharing information on a single patient across different HCPs (healthcare providers), enabling them to manage the patient from all health facets.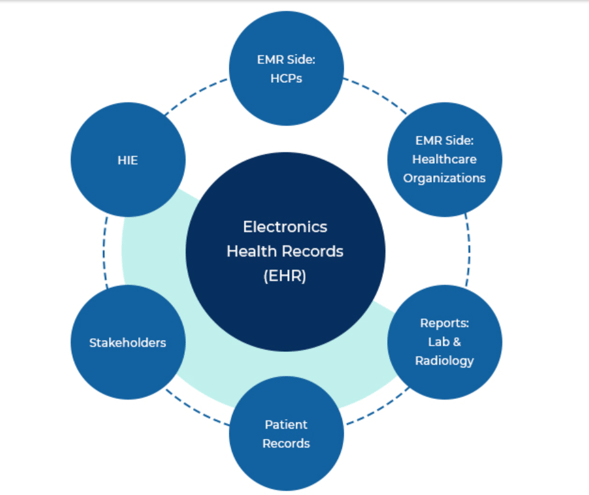 How simple would maintaining our health look if each of us had access to all of our health information, analysis of previous and present vitals, reminders, and short-term goals established in a single application on our phones?
A simple solution for a pleasant walkway to walk on.
So, the benefits of EHR software development for hospitals include:
1. Accurate automated document processing
EHRs provide better documentation and automatic coding. They assist promote and foster legible, comprehensive documentation based on accurate invoicing and simplified coding in addition to automating and streamlining provider workflow.
2. Lowered risk of medical errors
As electronic health record software provides extensive patient data and data analytics-driven medical insights that alert healthcare professionals to wrong dosages, unpleasant responses, and the potential effects of drug combinations.
3. Easy documentation
Tracking, updating, analyzing, and sharing become trouble-free tasks when everything is input and kept inside a single file. Long paperwork processes and record upkeep are now considerably simpler. Additionally, everyone involved in the delivery of healthcare can add to the data pool, enhancing the entire experience.
4. Improved clinical judgment
EHR products facilitate faster diagnostic results by combining patient data from several sources in one location. Practitioners can more accurately diagnose patients and deliver safer care when the patient's medical history, all of their diagnoses, treatment plans, subscribed drugs, allergies, immunization dates, medical photos, and test results are orderly shown in a single patient account.
Advanced EHR systems even give providers access to tools that are based on evidence, which they can use to lower medical errors and improve the decisions they make regarding a patient's care.
5. Enhanced effectiveness and costs savings
By eliminating the need for transcriptions, physical chart storage, coding, and claims management, as well as by facilitating care coordination and speeding up hard-copy communications between doctors, labs, pharmacies, and health plans, digital records and integrated communications techniques can significantly reduce administrative costs.
6. Enhanced security
With the development of EHRs, patients, practitioners, and all other participants in the delivery of healthcare will have secure access to medical records. Secure exchange of electronic data with patients and other professionals is made possible by an EHR system. It improves the safety and dependability of managing and prescribing drugs. By choosing to develop an EHR, one chooses to improve the security and privacy of patient data.
7. Improved patient care and coordination
Clinicians can more readily coordinate and monitor patient care across practices and facilities when using digital records. When authorized individuals have dependable access to accurate, full, and up-to-date patient information at the point of treatment, processes become more coordinated and effective.
For instance, E-Com- a holistic healthcare application, offers a "one-stop care" system that brings all of the healthcare services together not just for patients but also for other stakeholders. Testing, surgery planning, and hospital data—all under one roof. To provide better care, clinicians from many specialties and disciplines work together on patient outcomes.
Are There Any EHR Benefits for EHR SaaS Businesses?
Yes, if you are an owner or a SaaS outsourcing company looking for an opportunity to gain big bucks using systems, then this one is for you!
You can simply hire a reliable software development company to make an EHR system for you and then outsource this to different healthcare firms across your country.
Why?
1. It has potential for new possibilities:
One size does not fit all when it comes to the EHR sector. Every healthcare business, regardless of size or geography, as every country have its own rules for data encryption. This implies that there is always room for fresh business model innovation when it comes to an EHR system in healthcare.
2. Various methods of monetization EHRs:
You can have a variety of monetization options available, including subscriptions, free software with paid features, and pay-per-use. The creation of EHR systems is incredibly profitable due to the variety of monetization options available.
It's time to move on to the practical portion of the talk, which features are must-haves to construct EHR, now that we have examined the advantages of EHR systems and how they operate.
10 Must-Have Features for EHR Systems in Healthcare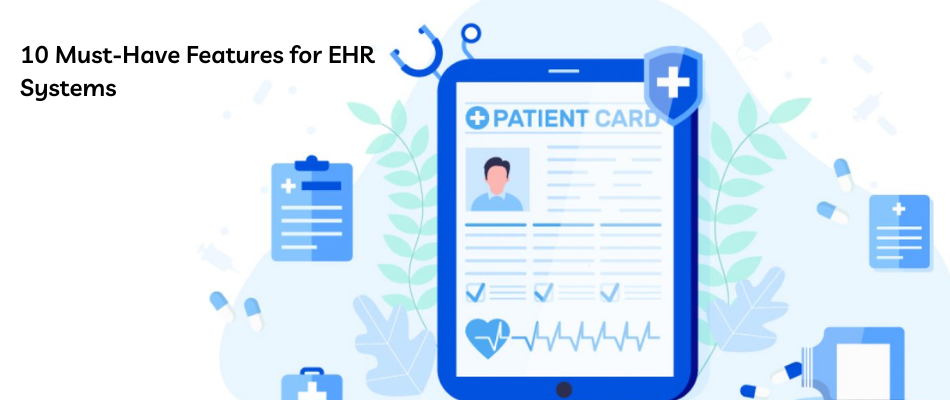 EHR is more than just a database of digital health records. Information about a patient is put to use.
To summarize, "The simplest value chain of an EHR is capturing patient data, processing it, analyzing it, and delivering insight for healthcare stakeholders."
Although each EHR solution is designed to meet the specific functional requirements and requirements of the medical facility, here are a few main components of an EHR system.
1. Patient Profile or Portal-
A medical patient portal may function independently of an EHR system or as an addition to it. Patients typically receive related papers from their healthcare provider, such as an activation code or instructions for activating and using the portal, in order to set up a patient portal account.
2. Personnel management –
An EHR platform should enable your clinicians to arrange home visits, make appointment bookings for patients, and send out instructions for further action. Additionally, it ought to make it possible for you to plan different medical tests, assign clinicians to shifts, and rotate staff members as necessary.
3. Documents Management-
By providing an easy-to-use documentation tool, the main goal of EHR application development is to improve patient care. Patients and doctors should find it simple to upload documents in many forms, including images, text, and DICOM (the format for MRT and CT images).
4. Lab Integration-
Faster data exchange and decision-making are promised by the integration of EHR with testing facilities. It is even more effective because the test findings are sent straight to the applications, making it simple for patients and doctors to access them and respond promptly.
5. Prescription Management -
Another crucial component is the simplification of the prescription procedure, which will make it easier for patients to obtain the prescriptions they need and ensure that inventory in affiliated pharmacies is promptly refilled.
6. Appointments Scheduling-
Patients are able to make real-time appointments with their doctors using electronic health record software. Doctors, on the other hand, receive a dashboard where they can view the appointments and the patient's information.
7. Customizable Reporting-
Reporting is important in determining how to construct an EHR. It assists practitioners by providing a thorough summary of the patient's demographic information, therapies received the success rate of treatments, etc. It provides a graphic picture of a patient's progress during therapy, forthcoming appointments, etc.
8. Communication Features-
Customers and healthcare professionals can efficiently and effectively communicate through a patient portal or profile. Patients can easily follow up on appointments, ask questions, and receive prompt responses from healthcare experts by messaging the medical staff via the patient portal. One of the most revolutionary aspects is the capability to securely and immediately message the medical staff.
9. Distributed Access Control-
Health-related information is regarded as confidential and must be strictly guarded against disclosure to outside parties. What enables effective handling of the problem is role-based access control. First and foremost, access control in healthcare information systems aids in ensuring that only authorized users have access to system resources.
10. Billing Module-
Following the creation of a clinical note by a physician for the visit, the billing module of the EHR puts together an insurance claim and sends it to the clearinghouse before being forwarded to the patient's insurer. Handling unpaid claims, payment exclusions, billing information, payment methods, and billing history are all included in the procedure.
Things To Consider While Developing EHR System
Even though the steps involved in developing an EHR system are quite straightforward, the process might become challenging due to the numerous components it contains. Let's examine a few of those factors.
1. GDPR and HIPAA compliance
As a healthcare provider, you are always being scrutinized by regulators and government officials for compliance. To ensure that the regulators are happy, make sure that the design and architecture of your EMR software ensure secure data storage, safe data collecting, and encrypted transport within your partner network.
So, this whole range of features will obviously vary depending on the particular requirements of your firm. However, the EMR development business you select will adhere to a set plan for developing EHR software in order to integrate them all correctly.
2. Work on the EHR's mobile version
When you introduce a mobile EHR, you make it simple for patients and doctors to connect while they are on the road, even though the web version of the software is a requirement. Additionally, the mobile EHR encourages patient participation in their care.
3. Data migration
It's crucial to import all the crucial data into the new software when switching from one electronic health record system to another. When migrating, it's crucial to use a milestone strategy where data is sent incrementally, guaranteeing perfect seamlessness.
The Average Cost of Creating an EHR System
The cost of developing an electronic health record system relies on a variety of things, including the number of platforms, the team and resources available, and the feature set. And while these differ from project to project, some MVP-level characteristics never change.
A healthcare software development company will typically charge between $30 and $80 per hour, or the following:
Platform for web-based EHR- $40,000 to $66,000.
Platform for mobile EHR - $60,000 - $97,000.
It's vital to keep in mind that the advanced version of an EHR will have a different/upgraded set of data, even though these development hours and price ranges are exclusive to the MVP version.
The cost implications of these can look like this:
MVP level EHR cost range – $40k to $80k.
Advanced level EHR cost range – $55k to $120k.
How Can We Help With Custom EHR System?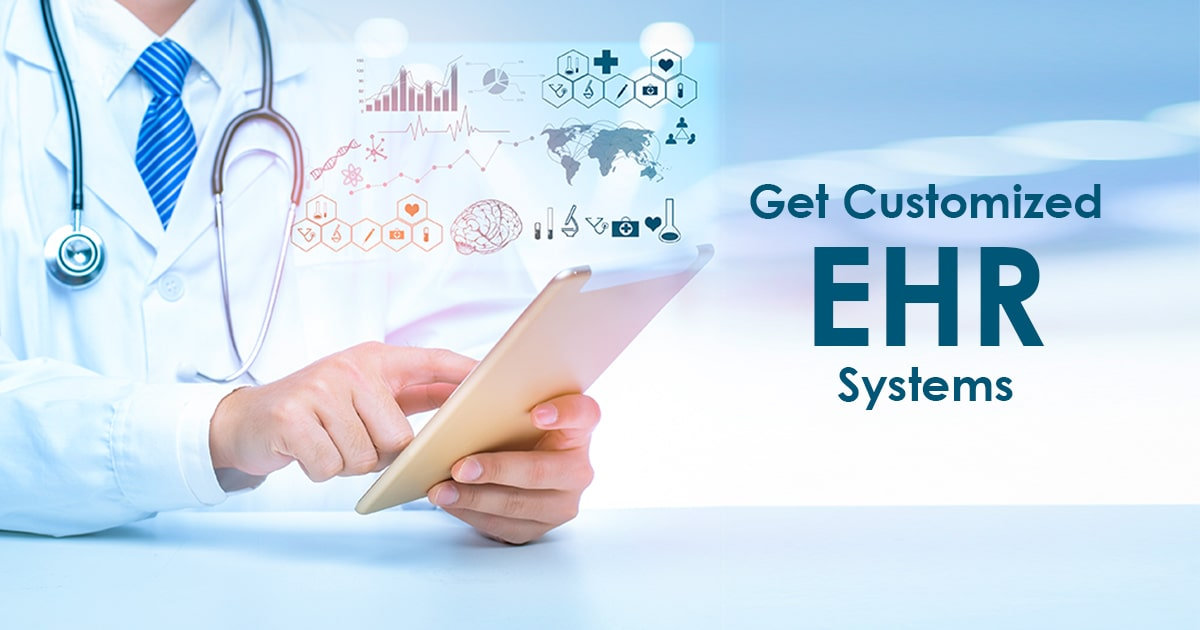 The panorama of modern healthcare is evolving to include electronic health records. We must make sure you are on the proper path if you or your business is considering the prospect of creating your own unique EHR system! No off-the-shelf option can match your needs as well as the EHR system that was created from scratch.
With the user-centric design and custom functionality, your EHR system will satisfy all stakeholders.
Terasol Technologies have a good experience with the EHR system in healthcare. Our team of developers is knowledgeable about the healthcare compliances required to create an effective EHR system that complies with all guidelines. Get in touch with our experts today!