Technology is paving the way for us to live more modern lives, and the aggressive adoption of novel problem-solving strategies is just one of many indicators of this shift.
People are increasingly relying on current technology and devices to carry out their daily tasks, and this trend has been exacerbated by the use of advanced applications that provide novel ways to carry out a certain set of operations.
Over time, the healthcare industry has shown to be an evergreen, inflation-free, and lucrative one, with several prospects for entrepreneurs, investors, and medical company seekers.
Apps have improved patient convenience and engagement in healthcare. We can see how mHealth apps solutions are changing the way medical services are delivered, such as treatment, prescriptions, and consultations.
mHealth Market Size to extend USD 293.29 billion by 2028, exhibiting an extraordinary CAGR of 29.1%
Even before the epidemic, the mobile health business was expanding at a rapid pace. According to McKinsey, 76% of consumers are moderately or strongly inclined to employ telehealth services in the future. In fact, weekly telemedicine consultations climbed 23 times after COVID.
When the COVID-19 epidemic hit in 2020, individuals were compelled to hunt for more convenient ways to access healthcare services, as it became impossible to visit healthcare professionals, fitness clubs, gyms, and so on to stay healthy and fit. It has resulted in huge demand for mHealth applications.
The healthcare sector is expanding primarily as a result of the world's aging population, chronic diseases, and growing public awareness of the need for healthy living. As a result, starting a firm in the healthcare area is a smart business idea right now.
This blog contains fantastic healthcare startup ideas to help you start your path.
We were able to select the top 12 healthcare startup ideas that have a lot of potential in the future.
Let's dive in.
Top 12 Healthcare Startup Ideas
Medical applications or mHealth custom app development solutions for patients are quickly gaining market share. Such medical apps for healthcare organizations aid in providing excellent care enhanced workflow, and increased patient interaction while reducing costs and complexity.
And don't just take my word for it; look at the numbers for yourself.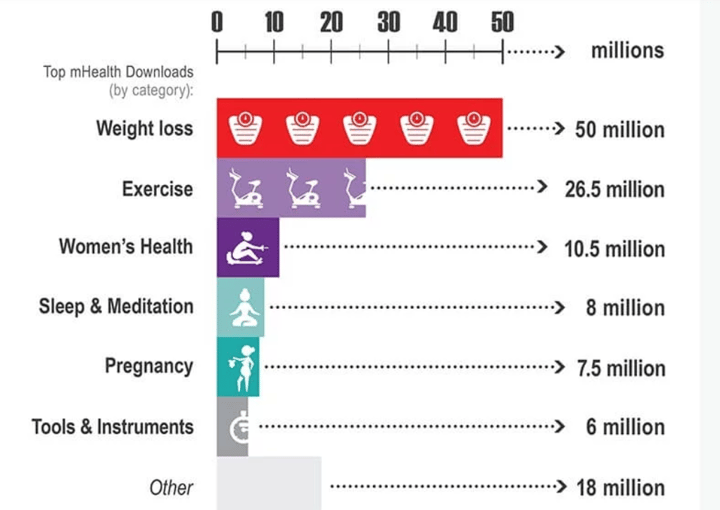 Here are some top healthcare startup ideas for you to make a mark in your presence in this industry.
1. Online Drugstores
Among the famous healthcare startup ideas is the development of an online drugstore application. The concept of online pharmacy is around providing prescription drugs as well as non-prescription over-the-counter (OTC) drugs by mail, shipping firms, or online pharmacy websites. With the advent of internet pharmacies, patients no longer have to wait in huge lines at cash registers for prescriptions, etc.
Because of this ease, people are increasingly turning to internet pharmacies. When developing an online pharmacy, you must keep an eye on drug listings, cart management systems, online shopping integration, digital payment support, and other site design elements.
Above all, because you will be dealing with patients' medical records, ensure that your online pharmacy is HIPAA compliant.
2. Appointment Scheduling Software
The on-demand doctor app is straightforward and designed primarily for the benefit of doctors. Many healthcare professionals and well-known doctors create their own doctor appointment booking apps for their patients to let them know when they are available and to provide them the choice to book an appointment.
Another idea is to create a social network for both patients and doctors where patients may connect with doctors depending on their disease and request a consultation, a phone call, or a home visit appointment.
3. Apps for Psychological Illness
People are suffering from mental illnesses as a result of an increasingly stressful and hectic lifestyle. Many people suffer from depression, panic attacks, anxiety, and other mental illnesses. People are becoming more conscious of these difficulties, and improving their mental health has progressively become a top priority.
Mental health apps are becoming increasingly popular because they allow users to consult and share their mental health issues with specialists without hesitation or fear. App developers are attempting to meet the ever-increasing need for mental health applications.
4. Women's Health App
Another healthcare startup idea is an app for Women's health. There is little doubt that women have unique healthcare difficulties and demands. Their menstrual cycle is crucial to their well-being, as it is closely linked to the majority of their healthcare difficulties.
Apps that provide information about menopause or diseases like breast cancer and PCOD and apps that offer assistance and vital information during pregnancy or connect patients with gynecologists are becoming increasingly popular, making them a promising initiative for digital entrepreneurs in 2022.
🏢 Bring in the digital revolution in the life science industry using our services and expertise.
5. App for AR/VR Medical Training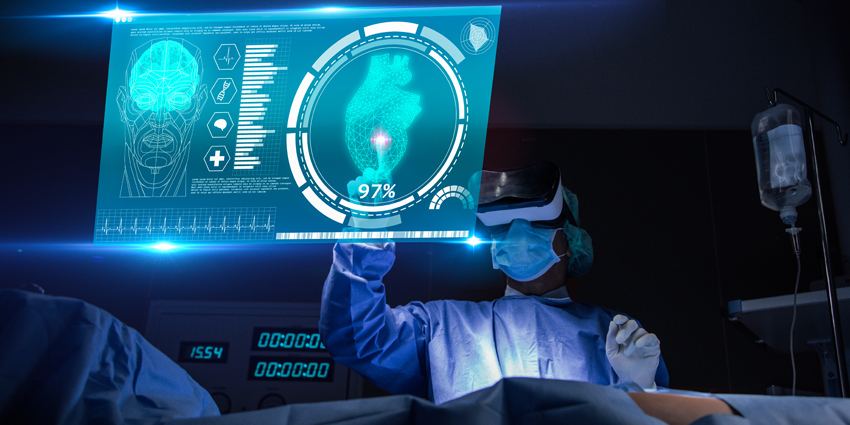 These applications make effective use of AR/VR technologies to instruct healthcare professionals on various medical procedures without having them performed.
We don't need a real human body to do surgery and other treatments since AR/VR technologies can provide a virtual training experience. Such apps are gaining popularity among healthcare providers because they can reduce expenses and resources spent on training new medical workers.
6. App for Diet Planning
There is no doubt that nutrition is crucial in preserving a person's health. Many of us suffer due to lack of proper nutrition in our bodies.
A well-planned diet can assist individuals in achieving their wellness objectives, reducing body fat, and remaining healthy and fit.
Diet planning applications allow users to enter their diet type, wellness aims, and workout pattern, and the app will immediately offer them a diet plan to complement their desired results and assist them in reaching their well-being goals.
7. Operators of Medical Tourism
Traveling is a pleasurable experience. Who doesn't enjoy traveling? Everyone does it!
Have you ever heard of somebody going on a medical trip?
Just like the documentary of an American bodybuilder, Devin Dearth, who traveled to Tianjian from the US for medical treatment.
Or heard of Under the Knife, a show on medical tourism, where it focuses on Americans leaving the US for various reasons to have surgery in India, Mexico, and Barbados.
A unique healthcare startup idea for you is to develop an app for medical tourism. You may simply assist patients with everything from travel planning to hotel, itinerary, and ticket buying. Your business knowledge can help traveling patients decide where to stay, which flight to take, and so on.
8. Software for Maintaining Medical Records
Maintaining medical records efficiently appears to be demanding labor, regardless of how large or small the healthcare center is.
To help you with such software, you can outsource a software development firm that can provide full-service medical records administration or automated software for maintaining their records.
9. Addiction Recovery App
We're all addicted to something or someone in some way right?
That is typical.
However, there are some addictions that may consume your life, your time, your everything.
For instance, drug addiction, caffeinism, phone addiction, and sugar addiction.
What if we had an app to help it recover? Consider a drug addiction recovery app.
The software assists drug users in breaking free from the everlasting cycle of suffering. Features of such an addiction recovery app could include community help, chat integration, trackers, etc.
10. Medical Billing Service App
According to Medical Billing Services Market Research Engine, the market for medical billing outsourcing would grow to $16 billion by 2024.
Medical billing is one of the payment methods used in the United States. Many healthcare providers use this strategy to collect patient fees.
Because of the increase in insurance claims by patients, this is an excellent healthcare startup idea to start a business in the healthcare sector as medical billing service. As a result, hospitals confront difficulties while filing insurance claims.
A medical biller app will help with processing medical claims for insurance companies in order to assist them and decrease the strain on hospitals. This will lessen the strain on hospitals during patient medical claims.
11. Apps for Health Reminders
Health reminder applications assist users by reminding them to undertake specific tasks in order to accomplish their healthcare goals.
These apps can remind users to take their medications, raise an alert about the dosage, or remind them to exercise or walk.
Such apps might be created to be accessed by smartphone, wristwatch, or tablet, giving users convenience and assisting them in keeping track of and automating their reminders.
12. App for Personal Medical Records
A personal medical record application concept functions similarly to a journal kind of app, allowing individuals to manually enter their health information and share them with a medical expert prior to scheduling an appointment.
This type of mHealth app solution will allow a doctor to review the patient's past records and, based on that, prescribe medication and make the next move.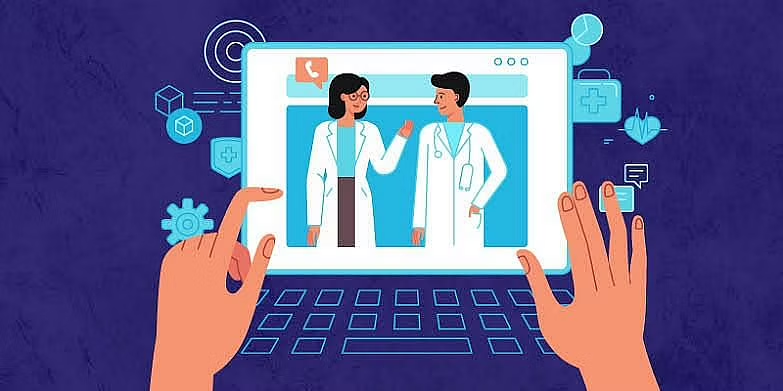 Which Healthcare Business Will You Start?
According to some findings, tech-based healthcare enterprises will outperform traditional ones in the next years.
We hope this blog assists you in making the best decision for starting your online healthcare business. These healthcare startup ideas will help you grasp the healthcare industry's paradigm shift and motivate you to design a much-needed application.
Feel free to contact our experts if you need help getting started in the digital space. We are delighted to collaborate with you! We have reached to the point where we can create a custom healthcare app to meet the needs of a hospital, wellness facility, or doctor.
Want to Develop a Customized Healthcare App Solution? Turn your ideas into a new driving force to save lives with our life science industry services.
Which healthcare company concept has piqued your interest? Please share your thoughts in the comments area.