Maintenance as a service for custom software is a natural extension of our custom software development services.
We have been maintaining and providing related assistance for a long time because we have produced various complicated software systems. We invite you to take advantage of this opportunity.
In today's technology-driven world, no business can afford to fall behind in terms of technology, platform, or tools. So, software maintenance lifecycle used by leading businesses are focused on monitoring the performance and usability of an application's software release to ensure its competitive market viability.
You'll be faced with the requirement to start supporting, maintaining, and correctly "evolving" your software system the day it goes online.
Let's go through a few common questions- what is the definition of software support or what is the definition of software maintenance? Is there any difference?
Yes, there is a difference between support and maintenance!
While these two concepts are sometimes confused, the difference between support and maintenance can be distinguished by the urgency with which they are approached.
While software support is defined as reactive development aimed at correcting broken software (or "bugs"), software maintenance is described as proactive development aimed at adding new features or triaging low-priority "bugs" that do not affect the software's design or user experience.
Let's see these development types in detail.
Types of Development in Maintenance as a service
There are two kinds of development in maintenance as a service. They are:
Development that is reactive (on-demand)
End-user support (L1) — Software support troubleshooting and resolving small difficulties, as well as escalating more complicated issues.
Application support (L2) — diagnosing software and resolving performance, configuration, and security concerns.
Development support (L3) – resolving software difficulties at the code and database level, customization, new feature additions, and software integration.
Contracted support (L4)- Outside support for problems not supported by the organization
Continuous Development - Software Maintenance, software availability, performance, security, and compliance monitoring and management
Quality assurance activities (including regular code reviews),
Infrastructure improvement (e.g., cloud resource consumption optimization).
General Level of Software and Application Support
IT Support Levels
Function
Support Methodology
Staffing Requirement
L1
Service desk delivery and basic help desk resolution
Support for fundamental client concerns that require IT intervention, such as resolving usage issues and fulfilling service desk requests.
Lower-level technical professionals who have been taught to fix recognized problems and complete service requests using scripts.
L2
Technical assistance in depth
For difficulties that tier 1 can't manage, experienced and skilled technicians examine the situation and offer remedies.
Support staff have extensive product or service knowledge, but not necessarily the engineers or programmers that conceived and developed the product.
L3
Expert product and service support
For problem resolution or the construction of new features, you'll have access to the most advanced technological resources accessible.
Tier 3 technicians employ product designs, code, or standards to try to duplicate problems and identify root causes.
Depending on the origin of the problem, the company decides whether or not to develop a new solution.
Tier 3 specialists are the most highly skilled product specialists and may include the product or service's creators, principal architects, or engineers.
L4
Outside support for problems not supported by the organization
Marketing assistance, high-end application security, machine maintenance, and other outsourced services are examples of contracted support for products not offered directly by the organization.
Problems or requests are forwarded to tier 4 support, which is then monitored for implementation by the organization.
Preferred vendors and business partners who provide support and services for your company's products.
Software entails more than just detecting and addressing flaws. It's about keeping your company's heart beating. Here is what Terasol Technologies provide in maintenance as a service.
Discover Terasol's end-to-end application maintenance and support service model and packages to cater to your business concerns and procedure. Get in touch with our experts now!
Maintenance as a service: Our Key USPs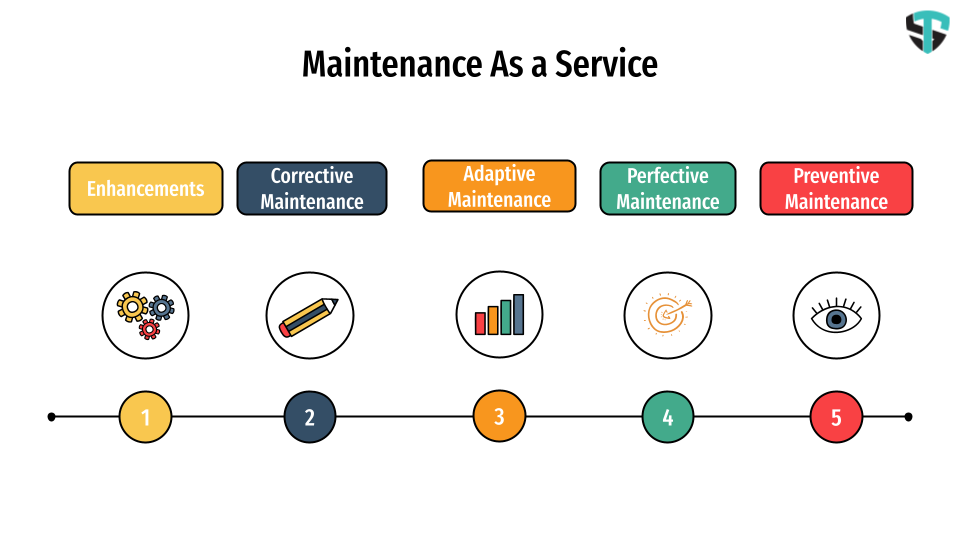 1. Enhancements:
Users may notice things that you didn't spot, or they may offer new features that they'd want to see in the product, which may become future projects or additions. Enhancements include working on new features to retain as well as get new users.
Costs:
Costs due to continuing innovations are generally 40% or more of software maintenance costs.
Our Features:
Add new adaptable features,
Upgrade New functionalities,
UI/UX updates, Testing, and DevOps.
We dedicate 40% of our time to enhancing your software applications.
2. Corrective Maintenance:
Corrective software maintenance is what most people think of when they think about maintenance. Correct software maintenance handles problems and flaws in software applications that may affect many aspects of your software, such as the design, logic, and code.
These fixes are normally the result of user or customer issue reports, but corrective software maintenance can help you detect them before your customers do, which can boost your brand's reputation.
Costs:
Costs due to modifying software to correct issues discovered after initial deployment (generally 20% of software maintenance costs).
Our Features:
Errors removal
Design Glitch rectification
Bugs resolutions
We dedicate 25% of our time to corrective maintenance to ensure your software is bugs free and performs smoothly.
3. Adaptive maintenance:
When your program's environment evolves, adaptive software maintenance becomes critical. Changes in the operating system, hardware, software dependencies, cloud storage, and even changes inside the operating system can cause this.
Adaptive software maintenance can also reflect corporate policies or guidelines. Adaptive software maintenance is required when services are updated, vendors are changed, or payment processors are changed.
Costs:
Costs due to modifying a software solution to allow it to remain effective in a changing business environment (25% of software maintenance costs).
Our Features:
Security Patch Updates
Plugins Updates
API & SDK updates
Code Refactoring
We dedicate 10% of our time to adaptive Maintenance to ensure your software application is up-to-date and secure for the users.
4. Perfective maintenance:
Preventive maintenance or modification of a software product to identify and correct potential defects before they become a problem.
To perfect your visuals that can improve the user experience and delete aspects that are ineffective and not functional.
Costs:
Costs due to improving or enhancing a software solution to improve overall performance (generally 10% of software maintenance costs)
Our Features:
Perfective UI/UX Updates.
Business Logic changes.
Speed Optimization
We dedicate 10% of our time to perfective maintenance to ensure the user experience is always maintained.
5. Preventive maintenance:
Preventative software maintenance helps you avoid problems. This maintenance allows you to make adjustments and adaptations to your program so that it can last longer.
The goal of this form of maintenance is to keep your software application from deteriorating as it adapts and changes.
Preventative software maintenance lowers the risk of running software for an extended period of time by making it more stable, intelligible, and maintainable.
Costs:
Costs due to regular monitoring of SaaS payments, server, domain payments, server loads and configurations, etc. It is generally 5% of software maintenance costs.
Our features:
Code optimization
Documentation updates
Regular monitoring
Efficient storage space
We dedicate 5% of our time to preventive maintenance. It generally comes with adaptive maintenance.
Maintenance with Perfection

That ought to do it! Your software is never truly finished as long as end customers are using it. Because of the ever-changing technological world, today's software requires ongoing maintenance to stay current.
As a product owner, you should concentrate on improving your software in such a way that it advances in tandem with new technologies, trends, and business objectives.
With highly effective software maintenance as a service at Terasol Technologies, revolutionize outdated software applications and infuse the latest technology to grow exponentially.
Our software development company is delighted to be one of the most professional IT firms in the globe, contact us to provide your company with the best software development maintenance services.