Vista gives us that security. As the global pandemic is decreasing day by day and the world is finally coming back to "normal", we are still in the phase of feeling uncertain about our surroundings. As parents, sending our kids to school can give us anxiety as we are uncertain about various things. This anxiety and uncertainty has led to various worries like will our child be safe within school premises?
How are they managing school visitors in and outs? What steps are they taking to protect the schools from COVID-19?
A sense of security is something that we are looking for these days. It is one of the most important aspects that we require for ourselves and our kids during this pandemic. Safety within the school premises is something that all parents are looking up to.
Vista is a touchless visitor school management software and Touchless check-in application that not only speeds up the check-in process but also protects the schools from COVID-19.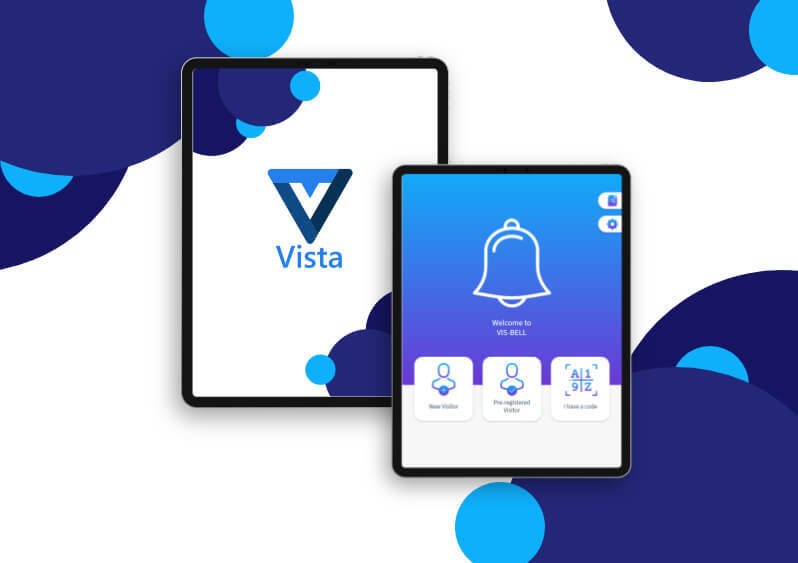 It has this amazing ability to track different types of people such as parents, students, volunteers, and others who enter the school premises or admin office.
The touchless school management software helps track health-related information to safely minimize the spread of COVID-19. It also provides a safer environment for the schools as it stores all the visitor's data in a secure admin portal.
This amazing school management software allows you to quickly log in to the portal and tracks the notification accordingly. It verifies your phone through OTP and also supports international numbers. It can also send messages or emails in emergencies and is also a very sophisticated and easy-to-use dashboard to manage the activities of the school.
Leverage the power of technology with our hospitality app development services.
Features of Vista- School Management Software:
You can make online booking through Vista which can lead to hassle-free experience
For security reasons, it captures the image of every individual entering the premises.
Entered details will help you know who you are meeting which can decrease all the awkward talks.
It provides a printed badge which adds to the authentication process and confirms that the visitor has completed the sign-in procedure.
You can get a personalized badge instantly for more security and identification within school premises.
Security of data is of main concern. The student's database, financial information, and appointment history is protected by the rock-solid infrastructure of Vista.
The management team is also satisfied with the detailed visitor flow reports they can receive through Vista.
In addition to this, visitor school management software would be able to track students' check-in and check-out times. This can help in the attendance process too.
Also, this app provides round a clock help center, chat, phone, email, and onsite support which can ease the process and result in a trouble-free experience.
Vista is taking an essential step during this pandemic in helping and increasing the safety in schools by allowing the students and staff to work efficiently at school and also to make sure that the individuals who seem to be at risk to stay home and ensure that all suspected or confirmed cases of COVID-19 are immediately quarantined.
By doing so, they are ensuring that the educational process is not stopped and the staff and students at the school are kept safe with the school management software.

With this school management software, health screening should be done daily for school kids and groups of workers in schools that have reopened Health and protection guidelines, including temperature checks and reporting signs upon arrival, earlier than getting into the building to be followed strictly. This can be done:
Ask the staff and students their recent travel history or current state of health.
Do a health checkup and take actions accordingly.
Send instant alerts to concerned people to approve their entry into your school.
You can also send them QR codes via email in advance in order to have Touchless check-in experience. This will ensure that the staff can access specific areas of your building during a given time frame.
Vista sends a notification to the staff with complete visitor details. So the host can approve or disapprove the entry of visitors
With technological advancement, switch to Vista and upgrade your school management software.