"You can't cut your way to growth," as the saying goes, but you can definitely cut your way to survival.
As businesses rely more and more on technology, IT has more than ever been the main area of investment for businesses. A company may need to reduce spending right once in order to survive for a variety of reasons, including pandemics, a deteriorating economy, aggressive new competitors, and many more.
The issue of how to reduce IT costs is challenging for businesses of all sizes, including small, medium, and large corporations.
The average IT expenditure is 7.5 percent of the revenue.
This percentage is quite high for many businesses because the costs are high and CEOs are left with the perception that the IT department is expensive as a result.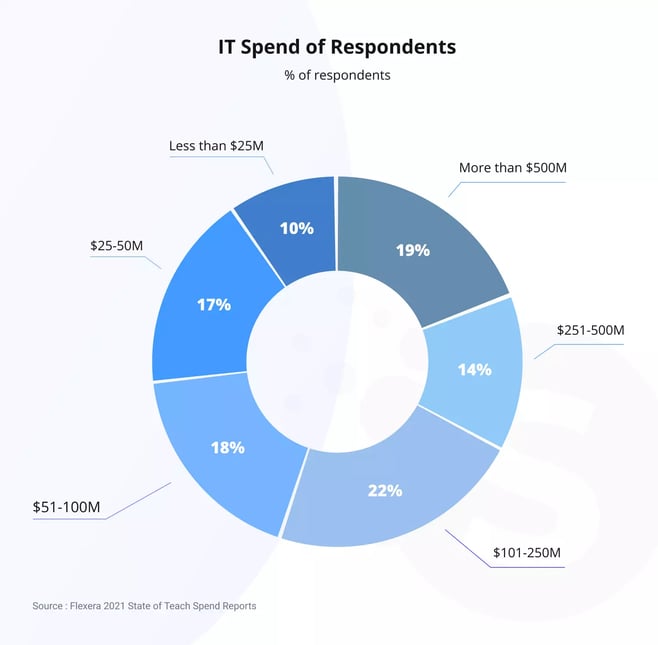 The breakdown of IT spending as a proportion of revenue per industry is depicted in the graph below. The top spending is shown in industries like financial services, retail, and healthcare which highly affected by technology advancements.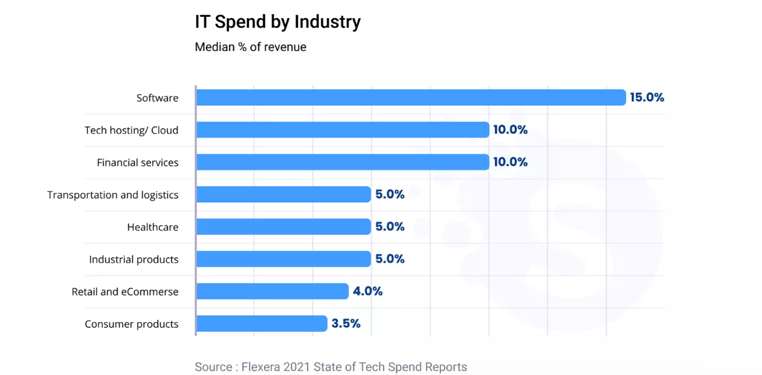 With such large expenditures, corporations are now focusing on cost optimization. Simply said, IT leaders are now concentrating on cost-cutting, which is a challenging job as we all know.
Let's first examine the factors that influence IT costs.
Hardware or physical equipment,
Networking components, enabling network operations, providers, fireworks, and security.
Software, all the applications a business has.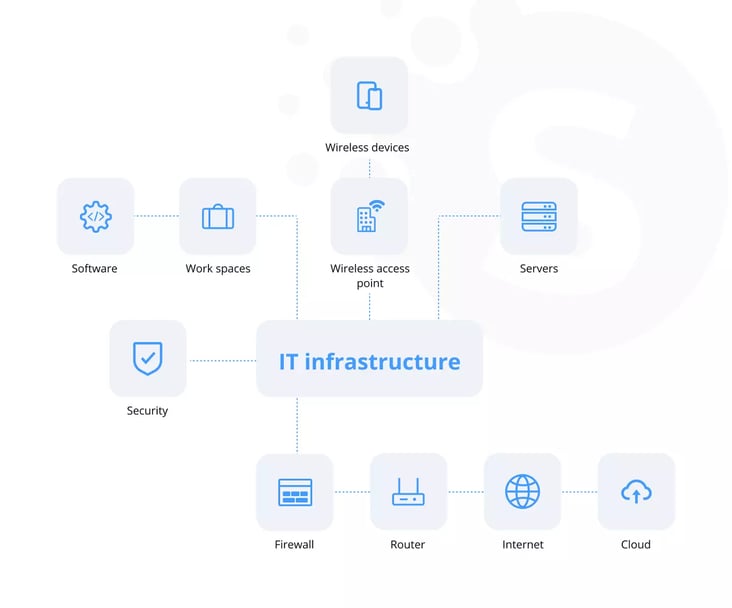 All of the components can be combined to reduce IT costs by forming a strategy to optimize these costs. According to estimates, maintenance and services consume three-fourths of the allotted IT budget, leaving one-fourth for innovation.
This leads to the conclusion that most firms continue to have doubts about their ability to compete with digital leaders despite having a strong information system and personnel in place.
So, with this article, we bring you several tried-and-true methods that can reduce IT costs.
10 Strategic Ways to Reduce Your IT Costs
Making wise decisions to decrease business expenses and maintain the seamless operation of your IT department is ultimately what budgeting is all about.
The majority of IT expenses appear fixed and un-compromised. In order to dispel this myth, there are a few costs that are not fixed and can be decreased.
But which decisions ought to be given top priority for your business is dependent on your team and business metrics.
Here we have mentioned 10 ways to reduce IT costs while managing your IT budget.
1. Switch to Hybrid Clouds
The State of Tech Spend Report found that approximately 50% of businesses showed increasing interest in moving to the cloud.
It goes without saying that this fundamental shift will optimize IT infrastructure expenses, yet it works incredibly well. Solutions that use the cloud are more adaptable; they require less maintenance work, and scaling is simpler because server capabilities may be raised as needed.
Businesses can use hybrid cloud solutions for increased security by splitting workloads across private and public cloud environments.
An investment that will have a significant influence on business is moving to the cloud. These cloud services are available: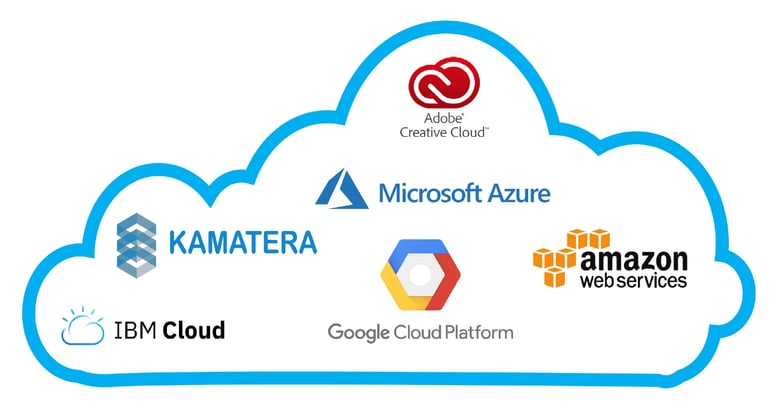 2. Reduce IT Costs using Virtualization and Containers
Not too long ago, each application had its own dedicated server, and this number increased as a result of DR servers, test servers, etc. Since many of these servers were underutilized, hardware expenses were not reduced. If you still have dedicated servers, you can save money by partitioning them so that different applications can share the hardware.
Using this concept of virtualization further, containers are a fantastic choice too. For instance, Linux containers are portable, lightweight, self-contained runtime environments that in turn reduce hardware IT costs.
3. Using Agile and DevOps Practices to Reduce IT costs:
Organizational silos between IT operations employees and software developers are typically broken down by Agile and DevOps approaches. Agile methodology and DevOps are cooperative methodologies that emphasize shorter time to market, reduced failure rates, quick updates and fixes, and faster system issue recovery.
They open the door to an infrastructure that is focused on optimizing the delivery of applications and services rather than on managing servers, switches, firewalls, and communication networks.
4. By Outsourcing IT Services and Personnel
Another option to carry out a cost-cutting strategy is to hire employees who have been outsourced. Whether you believe it or not, it's usually a smart idea to outsource IT services to professionals who can do it more effectively, quickly, and inexpensively.
According to Deloitte's research, 59 percent of organizations choose to outsource IT services since it allows them to save money.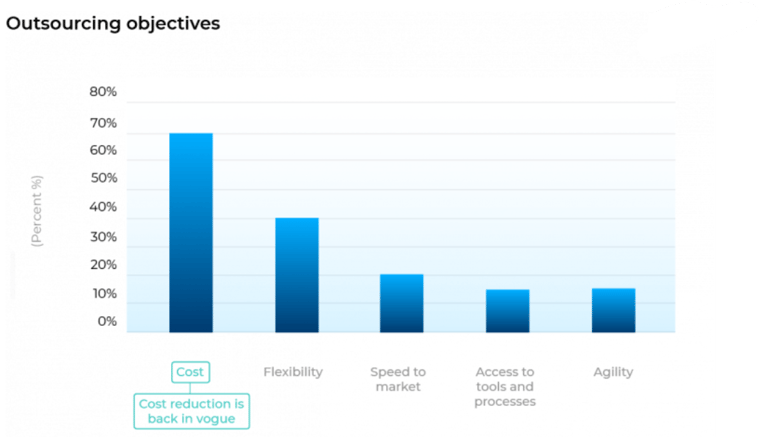 Look at the finest benefits of IT outsourcing here- 8 Amazing Perks of Outsourcing IT Services for Your Business.
5. Reduce Personnel Costs
Staff expenditures are the main expense when evaluating IT budgets. Over time, the number of personnel at the higher level rises as a result of both employee and organizational growth, creating a top-heavy department. Setting goals and understanding where your company is now will help you get where you want to go. Regular employee layoffs are the general strategy chosen by corporations to reduce department costs. This causes anxiety within the organization, which has detrimental effects. To overcome this, organizations can hire strategically with lower-level employees except in exceptional situations.
6. Standardize Your IT Infrastructure:
Since the word standard refers to uniformity, achieving consistency among various hardware and software applications will aid efforts to reduce IT costs. Giving all of the staff similar operating systems and applications can accomplish this.
7. Using ITSM Skills Across the Company
Service management is used in many firms to provision and delivers services whenever they are required across the enterprise, not just for IT services.
Enterprise-wide IT service management is a platform for services, updates, events, issue management, and provisioning. Using ITSM technology is expanding and embracing services both inside and beyond the IT department, making it more comprehensive and cost-effective.
Many firms are implementing service management for clients, business partners, and internal users for services such as customer support, sales/marketing, human resources, financial services, operations, and supplier management.
8. Systems Integration
It takes a lot of work to integrate various information technology systems, but once done, it makes firms run more efficiently and reduces significant IT costs. Along with lowering IT expenditures, system integration also helps with time and space savings.
Implementing simple but important improvements in this particular case, it will also help in increasing the processes' efficiency.
9. Use Less Expensive Hardware
It is frequently possible to run apps on less expensive devices in addition to increasing hardware usage by using containers. This tactic gained popularity a few years ago when strong PCs that could be connected together and match expensive mid-range servers in performance were developed.
10. Use of Open-Source Software
Both the upfront expenditures of purchasing software and the ongoing, yearly maintenance fees are eliminated by using open source. But open source is more than just a money-saving strategy. You can alter open-source software since you have access to the source code.
Although, it might be a setback when it comes to personalization and security options.
Conclusion
Making the CFO your friend is one last suggestion on your quest to cut IT expenses. Because they love saving money so will be supportive of the cost-cutting process.
Your ability to reduce IT expenditures significantly will be aided by the cost-cutting measures mentioned above. However, putting these IT cost reduction ideas into practice successfully takes little thought, study, or effort.
We at Terasol Technologies understand the importance of services like cloud, microservices, and agile methodology. We always put a priority on providing the best possible solutions for your business needs.
Feel free to contact us in case of outsourcing software development solutions.