According to the latest noticeable report anticipated by computer economics it was witnessed that in the year 2018/19, there is a rise in outsourcing opportunities up to 56% after keeping application development in the mind. So, now all the well-reputed organizations which are established all across the globe are subcontracting with their development needs. So, how do we run an Agile project?
The main reason behind this emerging demand for subcontracting the mobile app development requirements always remained the same- the main mission and vision of the organization should be to provide quality service over quantity which will motivate the developers because the lower value can bombard organizational values. But after researching the area of app development or outsourcing it was detected that some of the specialists are creating agile project plans for development projects from outside the terrestrial location.
Through this article, we will throw light on how Terasol works with the competent specialists in Agile Project who are currently residing outside their geographical location. In addition, this article will cover how developers can be connected for promoting the development cycle. More chained or interacting working will reduce the chances of risks.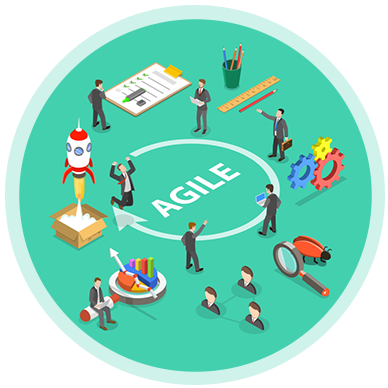 But before exploring this topic in-depth we should also look at how developers as agile team members can operate the apps.
So, in simple terms, we should know the term Distributed Agile Project Teams in the abstract.
What is the basic meaning of the Distributed Agile Project Team?
It is popularly known as the distributed team. If we dive in deep then it is a concept used to prescribe the event where several members do their duty from the different areas of the world instead of being in the organization itself. Team coordination and instant meetings are immensely done on diverse digital platforms in agile projects. It terminates the communication barriers and through this seamless interaction, developers can highly focus to attain the desired ambition of the organization. It also empowers developers to deliver refined work.
Why is there a great focus of organizations to invest in a mobile App Development Distributed team?
The numerous reasons are used as a major tool for boosting businesses, like investing a gigantic chunk of money in distributed agile project teams.
1. Lack of skilled Developers in their Hometown
For the establishment of a building its foundation should be strong enough and to build dynamic applications for android, competent team members are necessary. So, the process of development should begin by preparing or grouping the specialists for accomplishing the desired results. An agile project flexible team has the power to keep a regular track of the work further it will ensure smooth functioning within the organization. Secondly, they will look after app scaling.
2. Terasol's tactic to allocate Agile Development
Several times organizations create specialized teams for prestigious projects. The need and demand require developers to perform their allocated tasks while keeping close tabs with the clients' FTEs. In this kind of situation, it becomes a basic necessity to keep spirits high and to do work in a coordinated manner. The mind should not even think about geographical location or distance. The mind should entirely focus on the development process to bring several apps into its existence.
Role of Terasol as a key player to ensure timely delivery of the project without facing any communication gap and misconception
Methodology
As we all know that digital platforms can be used for interaction. Whether it is small-scale or large-scale businesses, agile project practices are considered the best method. Now it became a norm for several organizations that are working in the field of app development. Things become flexible when the spirit of teamwork rises.
Agile project models reduce misconception to a great extent and further, it is considered very much handy. The major problem which creates problems is the different time zones of different nations but to eradicate this barrier several innovations or dynamic online mediums are there like zoom, MS teams, etc.
Let us have a glimpse of Distributed Agile project development tactics that are applied or incorporated in the proceedings of app development.
After the full-fledged introduction of team members, the collaborative assignments and tasks are assigned and from their App developer's duties start.
Terasolites formulate all the relevant steps of regular scrum strategy. Well in legitimate terms, scrum means face-to-face interaction for straight 15 minutes where every participant is asked to give their valuable inputs and to tell their current status of the work which was assigned to them. This methodology is a bit complicated because it is not possible to have face-to-face interaction for 15 minutes with a team who is working from a different zone.
To conquer this problem, holding video call meetings can be the best rest tactics through which one can keep track of another developer in the agile project development. Thus, it will maintain the essence of face-to-face interaction to some extent. Select the most preferable time period after looking at the conditions. Then with the gradual support of video-sharing collect the updated data. Tools like Trello and Jira empower every team member to keep their viewpoints in front of the head.
It is necessary to provide accessibility to all the team members for tracking activity. Well for communication purposes platforms like Skype, Zoom, MS teams, etc. are available. With the support of these platforms, one can clarify the doubts which generally arise.
Learning outcomes for Businesses while working in the Agile Project Development process
Agile project model builds a culture instead of projects which give a new definition to attain success while doing the project. It incorporates the term independence for talented app developers. This also promotes a sense of ownership.
The main ambition becomes the same and to accomplish the project app aligns following the SMART model- Specific, Measurable, Achievable, Realistic, and time-framed concept.
One has to rely on online collaboration tools to reduce the chances of confusion by maintaining a pure management system.
Through Agile Project development one can give the solutions or valuable suggestions for app development purposes.
Do you want to talk about building your own system or improving the quality of your distributed agile software development?
Feel free to contact our software development company and have a chat with one of our experts.