The idea and concept of the cloud are no longer a complete enigma. While the rest of the world was coping with one of the recessions in history, a revolution in computers was taking place. Cloud Computing is a revolution that shook the foundations of how technology is distributed to all kinds of businesses.
We've accepted that the cloud will be a part of everyday life – even if the ramifications of the cloud shift aren't completely understood – since it's a term used so frequently in every element of digital transformation and modern technology.
With this, there are several organizations providing cloud computing services to businesses.
But when it comes to cloud computing, the popular subject of AWS vs Azure comes up frequently.
In the battle of AWS vs Microsoft Azure, are both superheroes in their way, but who is on top of the cloud?
The cloud computing business has evolved at a breakneck pace, resulting in various cloud providers, technologies, products, and services. Even a basic cloud setup comes with a plethora of possibilities.
It's funny to say, but there's a problem with having too many options!
Excited to know who wins? Let's get started!
Why AWS vs Microsoft Azure
Every sector has its market leaders—a small number of enterprises that stand out from the crowd and set the standard for excellence. They had the right technology foundation, experience, and financial resources to construct industry-leading cloud computing platforms as they entered the cloud frontier. Since the technology's inception, both Azure and AWS have been at the forefront of developing new cloud goods and services.
Microsoft and Amazon Web Services were designated Leaders in Gartner's most recent Magic Quadrant for Cloud Infrastructure and Platform Services, which comes as no surprise.
As per Statista, AWS has 30% and Azure has a 22% market share in cloud computing services in Q2 of 2021.
What is AWS?
AWS or Amazon Web Services is Amazon's broad and ever-evolving on-demand cloud computing platform. Infrastructure as a service (IaaS), software as a service (SaaS), and platform as a service (PaaS) are three categories of AWS services (PaaS). AWS was created in 2006 and has since risen to the top of the cloud platform rankings. Amazon Web Services provides a diverse set of global cloud-based products for various commercial purposes like database, networking, analytics, migration, security, storage, and many more.
What is Microsoft Azure?
Microsoft Azure debuted in 2010 and has since grown to become one of the most popular commercial public cloud service providers. It provides a wide range of integrated cloud services and features, including analytics, computing, networking, database, storage, mobile, and web applications, all of which seamlessly interact with your environment to maximize efficiency and scalability.
AWS vs Microsoft Azure: Which cloud vendor is best?

Compute Services
A computation or compute service is one of the most important services. The vast amount of data created these days necessitates the use of speedier processing methods. Compute services ensure that you may start instances in minutes and rapidly scale them up if necessary.
AWS has machines that can execute data processing and computation, and it can scale to thousands of processing nodes. For scalable computing and managing software containers, AWS offers services such as EC2, Elastic Beanstalk, AWS Lambda, ECS, and others.
To scale and manage software machines, Azure makes use of virtual machines. Azure too offers similar services such as Azure Virtual Machine, App Service, Azure Functions, and Container Service, among others.
Storage Services
In AWS vs Microsoft Azure battle, both offers long-term and dependable storage solutions. AWS offers S3, EBS, and Glacier, whereas Azure Storage Services offers Blob Storage, Disk Storage, and Standard Archive. EBS storage is useful for storing large amounts of data.
High availability and automatic replication across regions are provided via AWS S3. As an alternative to AWS' S3, Azure offers Block Storage. With huge data, standard storage presents various issues, necessitating the adoption of premium storage. Azure also offers two types of storage: cold and hot storage.
Networking Services
Both Amazon Web Services and Microsoft Azure excel at offering networking services. Both of these companies can help you extend your on-premises data center into the public or hybrid cloud. AWS provides a network of Virtual Private Clouds (VPCs). Within a VPC, a user can build route tables, private IP address ranges, subnets, and network gateways. These AWS network services are very configurable: IP/Elastic IP/ELB, Virtual Private Cloud, Route 53, ELB, and Firewall.
Microsoft provides a Virtual Network service (VNET). Automatic IP assignment, load balancing, Azure Connect, balancing, and endpoints are all services defined in csdef/cscfg.

Databases Services
If you need scalability and durability, AWS offers Amazon RDS, while Azure offers Azure SQL Server Database. AWS offers a variety of database engines, including MariaDB, Amazon Aurora, MySQL, Microsoft SQL, PostgreSQL, and Oracle, whereas Azure's SQL Server Database is, as the name implies, based on SQL.
When it comes to the user interface, Azure is friendlier or smoother, whereas AWS offers better provisioning and more instances. AWS provides a more mature environment for Big Data in particular in terms of maturity.
The Azure interface and tooling make performing multiple DB operations simple, whereas AWS offers more instance types that you may provide to gain extra DB control.
Machine Learning
To make machine learning model creation faster and easier, AWS has SageMaker and Azure has a machine learning studio.
How do they differ, though?
Both AWS and Azure provide a managed service that covers the end-to-end machine learning pipeline to help you design, train, and deploy a machine learning model faster, but the way they do it is very different.
Unlike Microsoft Azure, which provides an easy-to-use drag-and-drop UI where the model building process can be architected on canvas, Amazon Sagemaker is solely reliant on code.
Cloud offerings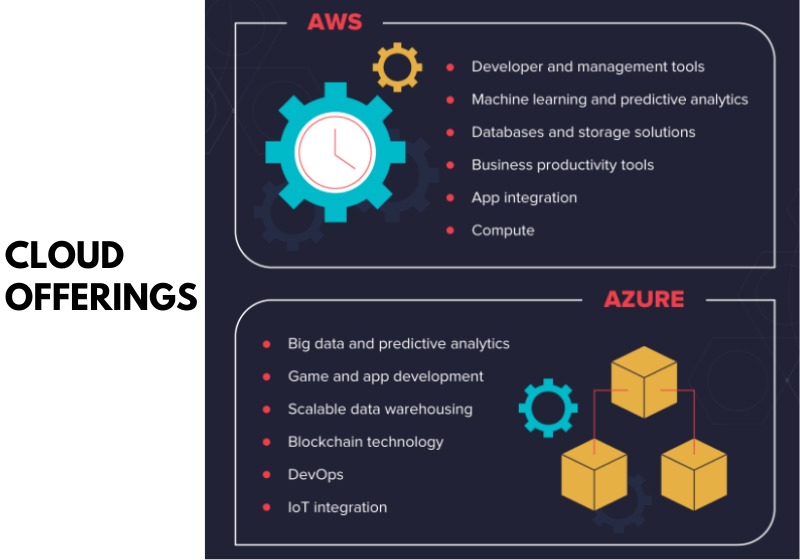 AWS' hybrid cloud offerings are getting better all the time. In the hybrid cloud industry, Microsoft excels and has an advantage over AWS.
However, AWS has an advantage over Azure in terms of government cloud products since it offers complete security measures, stronger controls, auditing, security credentials, and a hybrid IT infrastructure.
When it comes to government cloud products, Azure has a restricted reach.
Support for containers and orchestration
We've already established that AWS' Big Data and analytics offerings are more developed. It offers a variety of services, including IoT, mobile app development, and the establishment of a computing environment, based on the demands. Microsoft offers Hadoop support through Azure HDInsight. Windows or Linux containers can also be run on the platform.
Security
While comparing Security in the battle of AWS vs Azure, it is provided via user-defined roles with exceptional permission controls. The way AWS implements granular IAM and security groups is also impressive. Permissions and permissions are managed and authorized by Azure Active Directory. Unlike AWS, which requires you to configure each account's users, federation, and access separately, Azure allows you to do so from a single spot.
Data archiving and retrieval for the long term
Long-term data archiving and retrieval are possible using Amazon Glacier.
There is currently no option for long-term data storage and retrieval by Microsoft.
Pricing
AWS and Azure both offer free starting tiers with limited use. Pay-as-you-go pricing is available in both Azure and AWS pricing models. AWS bills you on an hourly basis, but Azure bills you per minute. With higher usage, AWS can help you save more money—the more you use, the less you pay. Azure gives you a lot more freedom when it comes to short-term subscription agreements.
One of the following models can be used to purchase AWS instances:
Reserved Instances- These are instances that have been set aside for a specific purpose. One can book an instance for 1 to 3 years by paying an advance fee based on use.
On-Demand Instances- Pay only for what you use, with no upfront fees.
Spot Instances- Bid for more capacity depending on availability with Spot Instances.
Microsoft Azure allows users to choose between pre-paid and monthly costs for short-term commitments. When it comes to price models, Azure is a little less flexible than AWS.
When to use AWS vs Microsoft Azure?
In AWS vs Microsoft Azure, when it comes to Hybrid Cloud and integration with Microsoft's stack of products, Azure is superior, but AWS offers greater flexibility and options. It all comes down to the needs you or your company have. AWS is a good option if you need Infrastructure as a Service (IaaS) or a large range of services and tools. Azure is a good option if you need Windows integration or a good platform as a service (PaaS) cloud provider. Consider Azure if you primarily demand the finest storage or customer support. If networking is more important to you, AWS is the way to go.
Final Note
In AWS vs Microsoft Azure, both cloud platforms have impressive capabilities, making it tough to choose a clear winner. Each of their cloud ecosystems provides several advantages, better computing power, scalability, security to unequaled cost-effectiveness, and carbon footprint reductions. But in this battle, we do need a winner and that is AWS. AWS has more cloud services and products and also helps when you want a bigger network in less price. However, do make an informed decision of selecting a vendor according to your business needs and requirements.
Terasol Technologies can help to get your cloud business off to a flying start with exceptional performance, maximum availability, and limitless growth possibilities.
If you want to integrate cloud computing services into your business software and applications, contact us now. Our experts in-house will help you get the perfect cloud solution for your business.