Smartphones are now so common, that more businesses and employees are using the freedom that these gadgets provide.
In today's digital era, mobility is a fundamental requirement for organizations everywhere.
The main force behind digital transformation and providing the best possible customer experience is now mobile technology. Because of how mobile our world is becoming, enterprise mobility management solutions are now a part of a corporate digital transformation, making mobility solutions the trendsetters.
In order to take advantage of the flexibility and power of mobility solutions, many firms will need to make a significant investment in enterprise mobile app development. Simplifying and strategizing a transformation plan is more important than ever as more businesses transition to being mobile-first enterprises.
The enterprise mobility management solutions market is growing at a rate of CAGR of 12.84%, meeting user expectations in terms of incorporating voice interfaces, biometric authentication techniques, natural language user interfaces, and code portability.
Enterprise mobility management solutions let your company manage international communication while providing total cost and usage transparency. You can easily activate, track, manage, regulate, and simplify mobility services with the aid of our effective enterprise app solutions.
Now let's see what exactly is EMM solutions, their types, how it benefits organizations, and the latest enterprise mobility trends.
What is Enterprise Mobility Management Solution?
The use of company- and employee-owned mobile devices within an organization is secured and managed by a collection of technology, procedures, and regulations known as an enterprise mobility management (EMM) solution.
EMM solution helps employees be more productive in addition to addressing security issues since IT departments can give them access to the programs and information they require to carry out work-related tasks on mobile devices. Organizations with bring your own device (BYOD) settings can use EMM software to handle a variety of device kinds.
Nowadays, individuals frequently refer to allowing mobility in a wider sense when they use the terms enterprise mobility solutions or enterprise mobility management. Personal laptops and other smart gadgets, such as tablets, are accessible in this.
Additionally, it incorporates a strategy for developing fantastic UI/UX app designs to include workers and ensure efficiency.
You would wonder, then, what wonders can enterprise mobility offers. There are many, but we'll focus on a few important ones here.
5 Benefits of Enterprise Mobility Management Solution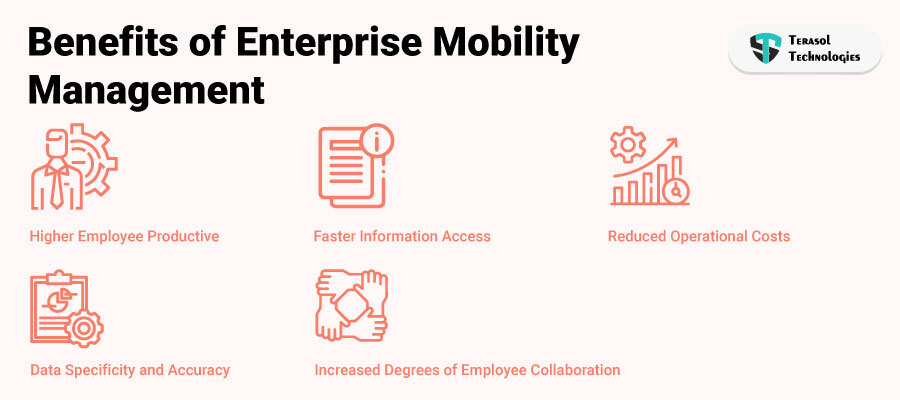 1. Higher employee productivity levels:
In today's world, businesses must be flexible. As a result, flexible workspaces like co-working spaces are flourishing. Additionally, many companies now permit employees to work remotely. Productivity has reportedly increased as a result.
With the help of built-for-business mobile productivity apps from EMM solutions, mobile workers can be as productive and secure as they are in the office. These apps include email, calendar, a secure web browser, document editing, and remote access to enterprise resources like apps, desktops, and files.
2. Fast access to information:
With a system that enables remote connectivity to information, employees will easily be able to obtain crucial information. As a result, businesses would experience uninterrupted processes, which would boost overall productivity. This is preferable to having to physically be on-site whenever something from the network is needed.
3. Reduced operational costs:
Through an integrated and simplified single window operating platform, enterprise mobility enables employees to have simple access to company data faster and through a safer interchange of information. Real-time updates increase the effectiveness of the system as well. Speed and effectiveness also help to conserve resources, which increases the process' total cost-effectiveness.
4. Data specificity and accuracy:
The most important element of any company model is data. Using corporate mobility solutions also gives you amazing insights into data patterns, trends, and updates. Workplace mobility solutions make it simpler to manage data, which facilitates the process of making data-driven business decisions for company expansion.
Additionally, managing large amounts of data enables you to provide your clients with greater value.
5. Increased degrees of employee collaboration:
When several resources are working on the same project, it is critical that they communicate often with one another. With the aid of workplace mobility solutions, employees can quickly update their work progress and collaborate in real-time.
Types of Enterprise Mobility Management Solutions
Enterprise mobility management solutions, as you've already seen, have developed into a fairly broad term that refers to a variety of various things. Depending on the business, several forms of corporate mobility management may be a good fit.
The most common and important enterprise mobility solutions are listed below: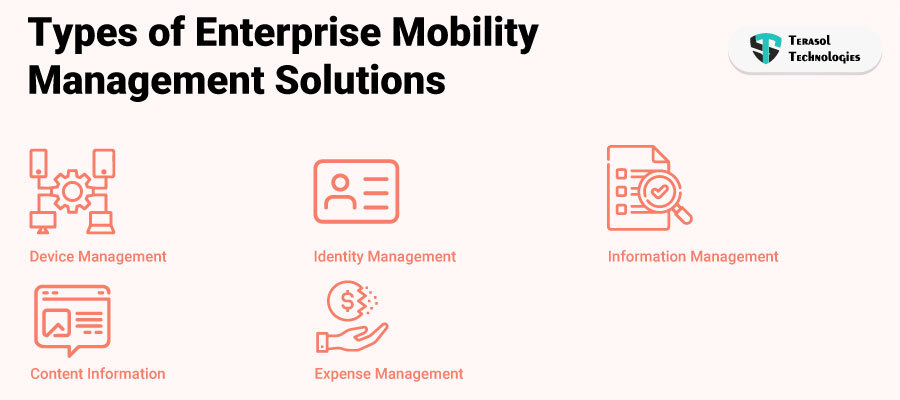 1.
Device Management
Device management often entails installing profiles that enable remote control, data encryption, and security standard enforcement on mobile devices like smartphones and tablets.
Sensitive business data may be in danger if a device is lost or stolen. In this case, device management tools can completely delete all data and programs from a device.
2. Identity Management
In the context of corporate mobility management as a whole, identity management can take on a few different forms. These include single sign-on, authentication, device certificates, and app code signatures.
This strategy's primary goal is to guarantee that only approved people and gadgets have access to company information, software, and procedures. Organizations can grant department-level credentials through identity management to guarantee that all team members have the same access to crucial data and applications.
3. Information Management
Since databases are the main focus of hybrid services, information management is typically integrated with device and app management services. When your company uses cloud-based database technologies, this is a crucial part of workplace mobility to take into account.
You should think about how to handle your data so that it is secure while numerous devices are accessing a database. Fortunately, there are many excellent tools and software available, and information management mobility solutions frequently already address this issue.
4. Content Management
Access to content, as opposed to database access in information management, is the focus of content management. These are the primary issues with content management:
Content access
Content push
Content security
The majority of content management technologies can interact with other corporate applications and enforce an organization's authentication standards. Again, content management is often an element of app and device management services, much like information management is. Organizations, meanwhile, might just be using a content management system.
5. Expense Management
This enterprise mobility management solution aims to aid businesses in managing and tracking their expenses. This is helpful if your company offers mobile devices to employees or pays them a stipend for using their own devices.
This will allow you control over how the mobile service and device are used if your company provides mobile devices. The organization can use this information to create mobile device rules and to help with procurement.
But with this flexibility in EMM solutions, there will be a rise in security concerns. So how do EMM solutions solve this?
So, how do EMM solutions aid security issues?
Because technology enables workers to work while on the go, enterprise mobility management has the advantage of increasing productivity.
Due to their portability, they are more likely to be stolen, which could cause data loss or illegal access. But these mobile gadgets can pose a threat to organizational security if they are not handled. The installation of harmful apps that could lead to a malware attack on the entire business network is another major source of worry for IT administrators.
By controlling the devices, apps, content, and access, an EMM software or solution enables you to fend against security risks without hindering productivity.
With the aid of EMM solutions, enterprises may remotely delete corporate content from lost or stolen devices, impose security policies on devices, enable encryption, and prevent unauthorized access to and sharing of corporate data across all the devices in the organization. This guarantees that employees may securely access company data without worrying about theft or data loss.
Now we know all about EMM and the wonders it does. Below are some latest trends in enterprise mobility management solutions for 2022 and beyond.
Latest Trends in Enterprise Mobility Solutions for 2022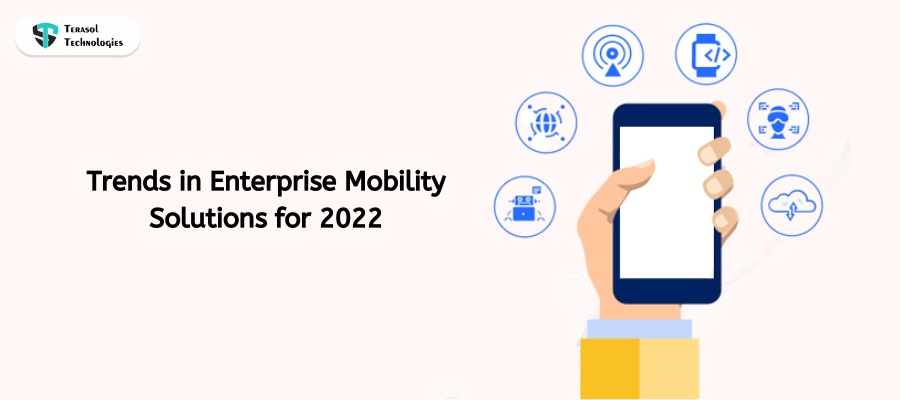 To remain competitive in the face of ever-changing business environments, companies create an enterprise mobility strategy. Mobile devices are just as prevalent at work as they are in daily life.
Enterprise mobility trends unmistakably demonstrate how swiftly and successfully the sector is growing. Some of the key trends are listed below:
1. BYOD (bring your own device):
Businesses have created intricate models to support a business mobility strategy. One such strategy is the Bring Your Own Device (BYOD) paradigm, a significant workplace mobility trend for 2022.
2. Wi-Fi Edition 6 and 5G cellular networks:
The fifth generation of mobile internet connectivity, or 5G networks, provides quicker and more dependable connections. The launch of Wi-Fi edition 6 is an additional trendsetter for 2022 enterprise mobility.
Enterprise mobility tools like video conferencing platforms, cloud computing systems for file storage, and web collaboration tools can all be used with better and faster internet connectivity.
3. Internet of Things
The Internet of Things is a network of interconnected computing devices, mechanical and digital machinery, items, animals, or people that are given unique identifiers (UIDs) and the capacity to transport data across a network without the need for human-to-human or human-to-computer interaction.
IoT will continue to advance steadily because of cutting-edge cellular and wireless network technologies.
4. Artificial Intelligence
The delegation of tedious and repetitive duties to artificial intelligence (AI) results in a rise in employee productivity, which is one of the key benefits of employing mobile devices in the office (AI).
AI is one of the most significant advancements in enterprise mobility since it reduces human workload through the introduction of self-learning algorithms. They are AI-based software that let several customer support procedures be automated.
A top example is the use of chatbots, virtual assistants, and voice search.
5. Hybrid Cloud Approach
A hybrid cloud is a sort of cloud computing environment that can manage two or more environments and has workload mobility. Many businesses have already used this technology to streamline challenging business procedures including time monitoring, expense report management, and customer relationship management.
It will be intriguing to observe how forward-thinking businesses combine the advantages of cloud computing with the development of cutting-edge new technologies like AI, AR, and IoT.
Make your Own Custom Enterprise Mobility Management Solutions
There is a huge potential for enterprise digital transformation to flourish. Enterprise mobility management solutions give you the freedom to manage any app, device, and platform from a single location while enabling workers to operate safely on any device.
Customized enterprise mobility solutions are designed to allow flexible work arrangements and remote working.
We help multinational corporations automate and incorporate digital enterprise transformation at work. Feel free to get in touch with us to incorporate top-notch mobility solutions, our in-house team at Terasol Technologies can help you elevate your business to a new level.