Regular mobile users seek applications that are useful, simple to use, and entertaining, and developers define target audiences based on user needs and preferences.
For business leaders, developing enterprise mobile applications is becoming increasingly important. It enables businesses to digitize and accelerate processes while also improving efficiency, customer engagement, and growth.
If your company does not have an enterprise mobile app in this digital age, you may be missing out on important growth potential.
Grand View Research Inc. estimates that the global enterprise business apps market will be valued USD 259.51 billion by 2022.
According to Statista, 67% of CIOs believe that mobility application will assist their brand in attaining higher conversions and sales.
This makes it essential for businesses to gear up their digital infrastructure with Enterprise app development services. As it allows businesses to handle common woes regarding legacy business maintenance such as workflow, user experience, and accessibility.
So, it's time to learn what is an enterprise application and how it can improve your company's efficiency and what the future holds for enterprise software development.
What is Enterprise Software Development?
Enterprise application development is the process of designing and implementing scalable and dependable mobile apps to assist businesses in streamlining their operations, increasing productivity, and lowering expenses, among other things.
In addition to optimizing corporate operations, business owners want to design user-friendly software to connect with clients, partners, and employees in the most effective manner possible.
This software is created for a specific environment within an organization, which is where it will be used and where it will achieve a goal.
Mobile apps for business can be made for both internal and external use. By using customized enterprise software, you can gain an advantage over competitors and speed up the working process, and increase revenue.
The Top 7 Reasons Why Enterprise Software Development is Key for your Business Growth
A question that businesses frequently ask us?
Why should you start now when your company is doing OK without a custom enterprise software or app?
Let's reflect on why you should work with an enterprise development company to create custom enterprise software for your company.
1. Management of Data:
One of the most important benefits of corporate software development services is the ability to store large amounts of data. Companies use a lot of data, and storing it in papers and folders is a difficult task. The app's information analysis, verification, and data correction functions can help your firm make the most of data processing. Enterprise apps make it simple for businesses to store crucial data.
2. Employee Productivity:
It is boosted because data is quickly available in a real-time environment, saving time spent processing and arranging data. Employees are also relieved of the need to manually manage data, which boosts their productivity.
In order to provide a pleasant user experience and easy navigation, the company spends more money on design and development while establishing an app.
3. Streamline Workflow Automation:
The most significant benefit of a feature-rich workplace app is that it automates processes to boost productivity. Enterprise Application Integration (EAI) aids in the optimization of company processes by combining useful app capabilities into a user-friendly interface. It also improves cross-departmental collaboration and workflow transparency.
This is also one of the main reasons why business owners choose a reputable mobile app development company to create a well-functioning app with high security and compatibility.
4. Insights for Decision-Making:
Businesses can gain fresh insights for better decision-making by using the latest technology. Enterprise apps are the way to go when it comes to growing a service company. This information can be used to determine the amount of growth, risk management methods, and much more.
5. Processes That are Transformed:
To survive and prosper in today's highly competitive corporate environment, digital transformation has become the norm. You must adapt old procedures to stay ahead of new trends as the competition grows by leaps and bounds. An enterprise app can help you transform fundamental operations and change the way you work.
6. Experience with Customers:
There is a dedicated app for each industry area and department. Businesses can achieve full customer experience by incorporating developments in new technologies such as AI, blockchain, AR, and real-time data access into enterprise software developed by an enterprise application development company.
7. Increased return on investment:
In order to provide a pleasant user experience and easy navigation, the company spends more money on design and development while establishing an app.
Less maintenance costs, regular upgrades, and high user engagement with enterprise apps are all fantastic aspects of increasing your company's return on investment.
These are some of the main reasons why business owners choose a reputable mobile app development company to create a well-functioning app with high security and compatibility.
Some Use Cases of Enterprise Software Development
The demand for enterprise apps has increased, according to enterprise app development businesses. So, enterprise mobile app developers now create a variety of apps to help their clients build their businesses through enterprise app development.
The forms of enterprise apps for business growth listed below are what most firms choose when looking for ways to establish a business app
These are some enterprise-level software available:
Enterprise Resource Planning (ERP)
Enterprise Content Management (ECM)
HR, Marketing, and Finance Enterprise Management Software and many more.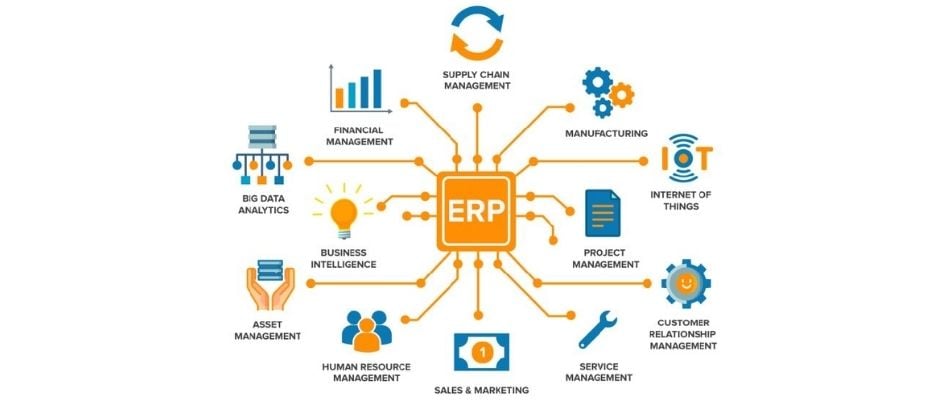 Steps for Custom Enterprise Software Development
The process of developing an enterprise mobile application may appear complex at first glance, but with the right strategy, one can exceed your highest expectations and provide the software solution your company requires to thrive.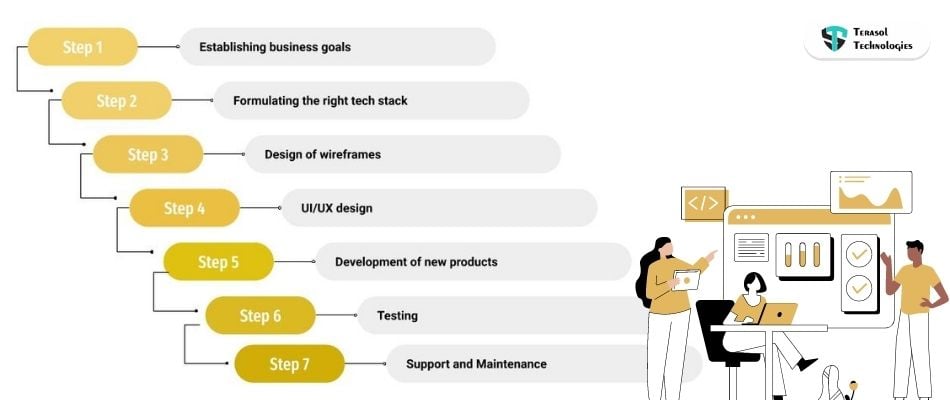 Let's break it down into manageable chunks.
1. Establishing business goals:
It's a good idea to begin with a problem that this software must solve. You must have a clear knowledge of the solution's objective. Understanding the major features is necessary to move forward.
2. Formulating the right tech stack:
When you state your requirements, a software development company presents you with a complete technical specification that includes the tech stack, platforms, wireframes, and roadmap, as well as other technical needs.
3. Design of wireframes:
The wireframe is essentially a mock-up of your upcoming app. You must have one to ensure that you are on the right track and that you are not wasting your time and money.
4. UI/UX design:
It's time to move on to UI/UX design once you've completed the wireframe. It is a crucial phase because the app's success at your workplace is mostly determined by how it appears and feels.
5. Development of new products:
It's here that the business app development company you've chosen proves its worth. Developers begin by writing code in the programming language, techniques, and approaches that they have selected.
6. Testing:
The majority of testing occurs throughout the development phase, but once the product is ready, the Quality Assurance team takes control. Remember that if you can involve your staff in the testing process in any way, this will be the ideal situation – end-users already know what they want from the app!
7. Support and Maintenance:
When the app is out, the work isn't done; you still have to make it flawless by supporting and maintaining it! Obtain as much feedback as possible in order to appropriately fix any bugs that may arise. Also, make sure to offer updates on a regular basis.
Factors To Consider For Successful Enterprise App Development
From the above discussion, we can easily conclude that with the help of enterprise app development services you can answer major legacy system-related operational woes. However, for your enterprise app development process to become successful, your team must plan the development strategy wisely to align the final solution with your business-specific needs. Here's a list of factors you must consider for ensuring a successful enterprise app development process:
Understanding Your Audience
Understanding your users is the first and foremost step toward creating successful enterprise applications. For this, you must look into your user's behavior through analytics and perform market research as well. It will give you an in-depth insight into your user's needs and potential features which you can leverage for growth.
Business Backlogs
Before you embark on the journey of enterprise app development services you must also look into your business backlogs. These are the areas where you can use modern technologies to build relevant features for streamlined operations and accelerated conversions.
Administration
Enterprise application is a complex and time-consuming process. Hence, you might have to stay in touch with your development team for months and look over the progress. To ensure the development process doesn't go unsupervised, assign administration roles within the organization.
UI/UX and Branding
Interactive UI/UX and consistent branding are essential for businesses trying to thrive online. However, for legacy businesses with a distributed digital infrastructure maintaining consistent branding can be a challenge. Hence, before you add a new enterprise app to your business suite create a clear idea for your branding to ensure a consistent brand image.
Platform Selection
While planning for creating an enterprise app choosing the right platform is essential. Ideally, an enterprise app should be easily available on commonly used mobile platforms such as iOS, Android, and Tablet devices.
Major Enterprise App Development challenges and Ways To Overcome Them
Having an enterprise mobile application can be transformative. However, the journey isn't all sugar and plums, due to the unique and complex business needs enterprise application development comes with multiple roadblocks.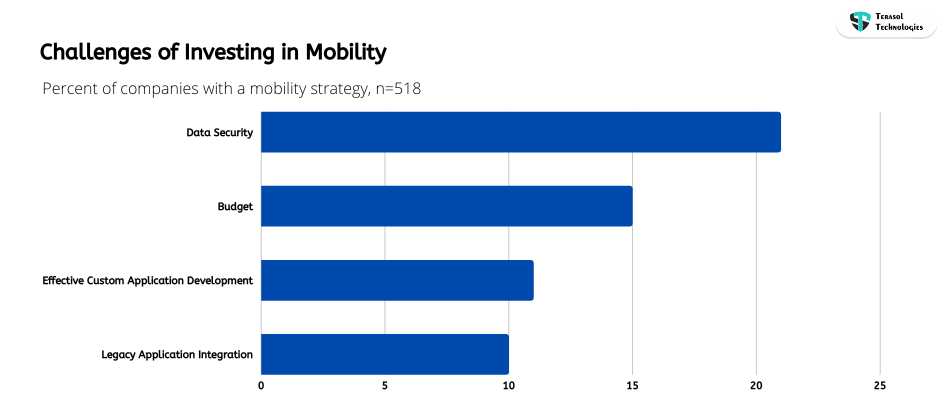 With a reliable development agency, you can easily move past them. Here's a list of common enterprise application development roadblocks you should look out for:
API Strategy:
APIs play a key role in implementing complex business functionalities. In enterprise applications, APIs are used for interacting with the rest of the digital infrastructure to fetch data and communicate with other application modules. However, creating a balance of security and performance can be challenging during enterprise application development. For this, it is essential for businesses to ensure that they have a solid API strategy in place beforehand.
Slow Development Process:
Enterprise app development services aim to answer complex business problems for users. This makes the development process both time-consuming and complex. The key to speeding up the development process is to use a modern tech stack with reusable components. It not only saves up the time taken to develop complex features but also enhances the overall accuracy.
Integrating Backend Resources:
Enterprise apps generally use multiple backend resources to fetch data and collaborate with other segments in your business. However, since large enterprises often have outdated backend systems achieving this can be quite a hassle. To solve this, businesses must consistently update their tech stack in order to stay relevant and scale efficiently.
Security:
Security is essential for businesses to ensure brand success. However, with enterprise apps, the challenge is to ensure secure data transfer from different resources and user security. For this, developers should thoroughly test the roadblock before launching it.
Why Choose Us to Create Your Enterprise App?
Terasol Technologies has an in-house development team that specializes in developing high-end enterprise mobile apps with all of the necessary features and capabilities.
We all know how big the workplace mobility industry is and how many untapped opportunities there are, so developing a future-proof app can be profitable.
These are a few pros and challenges that Terasol Technologies have come across while their journey in enterprise software development, like Smart TV App for Compaq, Insurance Portal for SLK, and Media Analytics for ChromeDM.
Do you want to enhance your business processes?
Contact our professional experts to make a performance-oriented enterprise software development.