If you run a restaurant, you know how time-consuming and difficult managing bookings can be. Your managers likely answer dozens of calls each day and manually manage table reservations. Additionally, you may encounter open tables or scheduling conflicts due to the diversity of the guest lists.
So here is a quick story about how an underrated idea can turn into a massive opportunity for you.
Chuck Templeton, a former US Army Ranger, saw his wife's failed attempts to make a dinner reservation by phone in San Francisco in 1998.
He then decided to start his own restaurant reservation business.
He named the company OpenTable, which became the online restaurant reservation service that completely altered the US food service sector.
Since its start, OpenTable has dominated the market, ensuring the expansion of the business.
When the pandemic in 2020, it caused a 32 percent increase in restaurant closures in the United States and a 28 percent increase worldwide.
During this time, OpenTable provided support to the industry by enabling reservations for bars, schools, and supermarkets; providing free takeout to customers and restaurants; putting in place safety measures to help restaurants communicate about the precautions they're taking to protect patrons and hosts; and doing a variety of other things.
Amazing, right?
Yes, in any other situation, it is not recommended to imitate what is already available or something that is dominated by such a large frontrunner.
Still, given the recent surge in online reservations, food ordering, eateries, and growing food enthusiasts, there is a massive opportunity in the market for more.
Want more reasons why this is a great idea?
By demanding reservations from every diner, the majority of whom made their reservations via online reservations app, restaurants were able to regulate their capacity as if it were legal.
Additionally, your kitchen crew might not be ready to handle too many visitors. Or, on the other hand, they can end up with a lot of leftover ingredients.
A successful reservation app like OpenTable will turn into money making machine (not literally!) with features like location-based search, booking history, and many more.
Let's take a close look at features to help with an easy-to-manage and user-friendly reservations app but before that, you need to know the different types of restaurant reservations apps available.
Different Types of Restaurant Reservations App
There are two distinct business models from which to choose when creating a restaurant reservation app, based on your business logic. This is one of the most important things to take into account.
We are all necessary for the mobile age because on-demand app development has made it possible for businesses to deliver their services or a specific product at the push of a button. Let's quickly review them:
1. Aggregator Model:
In this marketplace-like model, restaurants may register themselves with several restaurant booking systems, including yours. For each transaction or reservation table, you may impose a fee on the eateries. This strategy is frequently used by businesses like Yelp, OpenTable, and others to provide customers with recommendations and services.
2. Self-owned App:
In this line of work, restaurant owners can book tables using their own app. In this case, restaurants are not required to pay aggregators for each reservation.
Now take a look at the features that can make your app successful.
Online Restaurant Reservations App Features
A restaurant reservation website should offer features and services to deliver a comprehensive experience to its three types of admin, diners, and restaurateurs, in order to provide a platform to connect customers with restaurants.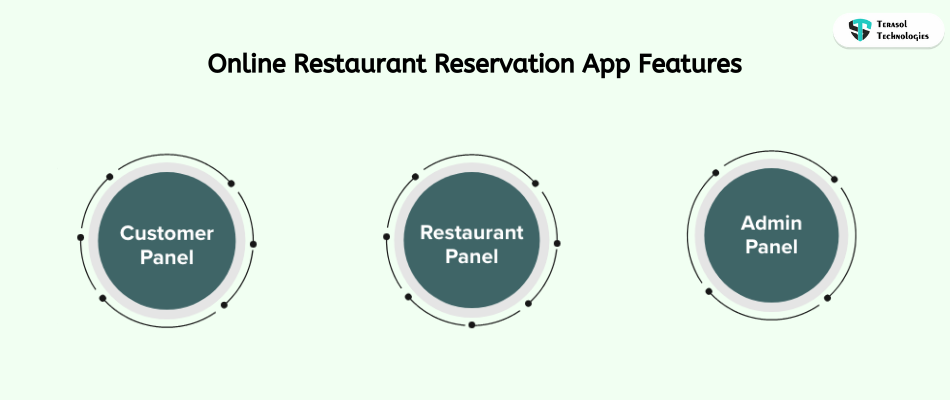 Let's begin with reservations app features for the Customer Panel
1. Easy Registration:
With their email address and other contact information, diners can create an account on the restaurant reservation app. They can also register immediately by using their Google or Facebook accounts.
The software asks about location, spending limit, and preferred cuisine to tailor their search for simpler reservations.
2. Search Box:
Finding the top restaurants among thousands is easy with the help of the restaurant reservation app. The visitor should be able to start their search straight immediately if it is right there on the homepage's first fold section. The menu, seat availability, business hours, ratings, and price filters are available to diners.
It offers clients a straightforward and fantastic search experience.
3. Making a reservation:
A user must be logged in in order to make a reservation. Implement the Facebook or Google+ signup features in addition to email addresses to simplify the procedure.
By just choosing the time slot in the reservation chart, registered diners should be able to complete their reservations. The next stage could be a pop-up form that requests some basic information from customers, such as name, contact information, special requests, whether it is their first visit, etc.
4. Seat Preference:
After selecting a restaurant, the reservation app asks diners about their preferred seats in order to reserve a table. They have the choice of outdoor, bar, normal, or high-top seating. Therefore, the diners may savor their meals while taking in their favorite restaurant views.
5. Private Dining:
For restaurant searches for private dining, a similar toolbox can be used. You should keep in mind to fill out the following input and filter fields: event size, date, desired cuisine, pricing, etc.
6. Online payments:
Without disclosing the card information, diners can save their credit or debit cards and pay immediately from the restaurant reservation app. It also accepts all forms of online payment, including PayPal, PayTM, and PayUMoney. Customers can use their cards to add money to the app wallet, or they can earn points and use them to settle their restaurant tab.
7. Reward System:
You must give customers incentives each time they use your restaurant reservation service if you want them to return. For instance, OpenTable offers reward points to its clients each time they honor a reservation.
These bonus points can then be redeemed for gift cards or discounts on subsequent bookings. In addition to this, you may also offer gift cards.
For instance, Mazmez, a Dubai-based food-tech startup on a mission to bridge the gap between food enthusiasts and restaurants. Users can use the information on seat availability to instantly find and book the right place online for their dine-out and parties.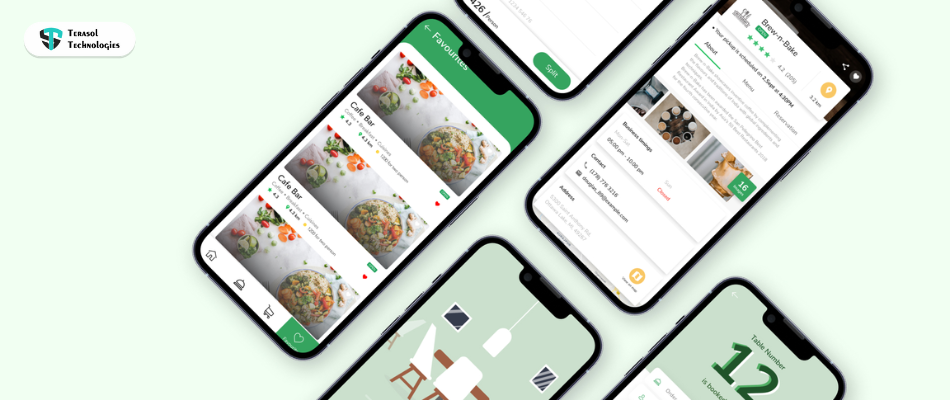 Reservations App Features For Restaurant Panel
1. Restaurant registration:
Restaurants can enter their information by completing a brief registration form on websites or restaurant reservation apps. Both a personal account and a verification process are carried out by the apps.
To help diners in their decision-making, restaurants may include information about the menu, their contact information, prices, methods of payment, service times, and parking. During particular seasons, they can also add coupons and discount deals.
2. Reservation Management:
Include choices like monitoring the status of a reservation for a future date or dining hour, seeing available and unavailable tables, managing the waitlist, and a field for the number of guests who will be traveling with you under this heading.
3. Integrations at the point of sale:
Users find that using PoS integrations is quite convenient because it gives them a quick method to pay on their cellphones using the mobile app without having to wait for the bill. In addition to accepting payments and updating revenue data, it can assess how well every point of sale and marketing channel is performing.
4. Guest management software:
It provides guests with a pleasant reservation experience. With GMS, restaurants are able to manage their reservations from several websites on a single platform and publish straight to their social media accounts about special deals to draw customers in.
Other helpful features of guest management software include:
The staff schedule,
Managing reservations for tables,
Create visitor profiles, bills, and invoices.
We can say that a restaurant uses guest management software as a CRM. All of a restaurant's operational and marketing tasks can be simply managed.
Features For Admin Panel
Restaurant Listings: Admin feature where they can manage all the restaurant account data and marketing campaigns for them.
Chat availability: From this page, managers control emails and online chats that restaurant owners send admin to give them access to listings.
Rewards management: In this case, the administrator oversees the coupons and sporadically distributes them to users.
Membership Plan: The best membership plan should be selected by the restaurant, and it needs to be renewed on a regular basis.
So now you know what features to have for the restaurant reservations app. Let's see how much it costs to build such a reservation app.
Cost To Develop a Restaurant Reservations App
There are many distinct factors that affect how much it costs to develop a restaurant reservation app. To reach more diners, we must create a restaurant reservation software that works on all platforms, such as Android and iOS. Any mobile application's development cost is influenced by a variety of components. The following factors impact the price of developing a restaurant app:
Integration of Google Maps API,
Development cost,
Human resources required,
Location and resources available to the app development company,
Technological stack,
Time to develop restaurant reservations app,
The app's powers and features, and
Integrations with third parties software like cloud service providers.
An app like OpenTable is expected to cost between $60,000 and $1,00,000 to develop in today's time. Although, the cost may climb by more than $1,50,000 if you work with a mobile app development company in the United States or Eastern Europe. However, you may save up to 30% if you work with a South-Asian country.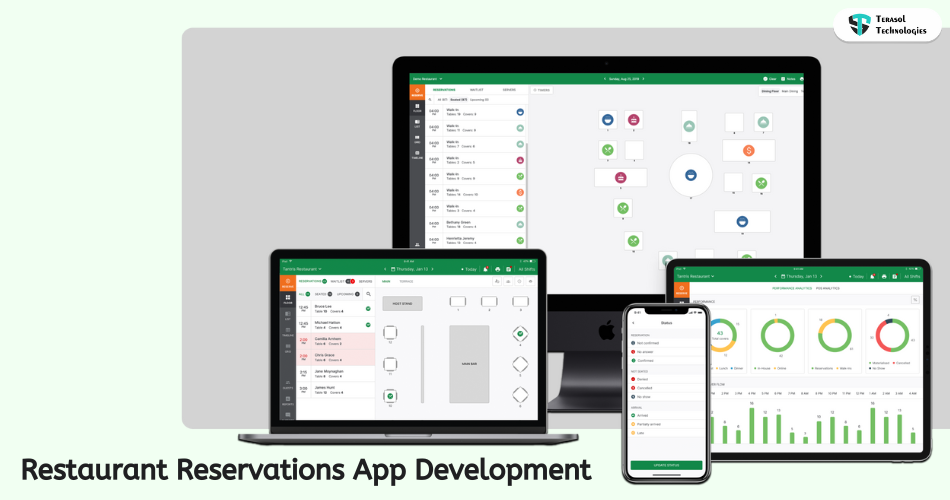 So, Should You Develop a Restaurant-Specific App?
Even if OpenTable and its competitors are becoming more popular, not all restaurant owners are in favor of the system.
Some people believe there is no need to invest more funds in putting up an online reservations system, especially if they currently have a steady stream of customers. Others would prefer to reserve tables for VIP clients rather than the general public. There are eateries that still favor making reservations with pen and paper.
Additionally, OpenTable's services are expensive. Maybe creating your own restaurant app would be preferable to paying money for online reservation services.
Restaurant firms like Bill in France developed their own digital suit including an immersive marketplace for restaurant app booking.
JMVT, a club reservation app, for Las Vegas where customers can make reservations for any day or night club VIP table to get the best club experience. This unique concept helps party animals find new companions for hanging out.
We advise you to look more closely at the potential for expanding your company independently of any outside partners.
You need to consider Terasol Technologies if you want a cost-effective solution that allows you the flexibility to improve and expand upon it in the future.