Digital Transformation can help businesses enhance user satisfaction by 30% and skyrocket their economic gains by around 20-50%.
This makes adapting to digital transformation a must for businesses trying to thrive in this competitive age. Digital Transformation not only helps you move online but also reforms your business operations by digitizing and automating them effectively which in the long run positively impacts efficiency and overall productivity.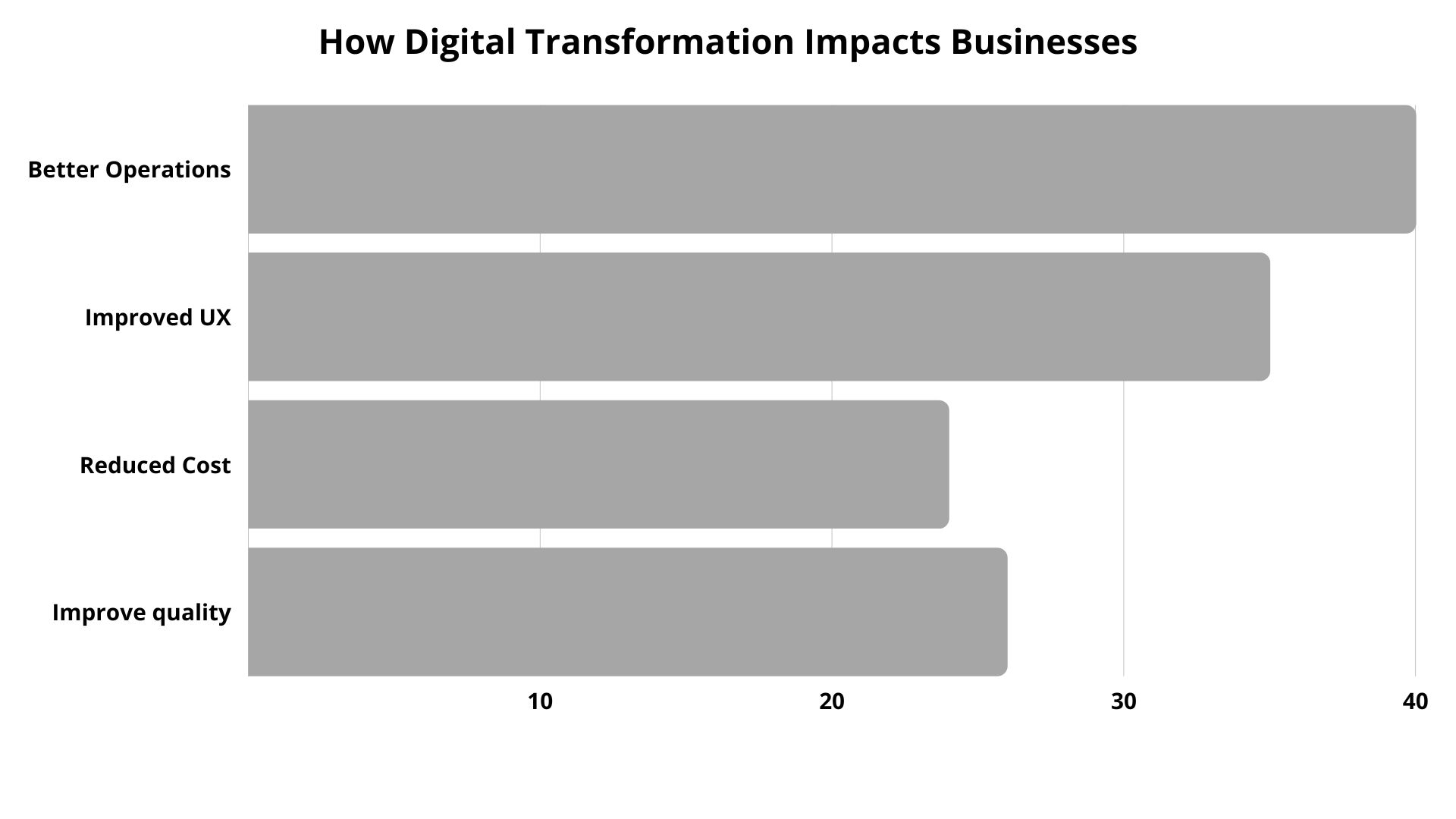 The first step toward achieving successful digital transformation is crafting a transformation strategy. A digital transformation strategy transforms your digital transformation needs into quantitative goals and provides a well-defined roadmap as well. In the long run, it ensures successful digital transformation for businesses of every scale.
Having a winning digital transformation strategy can look complicated but when broken down into simple achievable goals with proper assistance businesses can craft a digital transformation strategy that aligns with their business needs and helps their brand scale with ease.
Digital Transformation Strategy: Introduction
A digital transformation strategy is an in-depth roadmap of the digital transformation process. Developers and analysts use it as a blueprint to move your services and business operations online in order to digitize your brand effectively.
Creating a digital transformation strategy can help you realign your overall business process in order to enhance UX and conversion. Further, well-researched digital transformation strategy helps you gain better ROI and take tech-based initiatives to overcome business challenges.
Benefits Of Adapting To Digital Transformation Strategy
Digital Transformation Strategy can help increase the chances of a successful shift to a reliable and scalable digital platform. Here are some of the major benefits of creating a digital transformation strategy beforehand.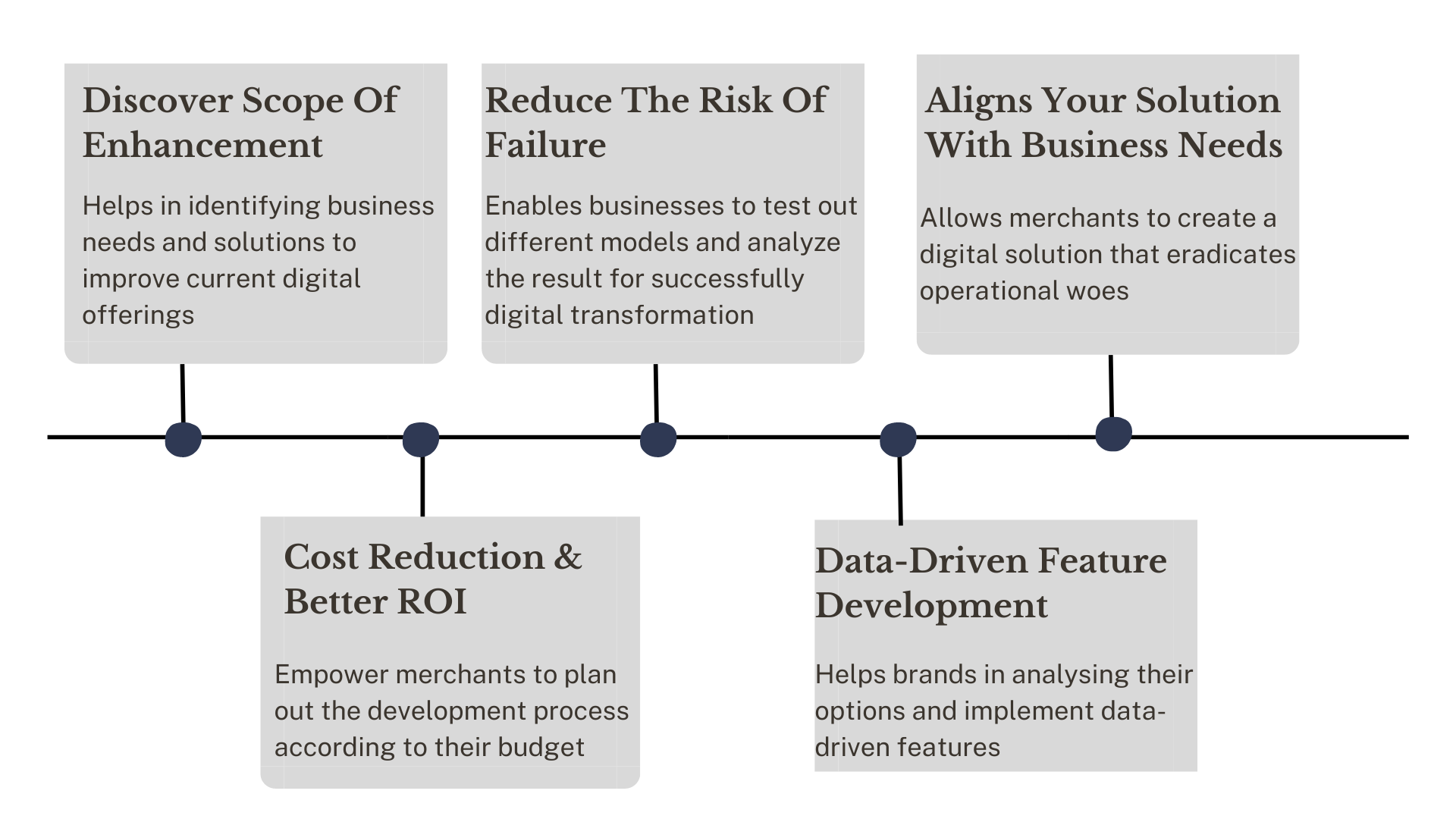 Discover Scope Of Enhancement
The digital transformation strategy process helps businesses to analyze market trends and competitors to identify trends and features they can include in their digital solutions. This not only ensures easy assessment of the scope of further enhancement but also assists brands in staying relevant.
Reduce The Risk Of Failure
By creating a transformation strategy beforehand businesses get the scope to test out different features before implementing them. This helps merchants in finding the right solution that acutely caters to their business-specific requirements. In the long run, this reduces the chances of failure exponentially.
Aligns Your Solution With Business Needs
A data-driven digital transformation strategy looks at your business KPIs to understand your business's weak and strong aspects. These observations are then used for crafting a digital transformation roadmap that aligns with current business needs and user expectations.
Cost Reduction & Better ROI
Creating a strategy beforehand can help businesses in shifting the overall development plan according to the budget. Although no one can ever be ready for surprises in the digital transformation process, creating a strategy helps businesses prioritize must-have features and invest accordingly.
Data-Driven Features
While crafting a Digital Transformation Strategy analysts use BI tools to gain in-depth insights into user behavior and decide on features that assist in making your solution conversion-centric. Hence include data-driven features to ensure long-term success and user satisfaction.
Read to know how BI Tools assist businesses to thrive online effectively here.
Stepwise Process For Creating Digital Transformation Strategy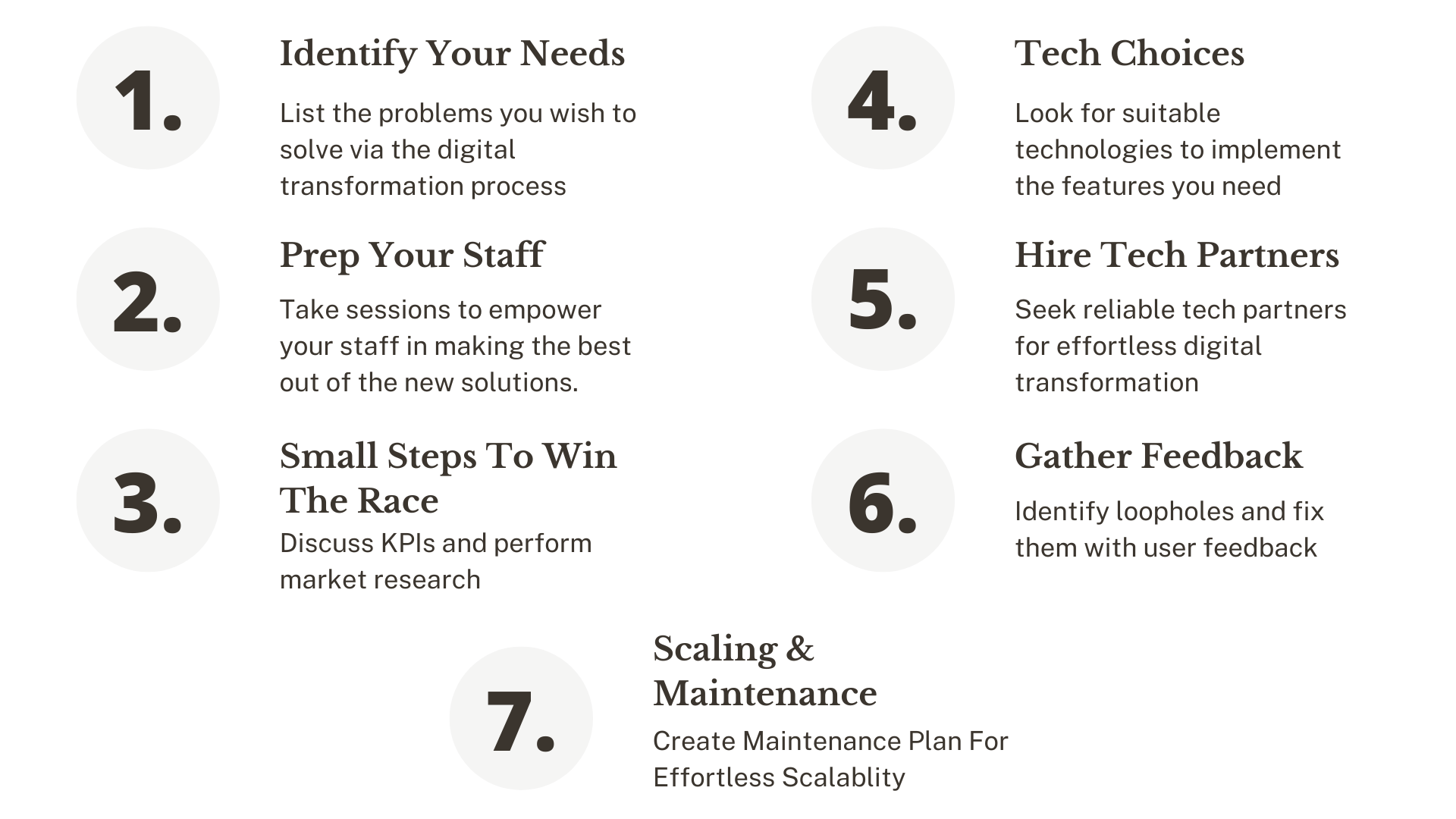 Now that you have a clear insight into how creating a reliable digital transformation strategy can easily transform your digital transformation process and reduce risks, let us now learn how to build one. Although to a novice it can look like a tedious task, breaking it down into simpler steps can easily help you create a successful transformation strategy with ease. Here's a detailed breakdown of how you can create a winning digital transformation strategy for your business:
Identify Your Needs For Digital Transformation: Before you start building up your strategy it is vital for you to seek out why you are planning to do so and what problems you wish to solve via the digital transformation process. It will help you to align the transformation plan with your business goals to ensure high ROI.
Prep Your Staff For The Process: Digital transformation also brings cultural changes to an organization. Hence, prepping your staff is necessary to ensure they can make the best out of new features and solutions. For this, creating informative tutorials and taking live sessions beforehand is essential.
Small Steps To Win The Race: Once your staff is onboard, meet up with the stakeholders to discuss the major KPIs that indicate the need for digital transformation, and take your time to research and identify solutions to improve them.
Tech Choices: After you have a list of options to answer your major digital transformation needs look into the possible best technologies to implement these features. In order to identify the right solutions for your digital transformation process, you can look into your competitors, check industry insights, and consult with digital experts. This will help you make data-driven and industry-specific tech choices which will ensure smooth development and successful completions.
Hire Reliable Tech Partners: Once you have your tech choices clear along with a list of features your need in your digital solution in order to overcome business roadblocks, it is time to seek reliable tech partners. You can look into sites such as Clutch and DesignRush to identify reliable tech experts for crafting your digital solution.
Gather Feedback: Feedback from users and staff is essential to ensure consistent scalability and a bug-free digital solution. After your solution is live gather feedback from your users to identify loopholes and let your tech partners fix them to ensure a smooth experience.
Prepare For Scaling & Maintenance: Since the tech space evolves rapidly to stay relevant having a maintenance plan is essential. This will not only help you quickly solve runtime issues but also ensure effortless scalability as well.
Final Words
Rapid Transformation is essential for businesses to thrive online and having a well-defined digital transformation strategy in place can easily assist businesses in achieving this. Follow up the above-mentioned digital transformation strategy process to transform your operations by using the right technology and business approach today.
If you need further assistance in creating a winning digital transformation strategy for your business do reach out to our experts today for further clarity.