With the whole world closing down and getting confined in the clutches of their house, the post-pandemic world has become filled with people itching to share their views, talents, and opinions with the world outside.
Live streaming websites have become a holy grail that assists creators to achieve this goal. Creators can stream live and directly interact with their users while sharing their content online. It helps creators to improve their visibility and further creates a real-time space for them to interact with people interested in their work.
We can expect the video streaming app revenue to grow by $34 billion in 2023

Source: Variety
US video streaming apps drew revenue of $24.1 billion in 2020

Source: Business Of Apps
With these stats showcasing a promising future for live video streams and content creators, it is the perfect time for businesses to step into this market and create a live streaming website with the help of prolific web application development companies that would help them to thrive. Let us look into how Twitch: the most popular live streaming service managed to make it to the top.
About Twitch: The Most Popular Live Streaming Website
Twitch was the first of its kind amongst live streaming websites. It started as a live streaming service for gamers across the world and now conducts some of the famous eSports tournaments online. Here is a glimpse of Twitch's unique business model that made it a major name in the live streaming service niche: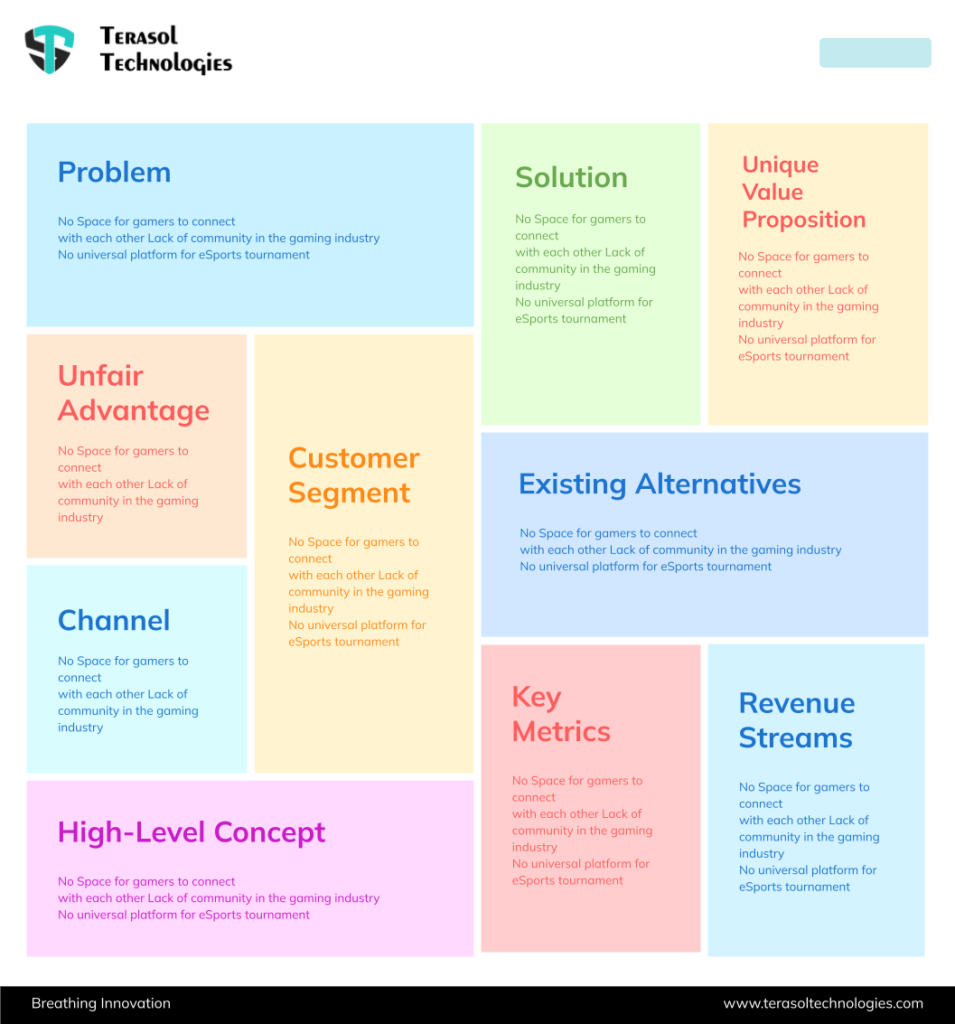 Want To Plan-out Your Live Streaming App With The Above LeanStack Model? Here's An Editable Sheet
Main Intent
Twitch wanted to be a pioneer amongst live streaming websites for gamers. It allowed gamers to stream their gaming skills online in real-time while enabling other gamers of similar interests to view and interact with them. Although now Twitch has a wider set of target audiences, which include musicians and other artists. Its focus remains centered on the gaming industry.
Unique Selling Point
The unique focus on gamers not only drew talents with the immense potential it also appealed to advertisers trying to reach out to the gaming community. This provided Twitch with a consistent revenue source. Also, Twitch now attracts major eSports organizations to stream live tournaments, making it the only platform that hosts eSports tournaments.
Revenue Source
Apart from advertisements, Twitch also provides paid subscription plans that enable users to experience ads-free navigation. Also, users can buy bits in the Twitch environment, which they can use to show appreciation to their favorite content creators. Hence, we can say that Twitch has multiple revenues sources for itself. Here is a list of all the different ways through which Twitch has managed to thrive.
Paid membership for ad-free streaming
Bits for making payments within Twitch Environment
Advertisements
eSports Tournaments
Twitch User Flow
What makes Twitch stand out from similar services is its unique target audience and awesome user flow. Twitch's UI/UX caters to the needs of its target users efficiently. Let us have a look into its user flow to get a better insight: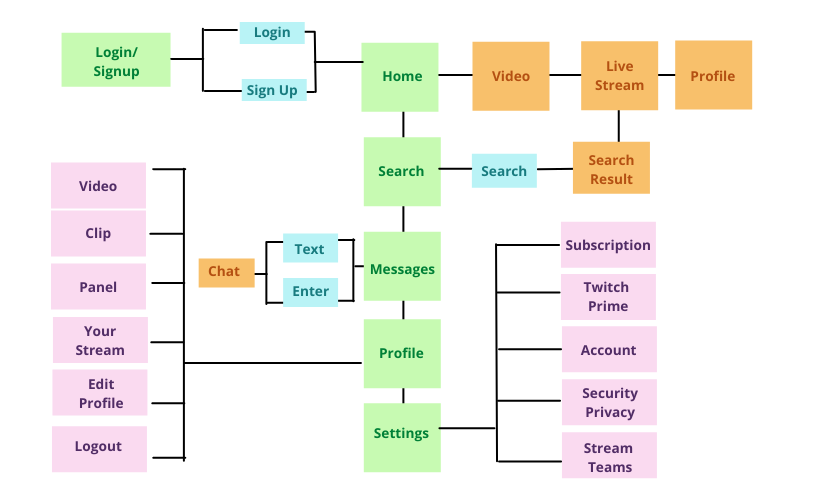 Accessibility Twitch ensures its platform accessibility from multiple devices. Whether you use a tablet, mobile device, or desktop, you can access Twitch and use its features to stream and connect with the target audience. Hence, making the platform omnipresent in the lives of its users no matter where they are and what device they use.
Analytics That Helps Creators Grow
Twitch is not only dedicated to helping people live stream, this platform also aims to be an integral part of its user's growth. For this, Twitch have information and analytics system to help its users get insights on every live stream they perform. Hence, it can help content creators grow their audience and thrive online.
Sensible and Simplistic Navigation
From login, streaming live, to connecting with the audience on a personal level, Twitch's easy and simplistic UI makes walking through the whole platform a breezy process for users. Hence, the onboarding process becomes easier and more efficient for users.
Secure And Efficient Payment Process
To ensure advertisers and users can make the best out of the paid features of Twitch, the platform provides a secure payment system. It includes payment via multiple popular digital wallets that would help users in making easy and quick payments to use desired features and services.
Hence, we can say that Twitch is a perfect success story for live streaming websites. They achieved this by keeping a clear idea of their target audience, revenue sources, and planning features that would cater to their needs and provide them with the scope of growth. Eventually, this approach of prioritizing and crafting the platform according to users' needs has helped Twitch to thrive.
Want To Build A Live Streaming App Like Twitch? Check Out Our Web Development Services
A Walkthrough Of The RoadMap For Live Streaming Website Development
If you are wondering how you would be able to craft similar successful live streaming websites, we have a perfect success plan for you. From choosing the right user flow to a tech stack that would support your expansion, our software development company have it all planned. Without further adieu, let us dive right into how you can create live streaming websites like Twitch from scratch:
Initial Requirements
Before you start crafting live streaming websites from scratch, you need to have a clear vision. Learning from the success story of Twitch, having a clear idea of the target user before starting on the planning process is a must.
So, before getting started, sit with your investors and cofounders and create an ideal user persona. With a clear idea about who you wish to target and help with your live streaming service, you can create suitable features and thrive efficiently.
Getting Started
Once you have your ideal user persona, it is time for you to create an engagement plan. A proper engagement plan before you create a live streaming website will help you to draw users, engage them with your streaming website, and generate revenue from your audience. For this, you can follow the steps below:
Study apps and live streaming websites similar to your niche. With an analysis of your competitors, you will get an in-depth insight into the features that your app needs. Further, it will also provide insight into your competitor's strengths, weaknesses, and aspects that can help your service stand apart from your competitors.
Once you have a clear idea about the features you will need for your apps, you can get started with planning features, user plans, advertising facilities, etc. It is also the perfect time for creating your monetization strategy and planning features around them as well.
After, having a clear list of basic features for your online streaming service you can create documentation of all your tech needs and features you'll need help in integrating from your tech partners.
The Development Process to Create a Live Streaming Websites
After completion of the documentation process, you can reach out to a reliable web development company that can help you create a live streaming website like Twitch. While getting started with the development process, your tech partners will help you walk through the development stage. To help businesses craft unique and out-of-the-box solutions, our development company follows the following process:
We will first hold an introductory session where our team will access your business needs and create the basic user requirement documentation. Since we have previously worked on creating similar apps, for creating your live streaming websites, we can add in new suggestions for your business growth and expansion.
Once the team has a clear perception of your requirements we will begin the development process. It will include deciding on an expansive and manageable tech stack, creating initial designs, prototypes, and integrating the features. Further, we will also run tests and assist you in deploying and maintaining your solution.
To choose the right company to create a live streaming website like Twitch you should look into their work history, previous clients, and the services they provide for their clientele.
The Result & Probable Outcomes
After the completion of your live streaming websites, for the initial stages, your tech partners will look into the response from your target users and adjust the functionality accordingly. In this timeframe, you can work on marketing your streaming website and creating content around it to draw users. For a streaming service provider, this would look like advertising with the help of influential figures in the same business niche, preparing ads for the channels, and connecting with users by creating a community around your digital solution.
Roadblocks & How To Sail Through Them
Similar to implementing any other business idea, creating thriving live streaming websites comes with its own set of challenges. Here is a list of a few common roadblocks and hacks to move forward through them while creating a video streaming app with the help of your software development company:
Choosing your target users: When you choose the right target audience beforehand catering to their needs and identifying features that could help them thrive can be of great help. It also helps you draw your target audience and keep them engaged with your products without any hassles.
Finding the right tech stack: Choosing a tech stack that caters to your business needs while empowering your team with scalability and efficient management can be quite confusing. For this, you can connect with reliable tech partners. Further, you can also look into your competitor's choices and how it affects their business to make the right business decision.
Security and Scalability: Lastly, one of the most challenging feature is maintaining data security and constantly expanding your live streaming websites to cater to growing business needs. For this, you can either get an in-house team or partner with a reliable development company that can help you with your app's maintenance.
Conclusion
Creating a live streaming website can be overwhelming at first, as to ensure its success, you need to make well-planned choices. However, with a proper strategy and market research, you can easily move past the initial roadblock and generate revenue.
If you're planning to build a website streaming app like Twitch, we have a great team of in-house developers who can easily help you to get started. We deliver transformative robust technology solutions for media and entertainment to accelerate their digital transformation.
Do reach out to us today with your business needs to book a free consultation.