Digital Transformation plays a crucial role in ensuring business success in today's modern day and age. However, only 38% of traditional businesses have come up to the online stage and adapted to digital transformation strategy.

The stats clearly show legacy businesses' resistance to adopting a reliable digital transformation strategy for thriving in the modern tech-savvy environment.
Organizations have the chance to rethink how their business is managed through new digital processes and technologies thanks to digital transformation.
Businesses will encounter difficulties during the transformation processes, though, just as with any change management endeavor. These difficulties might range from people-centric concerns to structural issues to technology impediments and everything in between.
So, despite the digital transformation being a thriving industry of $469.8 billion, the numbers prove that it fails to cater to multiple roadblocks.
With this blog, we will explore some of the vital challenges in digital transformation and ways to work around them. But before that let's look into why digital transformation is essential for businesses to thrive.
Why Digital Transformation is Essential For Businesses
Since the rise of Digital-Age, moving businesses online has become essential. Nowadays, instead of interacting with salespeople or having in-house customers, your target audience expects to avail of your services from the comfort of their couch and get their demands met within seconds.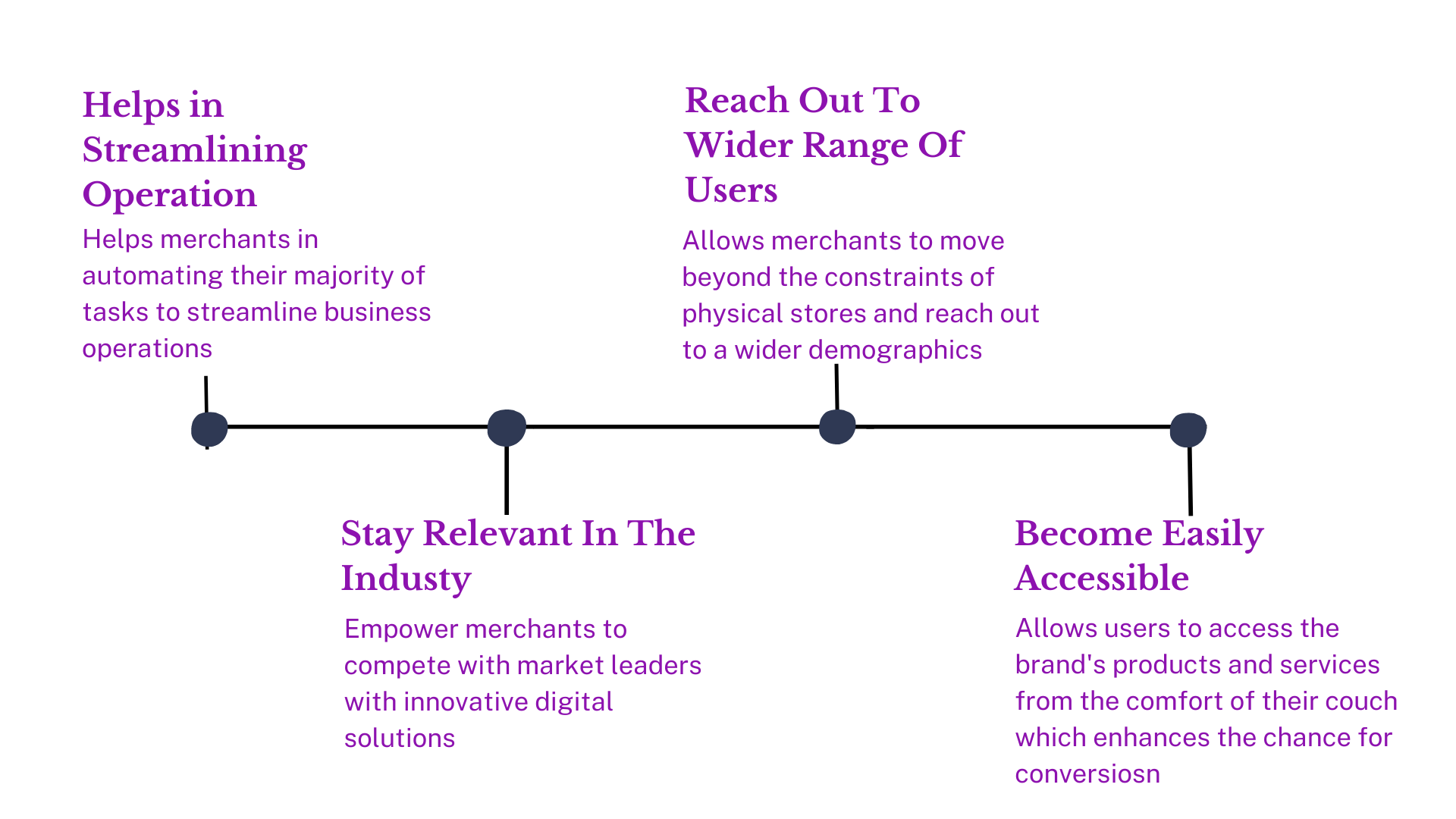 The ever-evolving user demands eventually mean that to meet customer expectations, businesses must enhance their accessibility and amplify operational efficiency.
Achieving this is only possible when you have a robust digital infrastructure that allows accessibility, smooth user experience, and rapid processing of requests.
Hence, we can conclude that digital transformation has become essential as it empowers merchants to enhance their operations, make their services accessible, and reach out to a wide range of target users.
Additionally, according to McKinsey, 16% of executives from various firms claim that their attempts to implement digital transformation are successful.
Where then do 86% of firms fall short?
Why Digital Transformation is So Difficult?
These new-age digital enterprises have revolutionized human life as more Agile-oriented businesses have entered the scene.
Market leaders are putting innovative technology into practice while assuring a quicker time to market. Everything has changed significantly, including the ways in which people travel, communicate, and purchase.
These new businesses are naturally able to quickly adjust to shifting market conditions and establish themselves as leaders in their respective industries.
Thus, the execution is more difficult the simpler it seems.
Here are a few facts:
In 2018, more than 50% of attempts at digital transformation utterly failed. (Forrester)
70% of digital transitions fail, most frequently as a result of employee resistance. (McKinsey)
45% of executives think their company doesn't have the right technology to implement digital transformation.
Businesses struggle on the ground when trying to manage these many expectations without enough preparation, general cooperation, and a lack of flexibility.
Maintaining the proper balance between digital issues and putting in the necessary amount of effort to manage current business processes, stakeholders, and consumers is difficult.
It may be difficult for businesses with expertise in fields other than IT to learn the appropriate digital transformation technology that meets their functional and business needs.
Understanding and planning for the issues that may arise while your firm is through its digital transformation is the only surefire method to achieve success.
We'll discover what's preventing these companies from expanding and scaling successfully and what can be done to start off on the right foot.
Major Challenges in Digital Transformation Process
From the discussion above we can easily conclude that the Digital Transformation process is essential for businesses to meet their customer's expectations and amplify their overall conversions. However, due to poor strategy and uninformed decisions often achieving this can become a hassle for merchants. Here's an in-depth list of some of the common challenges in the digital transformation process and ways to overcome them.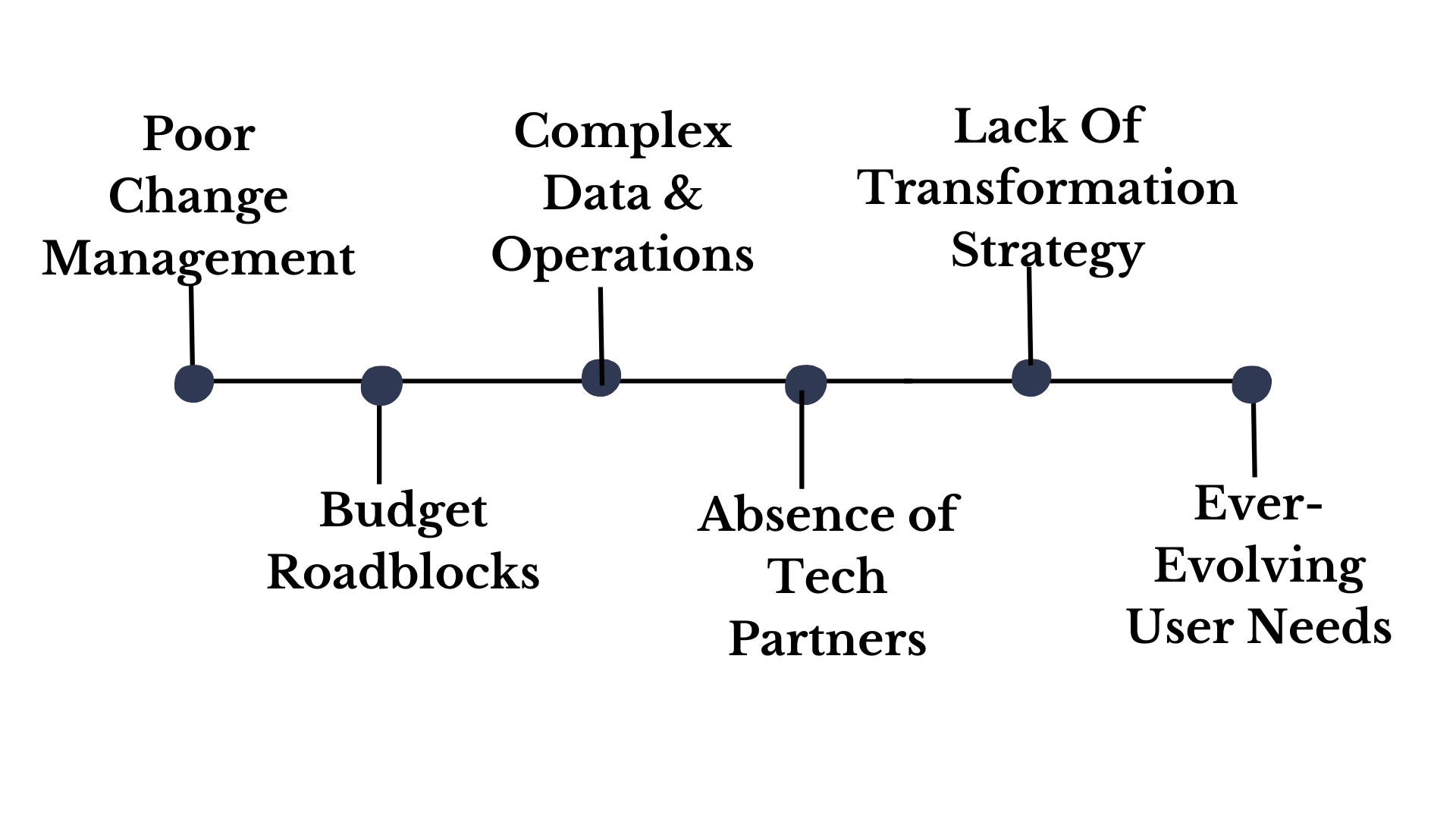 1. Lack Of Change Management:
Often the traditional business owners have older employees who are accustomed to working with old and outdated methods. In such scenarios even if they step up to digitize their business process the staff members would fail to adapt and make the best out of it. Hence, making the digital transformation a prudent investment of both time and money.
To insure in such scenarios the staff could navigate new changes training them beforehand to gain expertise on the upcoming solutions is essential. As this will help them understand the new software and make the best out of them without any hassles.
2. Complex Data & Operations
Traditional businesses with outdated solutions often have cluttered databases and complicated operational flows. This makes transferring them into modern digital platforms a next-to-impossible task and one of the major challenges in digital transformation as it would end up becoming time-consuming and costly.
To work around this hurdle, having a proper analysis of the solutions beforehand and creating a digital transformation strategy that prioritizes operations and user needs is essential. It will help you to leave behind unnecessary data and simplify your operational flow enhancing overall efficiency and ROI.
3. Consistent Changing Needs of Users
With the rapid availability of emerging technologies and the rising demands of users having an evergreen digital setup becomes a hassle. If you're not well aware of which tech to adapt for meeting up with those needs things can further go south.
Hence, instead of viewing digital transformation as a one-time job creating a strategy that allows continuous expansion is essential. This, in the long run, will help businesses to study user behavior and rapidly adapt to technologies that enhance the buyer's journey for higher conversions.
4. Lack Of Digital Transformation Strategy
Diving straight into the digital transformation process without a proper roadmap can lead businesses to end up with a solution that fails to align with their business-specific needs which is one of the challenges in digital transformation caused by improper planning.
To ensure that your solution effectively aligns with your immediate operational needs and users' demands creating a digital transformation roadmap with your tech partners beforehand is essential.
5. Budget Roadblocks
Having a limited budget for digital transformation is another of the major challenges in the digital transformation process for small and medium-sized businesses. Budget constraints make business owners reluctant to start their digital transformation journey. However in reality, even with a minimal budget businesses can create unique digital solutions for catering to their business needs.
One of the best ways to achieve this is by crafting minimal viable products. MVPs allow businesses to implement basic features to test out their ideas and expand them further depending on returns and performance.
6. Absence of Reliable Tech Partners
Reliable tech partners are essential for businesses to smoothly navigate through their digital transformation journey. However, often due to project abandonment, language barriers, and poor project management businesses find themselves with half-completed digital solutions.
This makes identifying reliable tech partners essential for businesses. For this, you can use listing websites such as Design rush and Clutch. Further, you can look into user reviews, case studies, and portfolios to find expertise that aligns with your business needs.
Start your transformation journey today! Know how to create a winning digital transformation strategy here.
To Wrap Up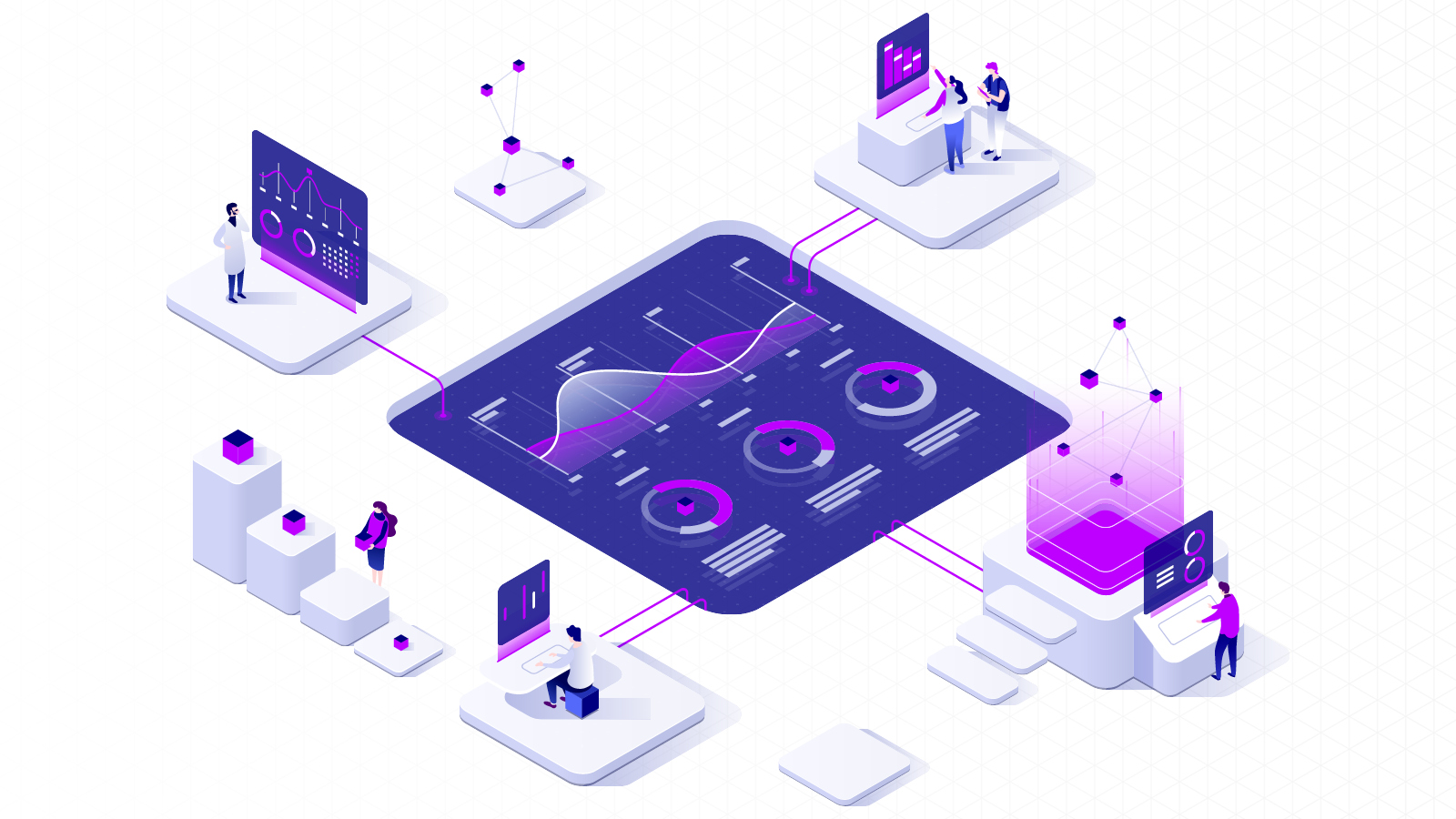 The challenges of digital transformation are complex to manage.
We can easily conclude that proper with proper countermeasures businesses can easily move past some of the common challenges in the digital transformation process.
Therefore, in order to implement change effectively, organizations need to build a strong digital foundation. Create a proper strategy to remove the barriers to DX before starting your digital transformation journey to ensure successful digitization.
Further, by adopting proper digital transformation processes and technology stack they can ensure the solution serves their business-specific woes with ease.
At Terasol Technologies assist our clients with complete digital transformation solutions to ensure our expertise helps them in business growth and limitless business expansion.
If you're also planning to craft a reliable digital solution for your business reach out to our experts today for consultancy and digital transformation services.