The digital era is fully operational, and new technologies are emerging everywhere every day.
It's critical to follow trends when times are changing this quickly to avoid falling behind.
The fact of digital transformation is being quickly acknowledged by industries all around the world. Disruptive technology adoption is mostly a response to the crisis caused by the pandemic.
The most effective strategy for ensuring growth and productivity in the modern, rapidly evolving corporate environment is following the trends in digital transformation.
Statista projects that in 2024, spending on digital transformation technology will amount over $2.4 trillion. The following graph illustrates the evolution of spending on digital transformation over time.
Additionally, by concentrating on the latest technologies like artificial intelligence, machine learning, cloud computing, SaaS solutions, and so forth, business development and democratization have accelerated.
As we have lately seen, many businesses across a variety of industries have made the decision to modernize their company strategies and adopt current trends in digital transformation.
This implies that by 2022, every business owner should be concerned with the trends in digital transformation.
Let's first define what digital transformation implies for businesses before getting into the specifics of the newest trends in digital transformation.
Digital Transformation in a Nutshell
In its simplest form, digital transformation describes how successfully a company has integrated new digital technology into its operations in order to streamline procedures, boost profits, and spur development.
Furthermore, it's a continuous process rather than a one-time occurrence because digital technology is a sector that is constantly expanding.
But why is it so significant?
Here is why you should transform your company digitally.
The digital transformation industry is expected to reach $3.3 trillion by 2025, growing at a CAGR of 23% from 2019.
Why?
Simple, since it is what causes firms to grow and expand.
Consider this.
In essence, digital transformation is about combining all of your tools so that you can compete successfully in the big league with your rivals. You have a better probability of being the last person standing the more you use it.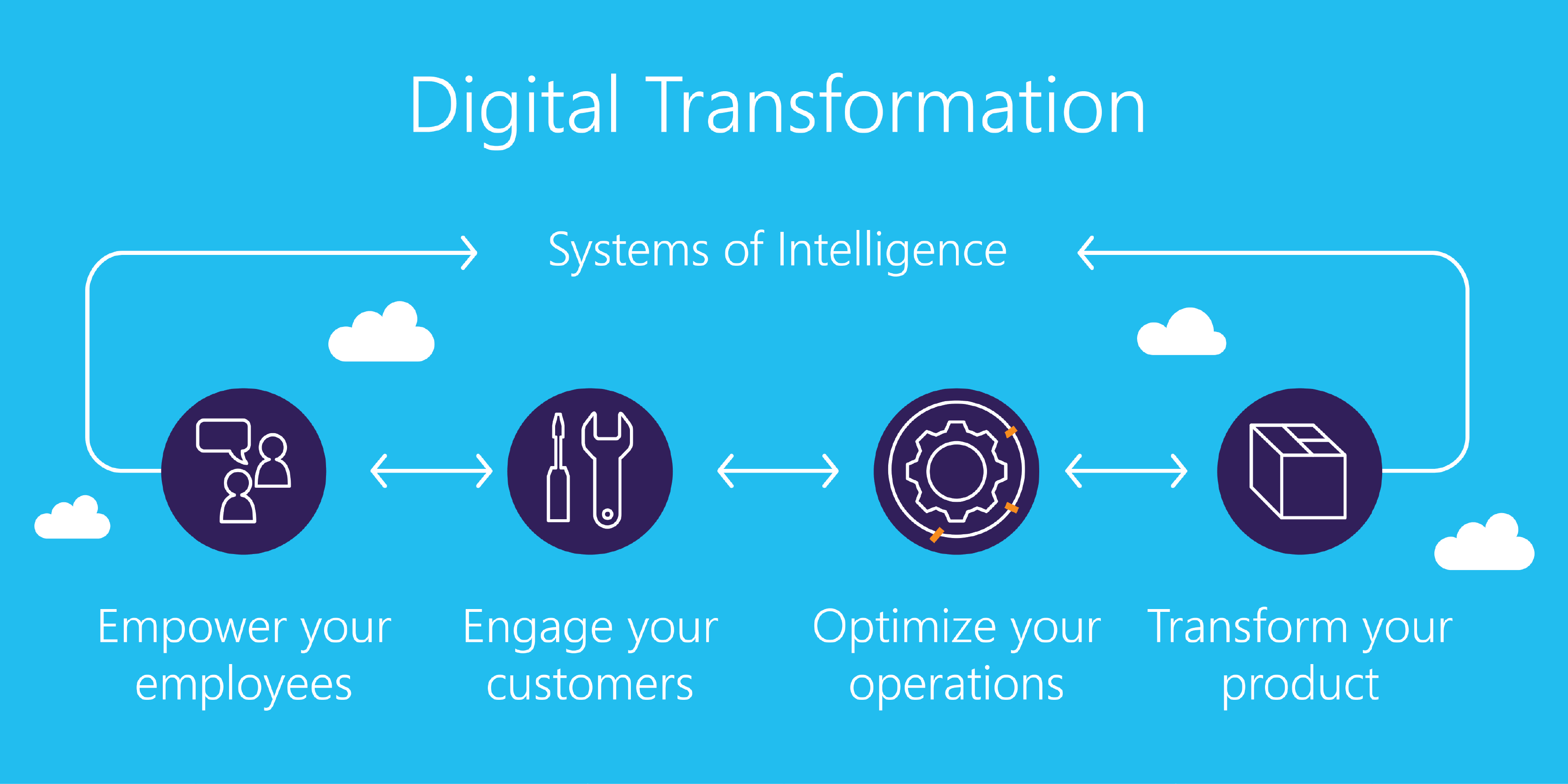 So if you are unaware of the current trends in digital transformation, it will be useless. Let's now examine the leading trends in digital transformation for 2022 and beyond.
Top 10 Trends in Digital Transformation
1. Hyper-automation
The main players in this hyper-automation drive are robotic process automation (RPA), machine learning (ML), and artificial intelligence (AI). Businesses' operations and prospects for digital transformation are optimized by a solid RPA, ML, and AI integration. It reduces the amount of human interaction, giving them more time to concentrate on other important strategic business areas.
Without a doubt, the market for hyper-automation anticipates reaching the $46.4 billion goal by 2031 at a growth rate of 21.7%.
More businesses are investing in HA strategies including cognitive automation, RPA, workflow automation, and process management as a result of this trend toward hyper-automation.
2. 5G and IoT
Multi-peak data speeds, minimal latency, a better user experience, better connectivity and availability, and increased network bandwidth are some of 5G's key traits.
Edge computing and 5G can result in some fascinating innovations. Automation of routine jobs will prevent network problems with the use of technologies like artificial intelligence, drone-initiated inspections, and video inspections.
Some of the 5G use cases in the IoT domain are:
Healthcare: Regardless of a patient's location, 5G can be used to seamlessly connect remote medical devices and provide real-time patient health monitoring by medical professionals.
Transportation: Autonomous vehicles can already be connected to the internet thanks to 5G technology.
Given the innovative technology it enables, we think 5G will be one of the most exciting trends in digital transformation.
3. Focus on Cybersecurity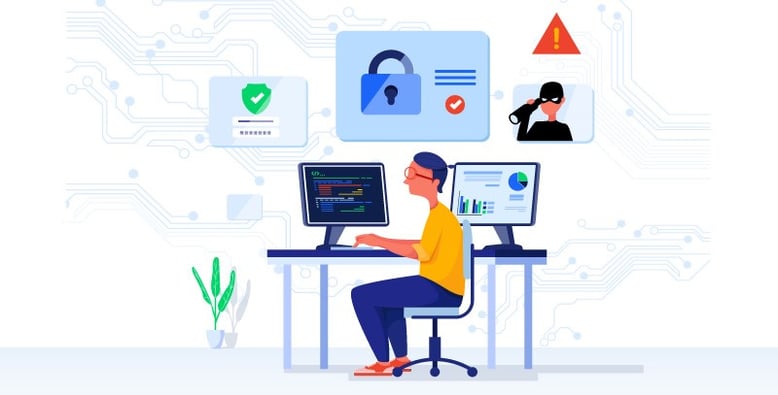 Do you remember the last time you had to change your password? Sure you do.
A few years ago, digital transformation started as a way of process and product development. Security was one area that was neglected or compromised at the time.
In fact, there were 445 million or more cyberattacks reported in 2020.
The COVID-19 incident has made clear how crucial sound cybersecurity procedures are. Although there isn't a single answer to all security risks, it's important to strike a balance between people, processes, and technology.
According to professionals, the organization's security procedures must be kept up to date with the speed of digital transformation trends.
To put it another way, the focus should be on "how to safely speed up a process," rather than just "how can I speed up a process?" So, it's time for security solutions to combine cloud computing, machine learning, and artificial intelligence (AI).
4. Boom of Blockchain
Since the global epidemic, blockchain has firmly demonstrated its usefulness. Blockchain has begun to be adopted by a variety of businesses, including finance, real estate, and healthcare, after initially being restricted to the crypto-currency space. Security professionals anticipate that blockchain will be crucial to cybersecurity.
Know more about how blockchain app development helps businesses solve industry-specific woes.
5. Data Analytics
A fundamental component of digital transformation is the use of data to inform choices.
Your company's lifeblood is data, but for it to be fully used, it needs to be sorted, processed and evaluated. In order to accelerate a company's digitalization and transformation activities, data and analytics will be crucial.
You can use smart data analytics to help you mine the processed raw data for useful information. It enhances decision-making and boosts the organization's productivity.
Different departments may be affected differently by various forms of data analytics. While diagnostic analytics can help you ascertain "why it happened," descriptive analytics can assist you in determining "what happened."
It can aid in predicting client behavior, streamlining the supply chain, improving the sales pipeline, and more.
As a result, several divisions within a corporation might use these data analytics techniques to identify solutions to challenging issues, and thus it had become one of the emerging trends in digital transformation.
6. Increased CDP Adoption
In order to build a single, central customer database, data from several tools is combined using packaged software known as a customer data platform (CDP). In addition to providing organizations with a comprehensive view of their clients, CDPs have a number of other very important benefits, such as:
Improved customer data,
Lucid customer analytics,
Improved data protection and privacy.
As companies place a greater emphasis on gathering, storing, and using consumer data in 2022, CDPs will continue to play a significant part in the digital transformation of enterprises.
7. Shift to Multi-Clouds Solutions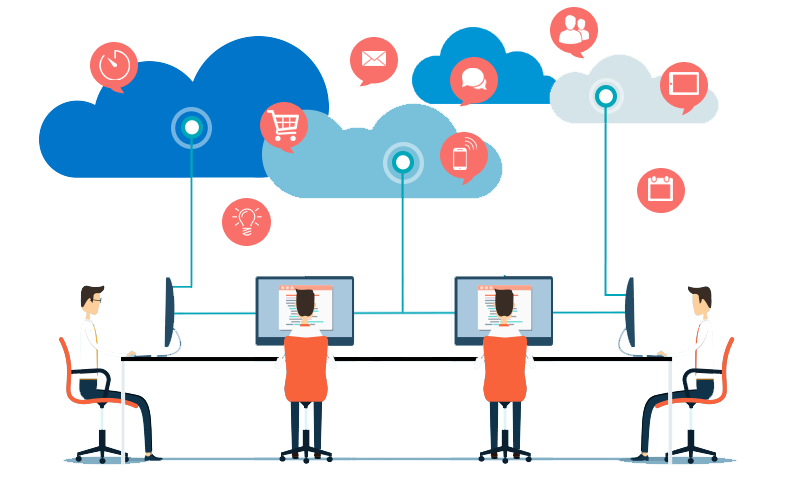 Other evolving trends in digital transformation are multi-cloud and hybrid cloud solutions. They became more popular as a result of organizations migrating more and more operations to the cloud.
With multi-cloud, you may deploy cloud computing resources, software, and applications across many cloud platforms. Such solutions will be successful and may have an impact on how businesses transform.
8. Software 2.0
Technology in Software 2.0 uses the requirements specification to generate source code automatically. Deep Learning, which aids in the development of neural networks for automated code drafting, can be used to accomplish this.
In order to deploy Software 2.0, firms will need to become knowledgeable about DataOps (Data Operations) and MLOps (Machine Learning Operations).
Data teams use the DataOps approach to enhance the accuracy and efficiency of their data analytics operations. However, MLOps, aids in improving machine learning processes, bringing in automation, and placing more attention on implementing business objectives.
9.
Democratization
of AI
One of the most significant development trends in digital transformation for 2022 is the process of democratization of AI, which has the ability to speed up digital transformation within a company.
To put it another way, it means making it available to every company and, ideally, every individual working there. This entails using AI-based tools to identify trends, make judgments, forecast, learn from, and get better.
Every business, from huge enterprises to tech-savvy startups, will attempt to integrate AI into its systems and procedures.
For instance, in healthcare, AI-driven software can help online healthcare services provide patient-centric services that offer patients easy access to expert guidance, diagnosis, and preliminary analysis.
Others can begin their AI journey with the aid of AI-as-a-service providers and AI solutions from businesses like Google, Microsoft, and AWS, whereas some may have the means to make this integration happen with a digital transformation agency.
10.
Everything as a service (XaaS)
The newest trend in digital transformation, known as "Everything-as-a-Service" or "Anything-as-a-Service," encourages the "as-a-service" model and provides clients with anything. XaaS covers more services than the typical cloud service models, such as SaaS, PaaS, and IaaS.
The XaaS model gives enterprises a great deal of flexibility and scalability. Because of these factors, we predict that XaaS will remain a popular option for companies of all sizes. It will facilitate digital transformation and improve agility.
Additionally, XaaS paves the path for "servitization," or providing a mix of goods and services in a single bundle. Just Like Amazon's Alexa is a simplification of servitization, offering AI-driven services alongside portable hardware items.
Become a Modern, Digital, and Agile Business Right Away!
These promising trends in digital transformation that have the ability to speed up corporate growth appear every year.
Digital transformation is a never-ending process that necessitates constant invention and evolution.
The most crucial factor is having the appropriate digital transformation agency on your side. In order to help you develop and adjust to the always-changing digital world, Terasol Technologies will work with you to comprehend your needs and offer the optimal solution.
The goal is to innovate and create a unique selling point in the digital world that will help to quantify ROIs, regardless of the technology you decide to use.