According to Statista, in the United States, 773,603 franchise businesses opened up last year, producing an estimated $787.5 billion in economic production.
Although these numbers are fairly amazing, you would be even more astounded to consider the large number of franchises that are dispersed over the globe.
Franchise brands must now evaluate their current operations and take steps toward better process optimization.
Franchises have always been about building strong relationships between franchise owners and franchisees as well as enhancing brand awareness and value. Franchise growth may be made possible by finding ways to streamline processes, and save time and money without compromising performance.
Franchise software development includes features like inventory management, bespoke relationship management, branding, sales, and marketing operations. This is the secret to a franchise business's success.
So, franchise management software can assist you in resolving business-related problems, such as -
Judicious administration of numerous enterprises,
Disconnected commercial activities,
Inadequate reporting and inadequate insight.
There are numerous solutions available on the market for franchise management software. You have the option of selecting commercial software created for particular industries or creating your own unique franchise management software.
As a business owner, you might feel confused about which technology is a waste of money and which can actually have a positive, long-term influence on your organization.
To push your expanding franchise business to the next level, you frequently need to have reliable franchise management software. However, it might be challenging to decide whether or not you should continue using an off-the-shelf solution or a custom franchise software.
In this blog post, we'll go over 7 reasons why you should have custom franchise management software.
Let's first examine what franchise management software is in order to better understand why you should design your own custom franchise management software.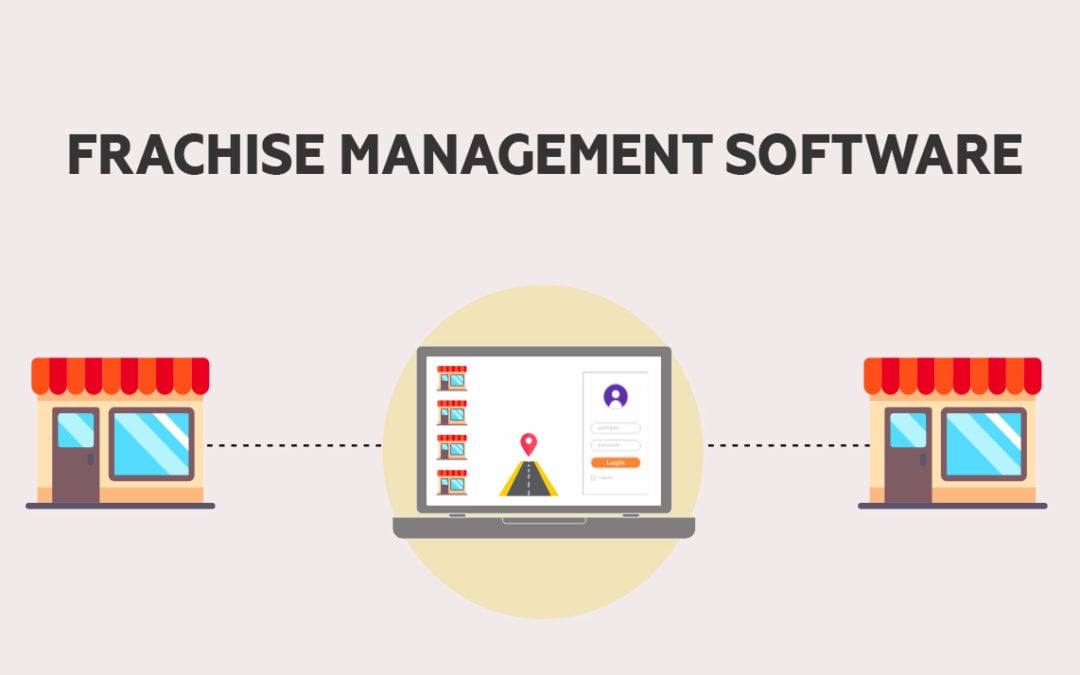 So, What is Franchise Management Software?
Business software that manages and automates franchise operations is known as franchise management software.
Franchisee management, marketing, accounting, human resources, reporting, time entry management, and other modules may be included in this kind of software.
You'll have an increasing amount of information and team members to handle as your franchise business grows. It's critical that you use technology to identify areas for development across sites if you want to continue continuous growth.
5 ways how any franchise management software can help your company:
Ensure brand compliance and consistency: They maintain all necessary marketing materials in one single location or on a cloud-based system to ensure brand compliance and consistency. Additionally, it facilitates the process by providing solutions that are easily accessible, practical, and searchable.
Management of relationships: By connecting and automating the processes for sales, marketing, and customer care, you may improve your customer as well as franchisee employee relationship management with the help of a good franchise management system.
Reporting capacities: It enables the creation of significant reports on customer engagement, sales, and other metrics by both franchisors and franchisees. You can make better business decisions the better reports you have available.
Automation process: The entire intricate business procedure will be automated with the aid of franchising software. It primarily carries out three essential tasks: centralizing data, automating procedures, and minimizing the need for human input.
Inventory Management: It assists company owners in keeping an eye on order placement and the complete supply chain. A system like this is very helpful for businesses since it enables them to foresee potential dangers and challenges.
Thus it is a fantastic choice to have franchise software management. But why custom and not pre-built?
7 Benefits of Custom Franchise Software for Your Business
Let's examine the 7 perks of creating your own unique franchise management software to ramp up your business growth and operation.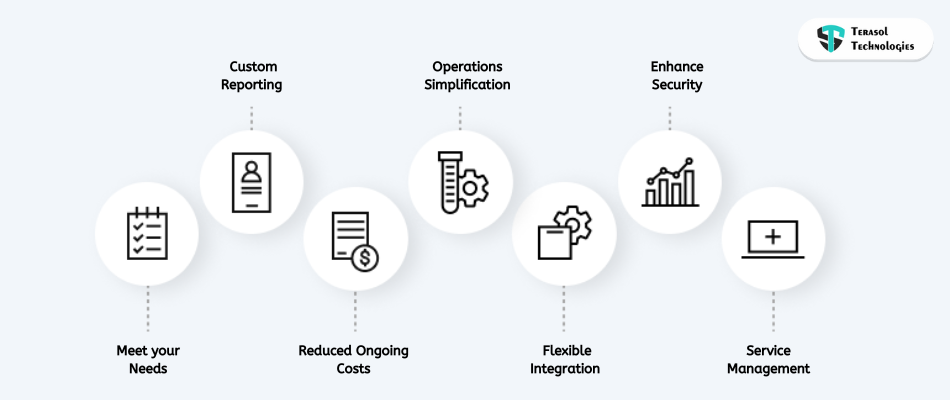 1. Tailor Made for Your Business Needs
You may precisely customize the software to meet the needs of your franchise firm when you create it yourself. You can collaborate with a development team to incorporate all of the features and modules you require for efficient management of your franchise locations.
A customized franchise software solution also makes it much simpler to make modifications or add new features in the future. You are frequently limited to the capabilities that are included with off-the-shelf franchise software.
Additionally, having fully customized franchise management software that is created with your company's needs in mind raises the overall value of your firm. If you'd want, you can also provide licenses to comparable franchises, creating a second source of income for your business.
For instance, Habibs- Franchise Management Software, included B2B commerce module for the sale of their beauty products.
2. Simplifies Your Operations
Your franchise operations can be greatly simplified with the aid of quality franchise management software. You may save a tonne of time and effort by having all of your data in one location and being able to handle everything from one place.
Franchise businesses reduce the chance of data loss and errors while enhancing communication, transparency, and data processing. A workflow can be automated with the aid of a process that combines people, tools, and procedures.
Additionally, efficient franchise management software will automate many of the duties involved in operating a franchise, such as managing invoices and contracts, evaluating location-specific staff data, and running location-by-location reports.
3. Enhance Software Security
You may make sure that the security of the software and data is of the utmost significance by creating your own franchise software. You can collaborate with a development team that has knowledge-creating compliant, secure franchise administration software.
As a result, you can relax knowing that the information about your franchise business is secure and out of the reach of unauthorized individuals. Although commercial franchise software solutions frequently have security measures in place, they also have access to all of your company's data. With off-the-shelf software, you have no control on the firm's future, security procedures, or disclosure of your personal information to third parties. You are essentially at the mercy of the other company.
4. Custom Reporting Features
When you create your own franchise management software, you may create customized reports that are tailored to your particular requirements. This entails that you can monitor information on, among other things, sales, earnings, employee productivity, and customer satisfaction levels.
Making better strategic decisions for the expansion of your franchise firm can be facilitated by having access to such granular information. The majority of off-the-shelf franchise software solutions offer a tonne of "bloat features" that you have to pay for but may never use pre-made reports, or restricted reporting capabilities.
5. Flexible With Choice of Integration
You have the option to integrate whatever system you choose with your custom franchise management software. This implies that you won't encounter any problems if you already use or wish to start using a particular CRM, accounting software, or HR system.
The functionality of off-the-shelf franchise software solutions is frequently limited in terms of integration and/or necessitates the acquisition of extra modules. All of your systems will be integrated into a single, seamless platform with a unique franchise management software solution, making data entry and retrieval much easier and quicker.
6. Additional Level for Service Management
A tailored franchise management software can assist you in taking your field service to the next level if your franchise business provides any kind of field service.
You can keep track of your field technicians in real-time, send them to new sites depending on their availability and skill level, and monitor client feedback and surveys with the help of decent franchise management software. This kind of information is quite significant because it can assist you in raising the caliber of the services provided by your business.
Additionally, a mobile app that works in tandem with the online application software can be created. Employees can handle orders, events, programs, transactions, and more both online and offline thanks to the mobile application!
7. Reduced Ongoing Costs
Using a custom franchise management software system will limit your ongoing costs to those of development, hosting, and maintenance (as needed). Additionally, if your franchise expands, it will be considerably simpler to maintain and update the software because it was created just for your company.
Over time, custom software is frequently less expensive than ready-made options. This is due to the fact that you only pay for the functionality you require, and the software is free to use (such as per-user fees, location fees, or feature activation fees).
📱 Learn how we helped a client to simplify their business operation with franchise management software so they can focus on business expansion and revenue growth.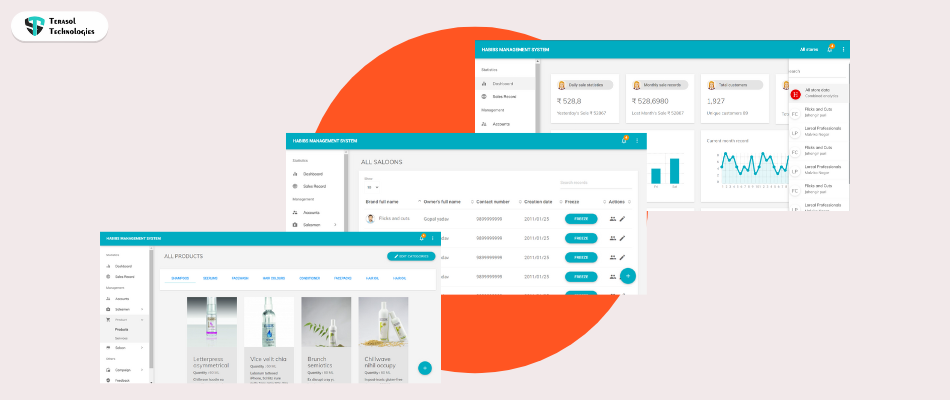 Wrapping It Up!
Franchise firms are at their height, and digital transformation has significantly aided them.
Unquestionably, franchises are popular. Fast food outlets were the first to feel their invasion, followed by cleaning and delivery services.
A successful business today would be difficult to envision without one of these solutions: a mobile application, point of sale system, franchise administration software, or an easy-to-use website. Franchising has experienced considerable changes.
Given all the benefits, it should come as no surprise that an increasing number of franchise organizations are choosing to create their own unique franchise management software solutions.
So, is it a good idea for your company to create a unique franchise management software solution? Get in touch with us to find out how we can assist!