75% of HR professionals use an applicant tracking system software for their hiring process
Source: Capterra
94% of recruiters claim that the use of applicant tracking system for recruiters available in the market has impacted their hiring process positively
Source: Capterra
If your business hasn't yet jumped on the trend of adapting to an applicant tracking system for recruiters then the above stats clearly indicate how it can help you transform your hiring rapidly. Be it following up an inactive candidate or sending a screening test, an applicant tracking system software makes everything easier. Here's the graph that clearly shows satisfaction level of businesses currently using an ATS.

Source: HR.com
You can say goodbye to hours spent on tracking your candidates and hire talents quickly by integrating an application tracking system software that efficiently fits your hiring process.
If you're wondering how an Applicant tracking system for recruiters can help with better hiring, stay tuned! with this blog, we will discuss in detail what is applicant tracking system software, its benefits, and its features.
What is Applicant Tracking System Software?
Application Tracking System is a third-party tool that you can integrate with your career section and track all the applications for your openings efficiently. It allows your human resource teams to shortlist the right candidates with ease and streamline the interview process without any hassles.
Also apart from the streamlined workflow, the application tracking system for recruiters allows you to keep everyone involved with the interview process in the loop. Further, it also enables businesses to automate a majority of their hiring process with ease to ensure efficient and speedy recruitment.
Want To Find The Best ATS For Your Organization? Talk To Our Experts
Benefits Of Applicant Tracking System For Recruiters
Now that you're aware of the perks of the Application Tracking System. Let's discuss how it can benefit your dedicated recruiters and its long-term perks for your overall business operations. Below is a detailed list of some of the perks of adapting to custom ATS from our software development company:
1. Time-Saving
With an applicant tracking system for recruiters, you will never have to hunt down through your email inbox to look for contacts, CVs, and resumes. Applicant tracking system software collects the candidate's data in one place for you to review and process. This not only smoothens the hiring system but also makes finding the right candidate faster for your business.
2. Create and Manage Careers Page
A dedicated applicant tracking system software will allow your hiring team to create and manage a careers page. This will improve the chances of applicants getting noticed and help you track prospective candidates with ease.
According to CareerPlug, people who apply from the careers page are 23 times more likely to get hired than those who applied on job boards.
3. Makes Applying for Jobs Easier
An applicant tracking system allows candidates to easily apply for the jobs they want and stay in touch with you on their application's progress. As your ATS has a plethora of functionality and integrations which allows you to simplify the application process by providing concise fields, mobile-friendly form UI, etc.
4. Efficient Communication
Application Tracking System for recruiters also enables your HR team to maintain an efficient communication link with the candidates regarding their application updates. Through ATS you can generate automated notifications to provide updates regarding their progress. This ensures your applicants are aware of which stage their application is in and you never lose touch with your potential employees.
5. Provides Insights For Your Recruitment Process
A proper applicant tracking system software also comes with assigned analytics. This allows your HRs to understand the flaws and strengths of their current recruitment pipeline and improvise accordingly to speed up your overall hiring process.
Interested In Reading All About How ATS Can Help You Transform The Hiring Process? Check Out Our Blog About Applicant Tracking System Benefits.
How To Choose The Best Applicant Tracking System?
From the above discussion, we can conclude that with the help of an efficient applicant tracking system you can get in touch with your potential employees and hire them hassle-free. However, finding the right applicant tracking system can be quite a hassle.

Moreover, there is no one solution in the case of the Applicant tracking system which fits all business types. Hence, deciding early on whether you need a premade solution or a customized ATS that caters to your business is a must.
Here are a few major differences in these two to help you make the right choice:
A premade ATS have a fixed set of features that you can use for your recruitment process however a customized ATS from web application development companies allows you to add business-specific features to your hiring process for a customized and smooth hiring experience
A ready-made ATS cannot be customized according to your branding or be scaled in accordance with your evolving business needs. However, if you need a few extra features to ensure your hiring process remains smooth a customized application tracking system for recruiters can do that with ease.
An off-the-shelf applicant tracking system software is more affordable than customized ones as you won't have to pay for its maintenance, development, etc.
Hence, we can say that for choosing the right solution for your business, you need to first develop an efficient hiring process. Now if your hiring process includes specific stages and doesn't need off-beat features using an off-the-shelf solution can be a great option. However, for a personalized and unique hiring process that suits your organization, a customized solution is absolutely essential.
To Understand How Custom ATS Development Works Read Our Blog On How To Build Recruitment Software For Startups
Essential Features In Applicant Tracking System
Be it a custom solution or a premade one to ensure the Applicant tracking system for recruiters is catering to all your hiring needs identifying a feature-rich solution is essential. For this, you will not only need to study the top ATS available in the market, but you must also check for the features they offer. Here's a list of some of the ATS features that you must look into:
Custom Job-Opening Management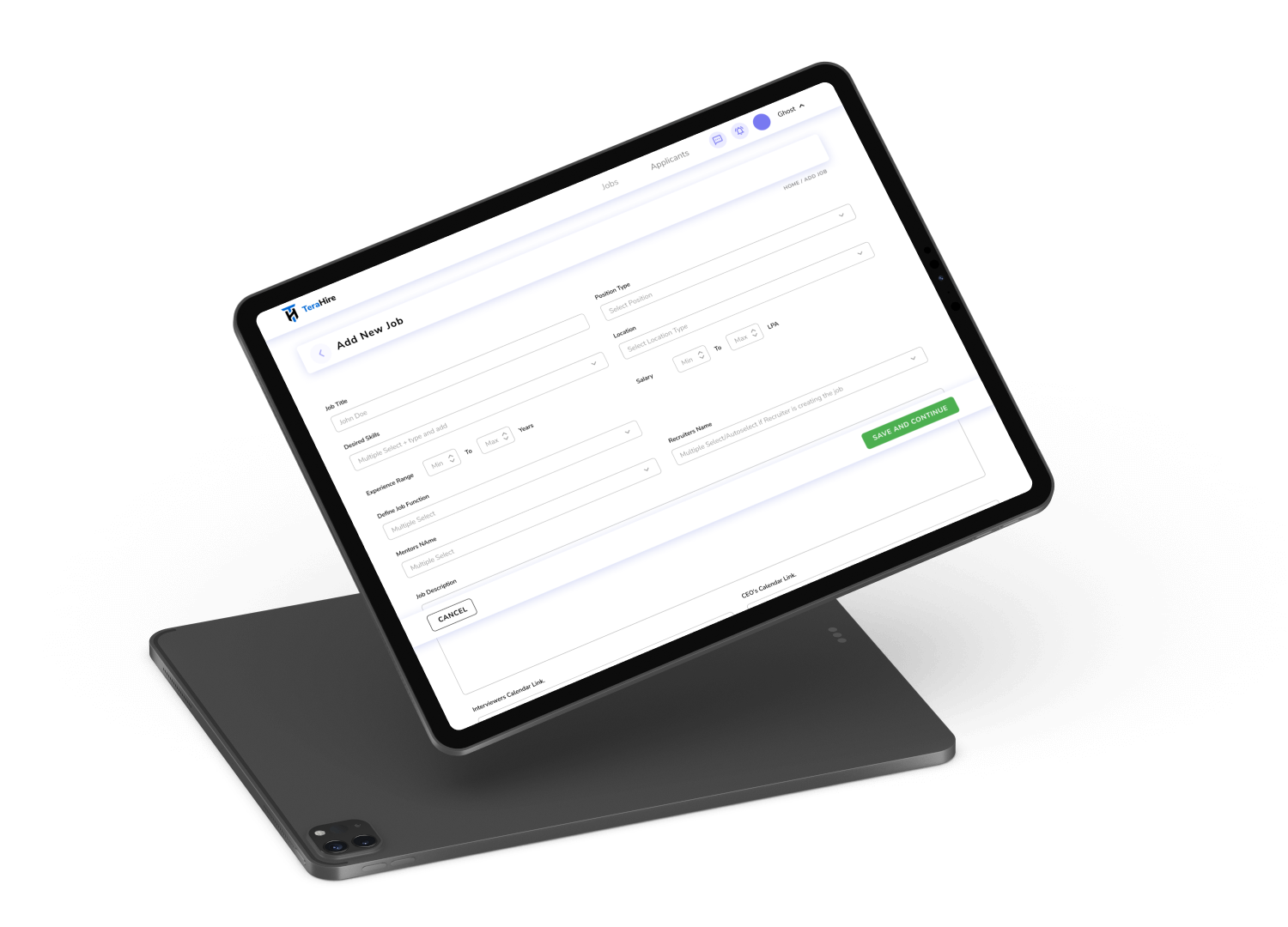 An efficient applicant tracking system software will provide you with a well-defined and feature-rich module for creating, customizing, and managing job applications. This module should empower your recruiters to access the essential features such as creating fields, writing job descriptions, including team members, creating quizzes, departments etc.
Interview Schedulers
Your applicants should be able to schedule interviews with ease. Manually deciding on the time slots can take recruiters a few rounds of calls which is both inefficient and time-consuming. Instead, an interview scheduler will allow the candidate to choose from the available timeslots and head straight for the interview process.
Automated Communication Pipelines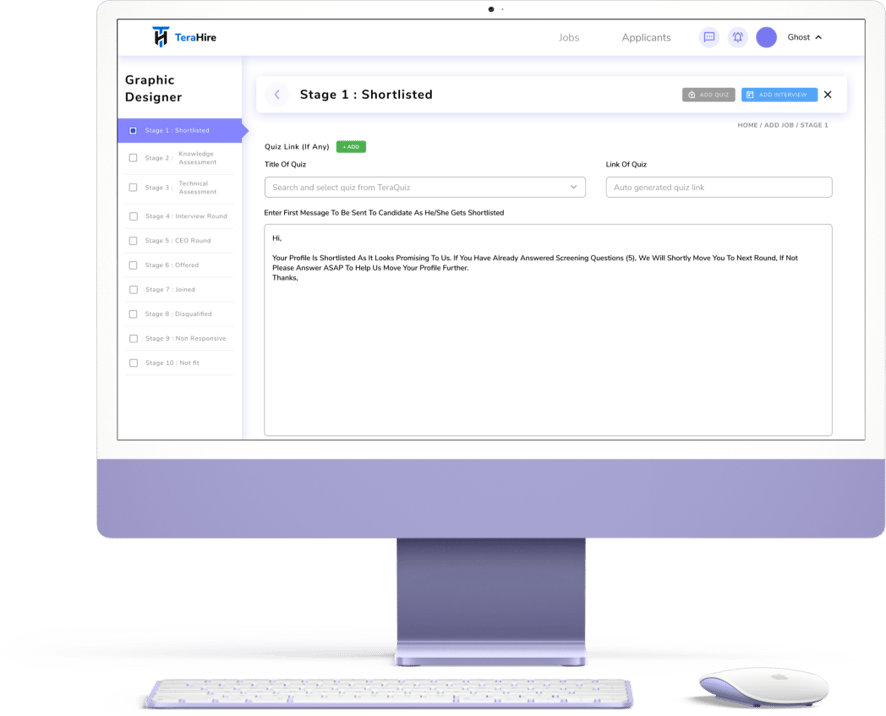 Also, the choice of your ATS must have automated communication pipelines. With the help of automated communication, you'll never have to worry about writing emails or spending hours following up with your candidates. Moreover, this also ensures a smooth connection between the candidate and your organization throughout their hiring journey.
Scope for Team Collaboration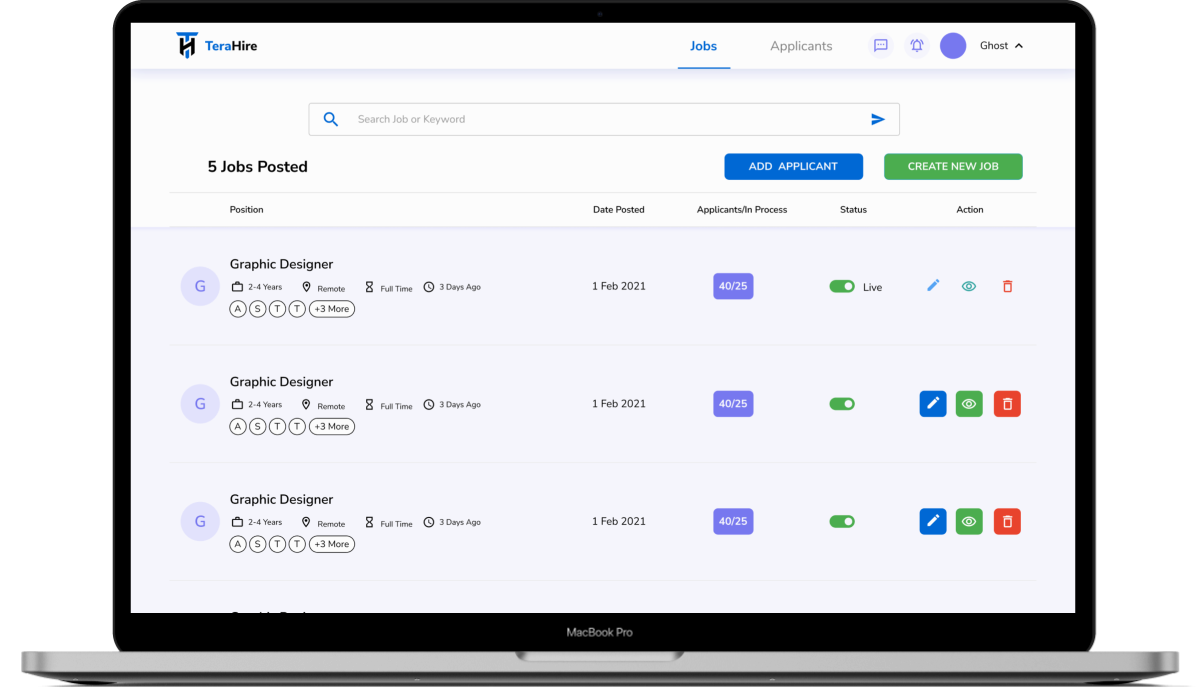 Your Application tracking system should also allow your team to easily collaborate for the interviews. For example, HRs and your team should be able to add interviewers, reviewers, etc. for every round. This feature ensures efficient collaboration across the whole hiring process.
Careers Page Hosting
ATS should also allow you to host your career page as well. This will enable users to easily find jobs and apply for them from your company website. In the long run, this will take you away from the hustle of tracking applications on different job portals and will assist your candidates with a rapid application process.
Applicant Management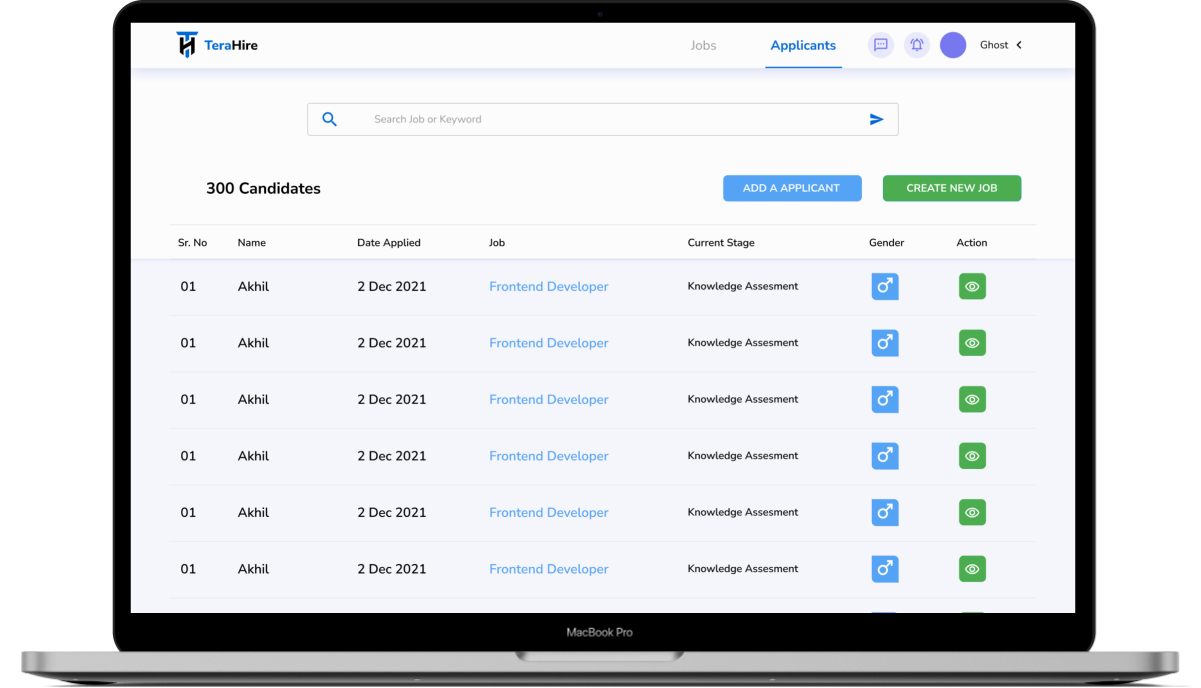 Your ATS should also enable you to manage your applications efficiently, i.e. your recruiters must be capable of moving candidates from one recruiting phase to another. This will ensure that they have a track of every potential candidate and won't lose touch with them.
In-depth Analytics
An efficient applicant tracking system for recruiters should provide in-depth insights into your overall hiring process. This will help you track the progress and identify the scope of improvement you need for enhancing your hiring routine and hiring talents with ease.
Cost Of Applicant Tracking System Software
The cost to build an applicant tracking system for recruiters majorly depends on the feature complexity and the number of modules you wish to include in your applicant tracking system software. Here's the cost of crafting a custom applicant tracking system with basic features:
| Features | Development Cost | Development Time |
| --- | --- | --- |
| Job Management | $17,500 approx | 20-30 Working Days |
| Automated Communication Pipeline | $15,600 approx | 25-35 Working Days |
| Careers Site | $24,500 approx | 30-40 Working Days |
| Analytics | $13200 approx | 20-30 Working Days |
Here's the cost of including some of the popular basic features for your applicant tracking system software:
1. Job Management
As mentioned above the job management module allows you to craft custom job applications and include features such as :
Custom Job Creation
Job Opening Management
Department-specific job creation and processing
Interview scheduling
The overall cost to include custom job management module is $17,500. To get detailed cost estimation for the features straight to your inbox fill out the form.
| Custom Job Management Features | Development Cost Estimation |
| --- | --- |
| Custom Job Creation | 4900 |
| Job Opening Management | 2200 |
| Department-specific job creation and processing | 2900 |
| Interview scheduling | 7500 |
2. Automated Communication Pipeline
An automated communication pipeline helps you in processing the interviews faster and in a less chaotic progression. apart from custom email follow-ups, it can also include features such as mass email, auto-responders, premade templates, etc.
The average cost for including an automated communication pipeline is $15,600. However the cost varies from one feature to another, you can get the feature wise cost estimation delivered straight to your inbox.
| Automated Communication Pipelines Features | Development Cost Estimation |
| --- | --- |
| Email Sequencing | 7600 |
| Auto Responders | 4700 |
| Email Template Creation | 3200 |
| Mass Email | 4400 |
3. Careers Site Module
As explained earlier having a career website can help you ease the hiring process. However, depending on the number of positions and the complexity of your hiring process the features you need can vary exponentially. The cost for your career site module in the ATS can range anywhere from $20,000 to $24,500. Here's the list of basic features that you need for a thriving career site.
| Careers Site Module Features | Development Cost Estimation |
| --- | --- |
| Career Site Page Editor | 7800 |
| Mass Candidate Invites | 4500 |
| Custom Candidate Portal | 12200 |
4. Analytics Module
Analytics helps recruiters provide in-depth insights into the progress of the hiring process and improve it accordingly. The cost of integrating the analytics module can vary from $12,500 to $13200 depending upon complexity. Here's a detailed list of features you need in a thriving analytics module.
| Analytics Module Features | Development Cost Estimation |
| --- | --- |
| Progress Reports | 4200 |
| Dashboards | 2600 |
| Recruitment KPIs | 3600 |
| Scheduled Reports | 2800 |
To Wrap Up
Applicant tracking system for recruiters enables your organization to streamline the overall hiring process. Further, with the help of a custom ATS, you can reduce the time taken in communicating and shortlisting applications as well. Hence, if you haven't already started with a customized ATS for your business today is the perfect time to get into it. Get in touch with our experts today to know further how our team can help you create unique ATS for your business without any hassles.