If you are wondering which would be a go-to operating system for a mobile startup, Android or iOS, then here are some insights
IOS is considered the best operating system in the world. It provides a wide range of useful features to its users. There is no competition for iOS when it comes to providing real-life features to its users. It has a very wide range of useful products like the Apple Watch, Airpods which go very well together.
Android or iOS
Here comes the twist. When we talk about startups, it's a separate talk. When you want to have a mobile startup, you usually look for efficient products from custom mobile app development services. Which won't harm your bank account and at the same time help your cause. Amongst choosin Android or iOS, Android is the best option when it comes to the balance between money and technology. You will also get a variety of options when you choose Android or iOS.
One of the biggest advantages of choosing Android over iOS is that Android is an Open Source system whereas iOS is a closed Source System.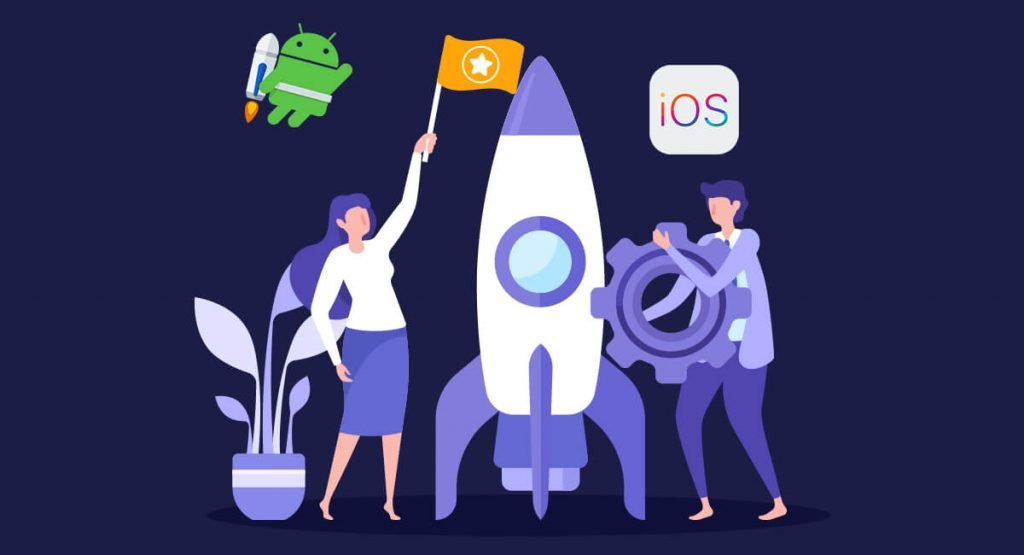 What is an Open Source System?
The Open Source system is software that can be used by anyone to use and modify it. So, if you are planning for starting a mobile Startup then you should go for Android, as you won't require any kind of permission, as in the case of iOS which is a Closed Source System.
Here are some other reasons why you should opt for Android mobile startups while pondering over both Android or iOS app development
1. Expandable Memories
One big drawback of using iOS is, it does not have an option for expanding memory. Usually, iOS provides 64, 128, 256GB of internal memory, which you can't expand. Android will give you the upper hand when it comes to expandable memory. The internal memory combinations of the Android phones and iOS phones are the same, but the only difference is, Android will provide you with an SD card slot and the iOS phones won't.
Memory is one thing that every customer wants, especially nowadays when capturing moments has become a thing. Having an option for expandable memory will help you capture them without having doubts about lessening space on your device, and this would help you attract more buyers as well.
2. App Varieties and Selections
There was a time when in between Android or iOS, iOS had the best app Apple store and Android's app store was nowhere near it. But now, things have changed and so has the Android app store. Android app store has been loaded with new apps and features, which is giving a tough fight to the Apple store. Android app store has added many new features and an increased variety of apps.
On Apple Store, you will have to pay for some apps or games to download it, whereas in the Android apps store or google play store you could get them for free, and people nowadays will opt for free rather than paying for the same app on a different platform. So, this might help you boost your sale for the new mobile startup. Android app development, however, has to go through a wide range of screen resolutions and technical specifications into account, since the platform is open for use to any manufacturer.
3. User Interface
This is one field in which both Android or iOS are well developed, you can't puck one among them. But Android users will have one advantage over iOS users and that is, the users will be able to customize the user experience as per their convenience. This feature is not provided to iOS users. Due to this feature of being able to customize almost every user experience, one can customize the widgets patterns that display a huge range of information like, about the weather, day to day news.
You can also ask the software development company to provide the capability to completely alter the operating system's look with the help of using different launchers. You can also choose new default apps for certain functions, which is something Apple and its suite of programs don't allow. Both Android or iOS have in-built voice-activated personal assistants in them. IOS has Siri and Android has Google Assistance.
4. Security Upgrades
Yes, iOS security measures are on another level, but Android is also not very far away from them. There was a time when it was considered to be no way near the iOS security level, but since then Android has taken a flight. Updating apps has become easier than before, the apps which need to be updated will get updated in the background without disturbing your work.
You can also choose between Wi-Fi and Mobile data to use for updating your apps. In Android security options, you'll now find fingerprint readers on all modern Android phones. A fingerprint reader is a nice feature for people who want to keep their smartphone locked without having to enter the password or PIN every time they power on their devices.
5. Price variations
One of the biggest factors that buyers think about before purchasing any phone is, how they can get what they want at the cheapest of prices? Well, here Android could provide a wide range of prices for a phone with specific features. You could get the same features you want in a phone from a different manufacturer at a lower price as compared to other manufacturers.
Which you won't get on Apple phones, as they have fixed prices for every kind of phone because they are the only manufacturer of iOS system phones. They don't have any competition in the field so they don't lower their prices. The Apple phone's prices are lowered only when they become old or when a new version of the phone has been launched. So, amongst Android or iOS by using the Android platform, you could attract buyers by the price variations that the Android phones provide.
So, these were the advantages that you could have by using the Android Operating System if you are doing a mobile startup. Yes, iOS has its advantages over Android, but Android is also no less. It is giving a tough competition to iOS affiliated phones nowadays.
Get Your Mobile Start-up Now!
It can be difficult and time-consuming to tell either Android or iOS is suitable for you when two platforms are walking in lockstep. We at Terasol Technologies have a lot of experience developing custom mobile solutions that are tailored to our client's needs down to the last detail. Contact us today for a free consultation and to see how we can help you bring your mobile app concept to life.