Today, mobile phones are used to access more than 60% of the internet worldwide. With more people spending more time on their phones, optimizing the user experience on those devices is becoming difficult for businesses.
Even when a corporation offers a dedicated native mobile app, people are increasingly preferring to use the web version rather than downloading and installing the native app, owing to devices and memory constraints.
So let's just consider a website that provides a consistent smartphone user experience without requiring you to design for several devices.
Interesting, right!
Is there any possible solution to win over these mobile users?
Yes, Progressive Web Apps (PWA) is a solution adopted by industry leaders in a variety of fields. Custom PWA development from web application development companies enables the appearance of a native mobile application in a browser.
Consider PWAs as a hybrid of the greatest features of native mobile apps and websites.
Your applications or e-commerce websites will operate faster, provide a better user experience, and increase conversions as a result of this.
Furthermore, progressive online applications are simple to set up, launch and maintain, and they are less expensive to develop than native apps.
The benefits of PWA development for your business are way too many.
If you're seeking evidence that Progressive Web Apps are effective, go no further.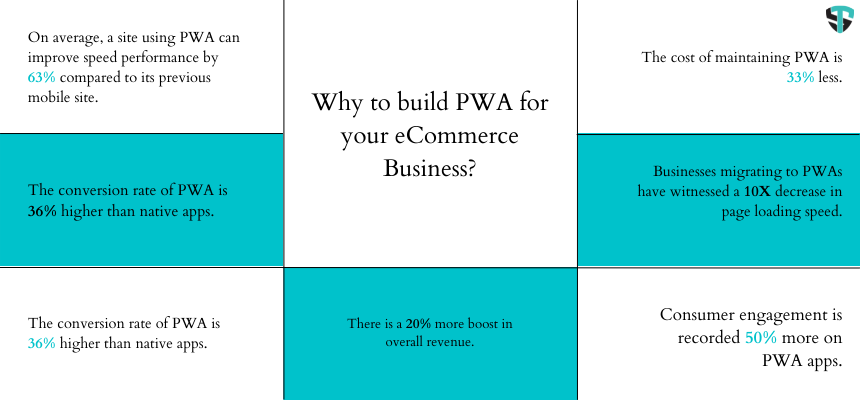 Examples? Twitter, Forbes, Starbucks, Pinterest, AliExpress, Uber, and Housing.com are just a few examples. Do these brands ring a bell? PWA has already been applied by leaders in a variety of industries on the internet.
You can also check out our blog All About Progressive Web App Development- Features, benefits, and Pricing to get deeper insights.
Coming back to the original thought, if PWAs hold such power, why are there businesses that fail to implement it?
For developing a successful Progressive Web App for your business, you'll need to work with a reputable PWA development company.
The right software development firm can help you with-
Award-winning design studio specializing in pixel-perfect UI/UX.
Progressive web app developers provide high-quality code.
End-to-end services for consultation, proof of concept, and large applications partners at all stages.
Conceptualization, Design, Development, Quality, and Deployment are all steps in the development process.
Flexible features, pricing, and timing models to meet your business needs. Improve the user experience on all major platforms.
When compared to native apps, they can help you save a lot of money on development and maintenance.
Overall, the right software development company will help you grow exponentially and sustain for all the future demands.
The toughest portion is about to begin. There are numerous software companies that provide comparable PWA services.
The difficulty is, how do you locate the ideal company to work with?
When selecting a PWA development business, there are a few things to keep in mind.
The field of web development is rapidly changing. The number of software developers continues to rise. According to Statista, there will be 28.7 million coders in the world by 2024.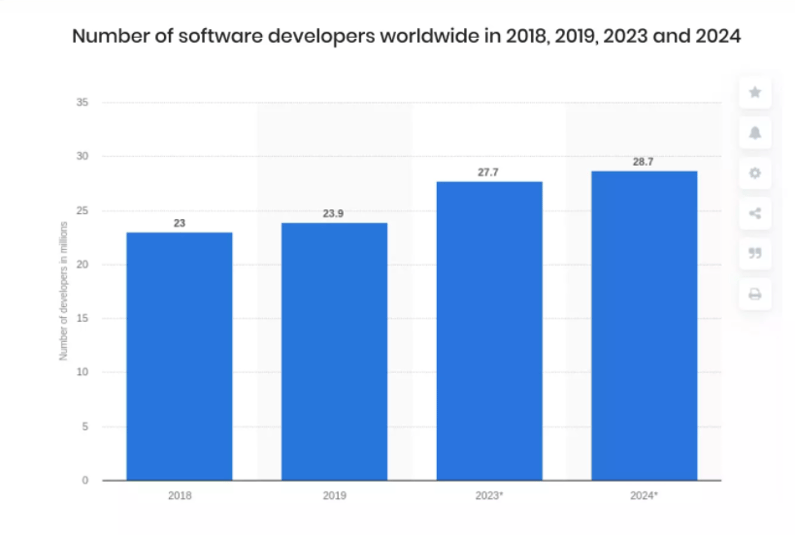 The same can be said for PWA development firms. Their numbers are also increasing. As a result, finding a reputable software company that provides progressive web app development services becomes a difficult task.
To make things easier for you, we've outlined the most important elements to consider while selecting a PWA development partner. In addition, you'll learn what are the red flags you might miss while considering a software development firm.
We, at Terasol Technologies, construct futuristic web applications with the revolutionary ability to transform your business for better sustainability. Get in touch with our experts now.
What To Expect When Working with Tech Partners on PWA Development
The decision to make the right decision in selecting a PWA development company is crucial.
If you make the wrong decision, you may end up wasting time and money. It's critical to get it right when the stakes are so high.
So, what should you be thinking about? Begin here:
First and foremost, don't waste your time hiring a jumble of freelancers who may or may not agree with your overall product vision, let alone each other. Instead consider working with top rated software development company.
You shouldn't have to take that extra risk simply to find out. Consider working with current, experienced teams.
Here are some aspects you need to consider while choosing the right development firm for your development project:
1. Analysis of the Project Baseline
Any development begins with a clear understanding of the project's complete scope and desired goal. It will be a lot easier to discover development plans if you have a thorough understanding of the market, business stakeholders, targets, goals, and rivals.
Furthermore, even if you're not the most technical, putting together a reviewable collection of the business plan, market analysis, user/target persona, internal and external KPIs will help you determine the right tech partners.
2. Identification your USP
The difference between success and failure can be as simple as establishing and effectively stressing a competitive advantage.
Examine the project analysis carefully to determine where the product must differ by the time it is launched.
Know what is the product's unique value proposition (UVP), and how can it stand out on its own.
If you don't know, don't worry, tech partners like us will help you figure out the USP and implement it successfully.
3. Technology
Because of natural trends, development teams tend to concentrate on certain regions of the technology spectrum over time.
The first decision is whether to create a mobile app, a web platform, internal enterprise software, a database, cloud computing, data science, or an Internet of Things (IoT).
The list is extensive! However, once you've nailed this, the real work begins.
The right PWA development company will help you figure out the following aspects of development-
Which is the right technology or tech stack for your project?
Which method is the most effective for carrying out the project's development?
What programming language do you require?
Which framework are you using?
What kind of database are you talking about?
Is a cloud platform required, and if so, which one?
What kind of testing is required, and how much of it is required?
Select a PWA development firm like Terasol Technologies with extensive coding knowledge. Experts in this field should be up to date on the newest programming languages, frameworks, and testing tools. We are well-versed in the technologies that will work best for your project.
4. Know Your Budget
Another aspect of development one needs to be clear about is the budget of the project.
For example, projects involving ideation, brainstorming, wireframing, and prototyping, frequently necessitate a highly adaptive, agile team capable of producing and testing MVPs in sprints. This will increase your budget.
The budget of your projects will depend on a few of these aspects-
Scope of the project
Complexity of the project
Strength of the Team
Technology used
Features added
5. Methodology for development
It's a good idea to inquire about the methods used by the progressive web app development firm you're considering working with. We propose working with a PWA development company that follows an agile development approach.
With the Agile methodology,
Developers are allowed to add new features and make critical changes whenever they are needed, and
Both the parties benefit from increased transparency in the development process.
Greater visibility and project control will improve.
The agile approach aids PWA development companies in determining the priority of developments
It helps in properly allocating the resources.

6. Know the type of team you want- Specialists vs. Generalists
The first question to consider is whether you want a team with a broad but limited skill set, or a team with actual competence in one or two key areas.
When it comes to software development, the ideal technology partner is a mix of the two, and most experts must be generalists to some level. This is known as a T-shaped skillset.
When seeking a tech partner, aim for a group that is closest to specializing in your most critical demand while yet maintaining strong generalist traits.
7. Check if the Tech Partners use the most effective PWA development methods
How can a PWA app development firm create high-quality apps? First and foremost, they should follow Google's best practices.
8. Their web design abilities
Design is important when it comes to progressive web apps. Customers should have an amazing and seamless user experience with the solutions provided.
Want insights on How to Develop PWA Apps and its Cost Estimation, read this blog to know more.
Red Flags That Can Help Businesses Avoid Failed Collab
PWA can transform businesses, although sometimes failed partnerships can lead to just the opposite.
While working with offshore companies this is one of the major fear, is to make your business reach its full potential one should conquer fear with knowledge.
Here's a list of red flags which can help businesses avoid failed collaboration:
The team fails to provide clear prices and the costs change in future
The development team avoids bugs and keeps hopping onto the next phase to have speeder development
The PWA UI looks like a Maze and is not soo clean.
The site is not easy to navigate and features are not effectively working
Lack of clear and transparent communication
Zero flexibility to accommodate needs
Starting off without NDAs
Get Your Own PWA App with Terasol

We hope that our advice in this article will assist you in locating a reputable PWA development company.
Make sure the progressive web app development company you choose has a track record of developing successful web applications. Then it wouldn't hurt to ask about their development methodology and technology stack.
With fast-loading and engaging PWA apps, Terasol Technologies is glad to assist our clients in increasing their brand presence.
Do not hesitate to contact us if you require assistance in converting your website to a PWA. We would be honored to work with you on your project.