Every industry has seen its outdated standards carried away by the wave of Covid, and education was no different.
The rising popularity of online education and EdTech has given rise to numerous creative education app ideas.
Education applications have transformed students' studying strategies, allowing them to accomplish everything from solving everyday classroom problems to communicating with teachers, learning through quizzes and games, and completing homework assignments online.
Both students and teachers have been impacted by the rising popularity of educational apps. We shall undoubtedly miss the days of school and teachers.
In order to connect teachers and students in real-time, a number of schools, colleges, organizations, and universities are now expressing interest in the development of educational apps.
In addition to universities and colleges, several ed-tech businesses are investing in the creation of educational apps. The global eLearning market is projected to exceed $370 billion by 2026.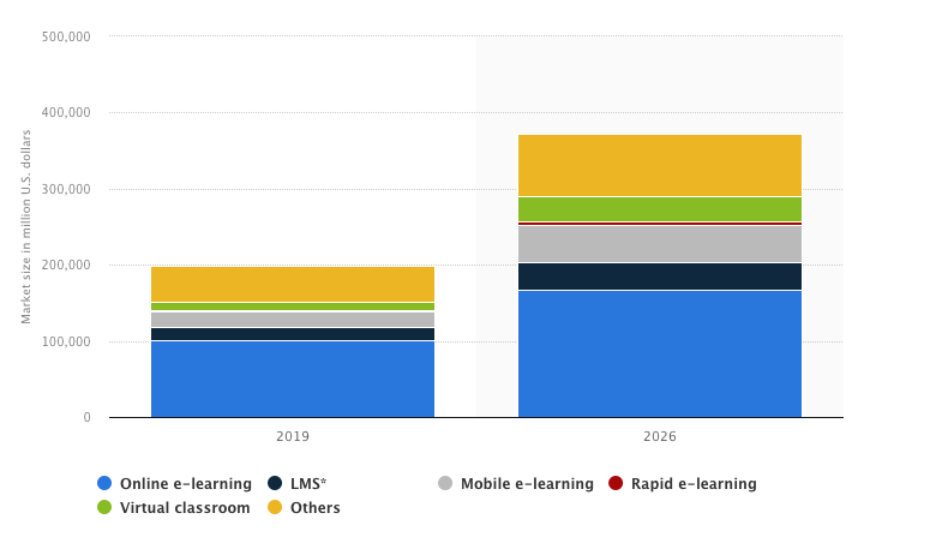 However, as they say, "away with the old, in with the new."
The time is right to enter the lucrative industry of e-learning platforms.
To stay up with the rapidly evolving digital world, many educational institutions are tapping into their budgets to buy cutting-edge educational technology solutions.
Thus, large organizations and several new entrepreneurs are looking for fresh educational app ideas for startups.
So, we've put together this list.
10 Education App Ideas for Startups to Revolutionize Learning
If you're looking for fresh methods to make money from your startup, take a look at some of these education app ideas for 2022.
These suggestions will benefit both students and teachers by providing them with additional resources and significantly changing the educational industry.
1. Private tutoring application
Market Demand:
In the coming years, EdTech growth is anticipated to be centered on the demand for applications for individual tutoring.
According to studies that support this assertion, the global market for private tutoring is anticipated to grow to $201.8 billion by 2026.
Insights:
In a coaching session, students can immediately get solutions to all of their questions and problems because they are close to their professors. With this education app idea, students may gain from online tutoring and use the tutor app to quickly find solutions to their queries.
Using online learning systems, tutors can respond to students' questions, save lectures for later review, have a video chat, hold group discussions, take online quizzes, and many more.
2.
Ca
reer guidance app
Market Demand:
In 2021, the market for career and educational counseling was valued at USD 2,230 million, and by 2030, it is expected to reach USD 4,803 million.
Insights:
The primary factors driving the market for career and education counseling include fierce competition, peer pressure, and the desire to assist in making the best professional decisions.
An app for career coaching can help students reach their professional objectives.
When attempting to decide what to pursue in order to have a successful career, many students find themselves in a difficult situation.
With skilled expert assistance, we can resolve it. They can make the right choice to pursue and achieve their desired job with the aid of a career counseling app.
Maintaining a feature of professional support for students can help your app take a more individualized approach. Students can express their queries and obtain advice on their career path.
3. Language learning application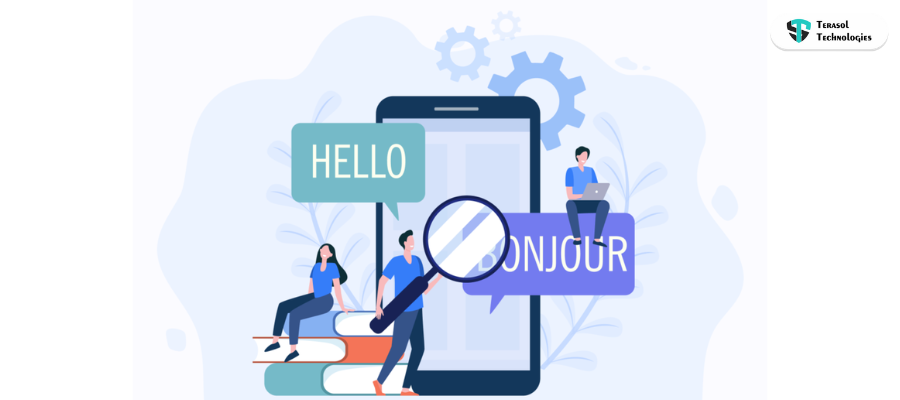 Market Demand:
In 2025, the market for online language instruction will increase by USD 25 billion.
Currently, over 1.2 billion individuals are studying another language.
Insights:
The number of language learning applications has expanded as a result of the rising popularity of online learning platforms. This is the most profitable period for a startup to enter the market.
People are now looking for language learning solutions online to address the insatiable need for learning new languages.
People favor this kind of education since it allows them to learn while they are on the go. You can study and learn other languages online using this software. Spending 20 minutes a day on language learning apps can benefit students.
Additionally, by using a feature for identifying their strengths and limitations, the students are better able to concentrate on honing their language skills.
4. Preschool app
Market Demand:
According to research, more than 25% of parents use preschool applications.
Preschoolers, parents, and teachers have an interest in applications, this increases the possibilities for startups.
Insights:
Children who are about to start school or who have just begun are the target audience for this app. For kids between the ages of 2 and 5, you can create a preschool app.
The preschool app's teachers captivate the children with their narrative techniques.
Kids today enjoy using their smartphones, which helps them learn more fascinating information. It assists youngsters in learning things like numbers, animals, alphabets, colors, fruits, flowers, and other things that make it easier for them to pass school entrance interviews.
You can also add a feature to notify their performance to target their parents to see how their kids are doing.
5. Apps for people with learning disabilities
Market demand:
The market for educational assistive technology for kids with learning disabilities was predicted to be worth $154.67 million in 2020 and $298.13 million in 2030.
The United States BLS projects that in 2026, demand for special educators will increase by 8%.
This indicates that additional job openings in this industry are anticipated to occur shortly. Already, apps are taking advantage of this demand gap.
Insights:
A mobile app for children with special needs is open to consideration by any Edu-tech business, school, college, or university. These children with special needs may learn and study from the convenience of their homes thanks to this software.
These apps are made to captivate children, so they will learn in an enjoyable way.
Since it makes teaching easier and provides them ample time to concentrate on other useful things, parents also prefer to teach their children using such applications.
Check our work, Fabula, an application for impaired individuals that uses audio-visual outputs to assist them in successfully communicating with their peers.
6. AR-Based educational app
Market Demand:
The global market for AR in the education industry reached around $ 1.5 Bn in 2020 and is forecasted to accelerate at a CAGR of 80% to $85 Bn by 2031.
Global Market for AR in Training (education) is predicted to cross $68.7 Billion by 2026.
Insights:
Just picture how fantastic it would be to actually see the cosmic cliffs, or constellations using something like the Webb telescope. Just WOW!
This is an amazing education app idea. With the use of augmented reality (AR) instructional software, teachers can provide students with a more practical introduction to any subject.
With the help of AR software, teachers can provide a 3D view of the educational application to pique students' attention and assist them in studying scientific themes and activities in a more realistic manner.
7. LMS application
Market demand:
The market for LMS training is expanding so quickly that it has increased by 900% since the turn of the century.
The global Learning Management System (LMS) market is projected to grow from USD 15.8 billion in 2021 to USD 37.9 billion by 2026.
Insights:
An adaptable learning environment that makes it simple to create and oversee training or educational courses for both internal and external audiences.
Around the world, more and more education institutes, as well as corporates, are opting to conduct online training or courses.
Companies require a Learning Management System to deliver eLearning courses (LMS).
When businesses use an LMS to provide online courses, employees can communicate with instructors in real time or through recorded sessions from any location in the world.
At the same time, students have 24/7 access to online learning materials (courses, manuals, tests, videos, etc.).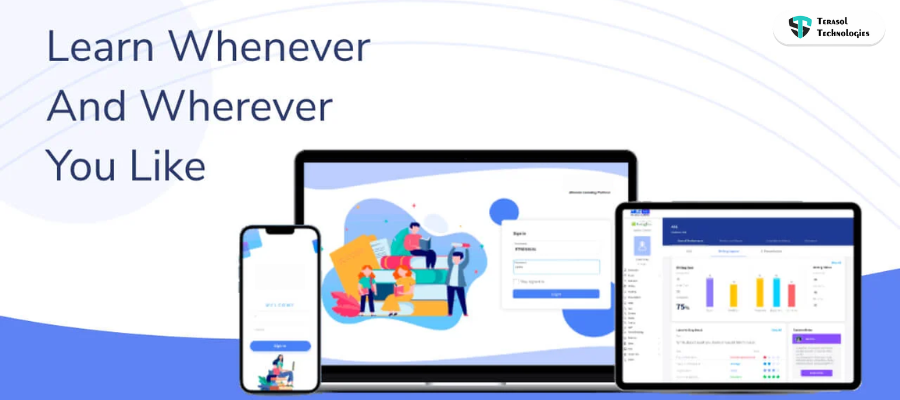 We developed an easy-to-manage learning management system platform with a twist of an adaptive testing system for a global edutech brand. Check out our work here.
8. Competitive exam apps
Market demand:
The global test preparation market is predicted to reach $639.6 Million by 2027.
The global assessment services market size reached USD 12.32 Billion in 2021 and is expected to exhibit a growth of CAGR 62.4%.
Due to Covid, the use of such competitive apps has skyrocketed. This gives startups a great opportunity to invest in such apps.
Insights:
Without guidance, it can be difficult to study for an exam that is very competitive. Students must choose the best syllabus from a variety of online resources, next to a reference book, and ultimately a test series to prepare for their own evaluation.
With this education app idea, it will be simpler for students if you launch a competitive exam app since they can access the complete syllabus, and names of reference books or eBooks, and verify their knowledge by taking exams all in one place.
Check out our work where we created an application for nursing students with subject-wise learning materials including quizzes and worksheets to enhance their knowledge.
9. Student performance tracking app
Market demand:
Student Information System Market worth $20.5 billion by 2027.
The market for application performance monitoring is anticipated to reach a projected value of USD 15 billion and expand at a CAGR of 11.31% from 2021 to 2028.
Insights:
The goal of this mobile app is to provide a student monitoring system that enables parents to track their kids' academic performance, attendance, behavior, and other traits.
This app allows parents to communicate with teachers and talk about their children's performance. Additionally, users can pay tuition online and receive important notifications regarding exams and lecture times.
One does away with the requirement for numerous applications, such as attendance or test apps, because all essential changes may be provided via this single app.
10. Educational games and quiz apps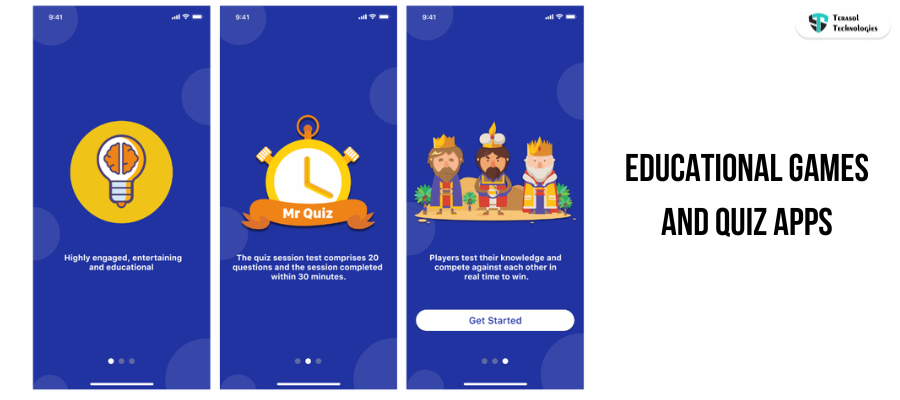 Market demand:
According to research, there is a huge market for online tests and games for education.
According to a poll, more than 55% of students play instructional games on a weekly basis.
Schools are eager to support apps that have fun games and tests.
Insights:
Keeping the kids interested throughout the course is difficult. Why not keep their attention with an educational game and quiz app? A game-based software is the best option for quick and engaging learning.
To add some variety, there are short exercises and examinations on communication, English language, general knowledge, current events, and mental math problems.
Therefore, it is true that quizzes and games can provide some of the most engrossing ways to learn.
Ready To Create an Educational App?
Education is a ladder to potential opportunities and an investment in the future. Learners will become brighter, better, and more capable in the future if you make an investment in their education now.
You may create a smooth learning environment for everyone by implementing these education app ideas.
With the appropriate software development partner, you can create a user-friendly educational app that is both visually appealing and speeds up kids' learning.
Has your idea for an educational app been finalized yet? Contact our experts to innovate the way of learning.