Why Work Management software?
When you work on both project and non-project tasks, the advanced task or project or work management tool/ software might be helping you to some extent, but you also need to properly manage the non-project activities, which may be answering your emails or attending conferences. For all such purposes and tasks, there is one very versatile solution also known as the work management tools or software.
Work management tools can be explained as a digital tool that helps you to plan, follow, organize, and analyze both projects and non-project tasks with the aim to enhance your business outcomes and team efficiency
Common work management tools features include:
Advanced task management: Under this function, the work management tools create and assign duties, control, and check preferences, as well as track your team's performance to remain within budget and meet the deadlines.
Integrated communication: The various teams collaborate via discussion threads or message boards, comment, and get notified of every occurring change in a task to stay up-to-date.
Storing & sharing files: The Work Management tools can be used as an integrated place where you can store all the documents and also share them as and when needed.
Time & resource management: With the tool, you can keep track of employees' work hours, and you can also make timesheets. The Work Management tools also help in properly distributing the work so that no employee feels burdened.
Kanban boards: With work management tools you can control the work by creating workflows on a visual board via a whole line up of sequential steps.
Many other work management tools also provide options like CRM, invoicing, proofreading, prototyping, and integrations with third-party tools. Let us now go through the advantages, disadvantages, and various other features that the 3 work management software: Notion, Trello & Coda have to offer.
Comparison: Notion vs Trello vs Coda
Notion.so
Notion was introduced in late 2016. It can be well described as an all in one workspace for all your tasks, databases, notes, and wikis. Basically, this is a tool that keeps the company's know-how in one place by blending the everyday work apps into one.
Pros
Nested navigation
Powerful wiki
Good collection of templates in the gallery
Optimum support
New features are in the process of being added
Seamless integration of databases and spreadsheets into my workspace,
It is fast
Fun to use with much better formatting and styling than Coda
Great support
Cons
When you reach 1000 blocks, Notion is paid (5USD/month)
It works stagnant like on mobile
Rapid entry is difficult
Searching is also difficult on Notion
Usability problems on the iPad app
Takes a lot of time for setting it up
Zero integrations
Set up options are too many
Does not leave you satisfied
Trello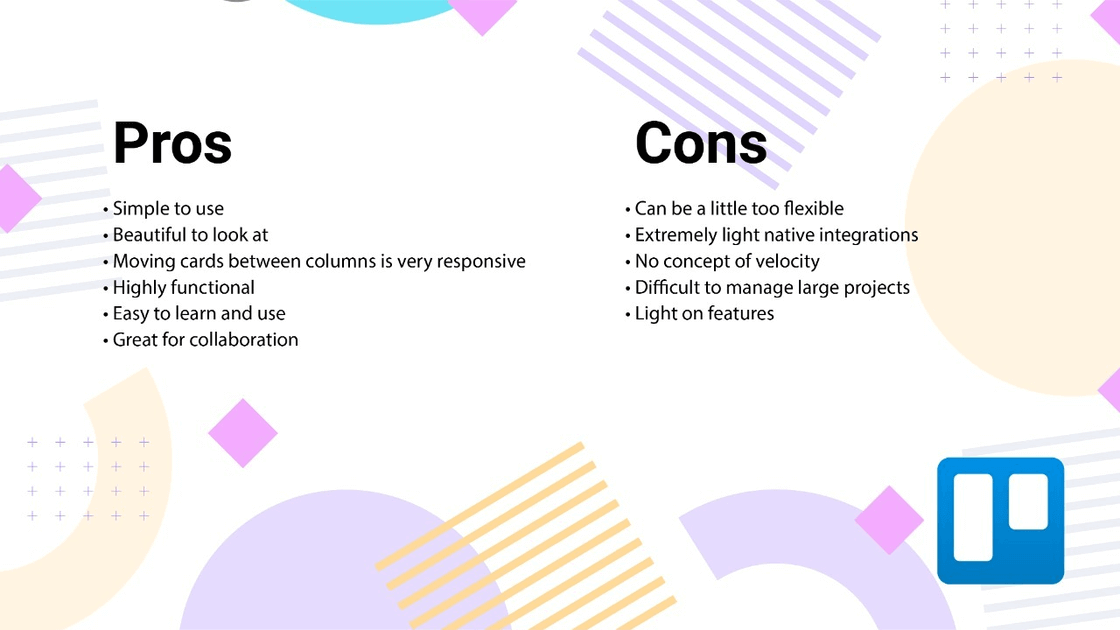 Trello can very well be understood as a collaboration tool. This work management tools helps in the organisation of your projects to boards. Basically, Trello is a tool that quickly tells you what is being worked upon, who is working on what, and what work is in a process.
Pros
Simple to use
Beautiful to look at
Moving cards between columns is very responsive
Highly functional
Easy to learn and use
Great for collaboration
Cons
Can be a little too flexible
Extremely light native integrations
No concept of velocity
Difficult to manage large projects
Light on features
Coda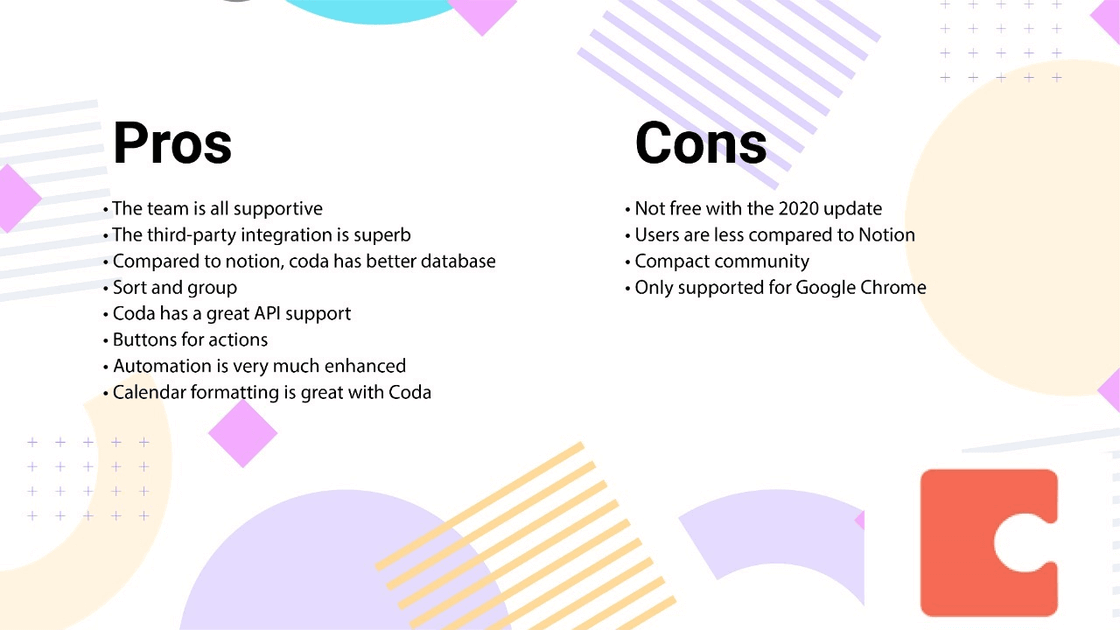 This is a brand new doc which builds in sync with your ideas. It is a powerful document which lets you build apps in it. Coda is the next gen spreadsheet which is designed to make Excel a part of your past.
Pros
The team is all supportive
The third-party integration is superb
Compared to notion, coda has better databases
Sort and group
Coda has a great API support
Buttons for actions
Automation is very much enhanced
Calendar formatting is great with Coda
Cons
Not free with the 2020 update
Users are less compared to Notion
Compact community
Only supported for Google Chrome
Availability
Notion is available on iOS, Android, Mac, Windows, and Web. To provide a seamless experience across platforms, the company uses the same UI on mobile, PC, and web. Trello is available on Web, iOS, Windows, Mac, and Android. Coda is available on the web, iOS, and Android.
User Interface
Coda:
When we talk about the web version we see that the UI shows the docs which are created by users. The menu on the left helps you access shared notes, starred notes, and templates. Looking more like Google docs, you can initiate typing a normal note or you can add a table, copy a file, etc
Notion:
The UI of notion is more like a painter's canvas where you can add templates and initiate stuff organization.
Trello:
The user interface of Trello is easy to use and learn. There are two primary columns: the board on the left and the other controls on the left. The structure of the board is also extremely customizable.
Task Management
Talking about task management Notion offers functionality to make to-do lists and so does Coda. Trello on the other hand is a powerhouse of task management.
With Trello's daily task management template, you can add tasks to the backlog: meaning you can do them today/tomorrow, or even next month.
Each day drags the task you want to complete and after completion add it to the done today list. As simple as it sounds! Coda has different to-do templates and you can make a choice as per your requirement.
Project Management
Trello is one dedicated project management solution and we all know that!
Both Notion and Coda are targetting not only Trello but other project management solutions like Asana and Jira too. Trello is equipped with built-in templates.
Notion has to offer different project management tools like its famous Roadmap. It helps to keep track on all the projects which are running, you can add issues and also share it with any of your team members.
With Coda which relies heavily on built-in templates, you can create a Doc, select the + sign, and head over to the Templates option. You can then select the project manager section add it to the docs and that's it. There is huge options like Team Goals, Project Brief, and Gantt Chart to name a few.
Pricing:
Till now Coda was free but not anymore with the 2020 update.
Notion gives you 2 subscription models: for your personal use you can go for the $4/month plan while the team plan asks $8/month from every member.
Trello, on the other hand, is free for its starting plan but the Business plan asks $10.99/month from every user and the Enterprise plan asks $20.83/month from every user when paid on a yearly basis.
Some other players in the work management tools space
Apart from Trello, Notion or Coda some other work management tools are also preferred and recommended by experts like:
Asana:
This is a web and mobile app which help the business teams to plan, organize, track and manage their tasks. It is meant for projects that have a rigorous process associated with them. It is completely project-based.
Airtable:
A cloud-based task management software, Airtable helps in task scheduling, task prioritization by color coding, Kanban dashboard for task tracking, and file sharing. You can create unlimited bases with its free plan. It has some pre-built project templates and is available on Android & iOS.
Conclusion
Comparing Trello, Notion & Coda brought about the features of all three of them clearly. No doubt each one of the three offers great project and task management capabilities with assistance from templates.
But all three of them are different when talking about their execution. It is completely on you how you figure out to properly manage and control the software with its built-in templates. They are definitely more than just project management apps!
Check out out services to know we can assist you in maximizing the value of your business by improving data discoverability, accessibility, and modularity.